Viral dessert eatery fails to live up to hype
This story was originally published in the Heights Herald print edition.
Is the Crumbl cookie really worth the hype? Crumbl was founded in Logan, Utah in 2017 by two cousins—Jason McGowan and Sewyer Hemley. They began with milk chocolate chip cookies and have grown in popularity since then. Their unique swirl of buttercream frosting and their signature Confetti Cookie treat have also helped them rise in popularity since. The Confetti Cookie is a white chocolate chip cookie dipped in vanilla and rainbow sprinkles, giving it a sweet and colorful twist that became popular on TikTok with millions of likes and views. They've gotten so recognized on TikTok that they now have 6.3 million followers. After their sudden viral fame, they went on to open 609 sites around the United States.
They currently have 13 locations throughout Minnesota. The nearest to Columbia Heights is roughly a 15-minute drive away in Maple Grove. Even though they have gone viral and many people like them, others have said that they're under cooked or usually doughy and floury.
"It tasted like play dough," Khadra Kowsar (10) said. "Also, the cookies can't stay out for more than two days or they become hard as rocks."
The cookies are so big that just one will completely fill you up too, which might not be a good thing if you purchase a four-pack and don't have enough people with whom to share them. And while the original with M&M and the Red Velvet Cream Cheese were not bad, they're not something I would try again.
The strawberry limeade with Nerds, however, was my favorite. The frosting was delicious but the cookie, honestly, was not. The milk choc chip was not what I expected either; it was not sweet enough and tasted harsh and bland. The only thing I could detect were large chocolate chunks. Each bite was either too sweet or too dry. They just look beautiful, but they are ultimately dry and have no flavor. But they are supposed to be sweeter than ordinary cookies and have a chewy texture and crunchy exterior, so the customer's mileage may vary.
In terms of the full Crumbl experience, the store has an open kitchen concept, so you can see them create and frost your cookie from behind the glass, which is admittedly really cool.
"Everything from cookies to frosting is made fresh in our kitchen every day," Edina franchise owner Madi Hall said.  "All of our cookies are served in our beautiful gourmet boxes."
At the very least, Crumbl knows how to market themselves. The actual cookies, though, can only be recommended to those who enjoy highly sweet desserts, as well as people who enjoy surprises and exploring new things. I personally found them overhyped and usually either bland and tasteless or too sweet.
At the end of the day, Crumbl's reputation, at least in my eyes, has crumbled.
About the Writer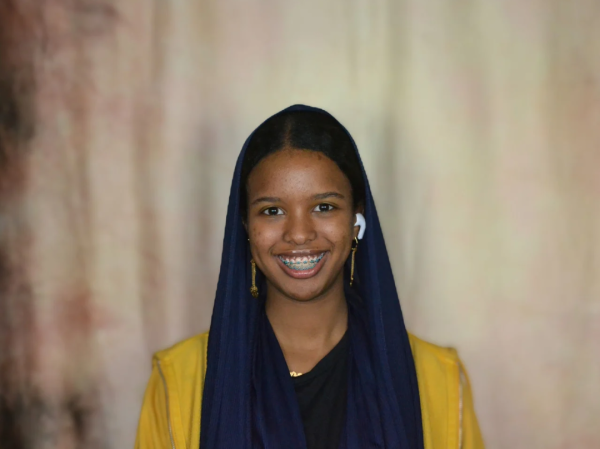 Osob Mohammud, News Editor
Osob Mohammud is a junior at Columbia Heights High School who enjoys cooking, baking, listening to music and watching K-dramas. This is her second year...