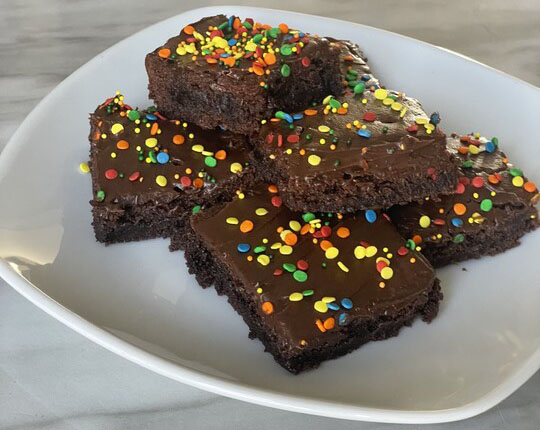 Have you ever craved some Little Debbie Cosmic Brownies but don't want to go all the way to Target and spend your hard-earned money? Have no fear! This amazing recipe is here to save you! Their rich and creamy texture as they melt in your mouth is amazing. You might never want to have a store-bought Cosmic Brownie ever again!
Brownies:
Ingredients:
¾ cup unsalted butter

1½ cups sugar

½ cup light brown sugar 

3 large eggs

1 egg yolk  

1 tablespoon vanilla extract

1e teaspoon salt

¼ teaspoon baking soda

2 tablespoons cornstarch

1½ cups unsweetened cocoa powder

1 cup flour 

¼ cup vegetable oil
Instructions:
Preheat the oven to 350 degrees.

In a large microwavable bowl mix the first three ingredients and then microwave for two minutes. Stir, then microwave for another 30 seconds. Stir until smooth, let it cool for 2-3 minutes. 

Stir in all three eggs, egg yolk, vanilla, salt, baking soda and cornstarch. Once combined, mix in the cocoa powder and flour by hand until combined and stir in the vegetable oil. 

Spray a metal nine-by-thirteen-inch pan with cooking oil, then press a piece of parchment paper into the pan. Spread the batter into the pan evenly.

Bake at 350 degrees for 24-26 minutes (until the center is set and no longer jiggles when you shake the pan). Let it cool completely in or outside the fridge.
Chocolate ganache:
Ingredients:
12 ounces of semi-sweet chocolate chips

6 tablespoons of unsalted butter (chopped into small cubes)

½ cup milk of your choice
Instructions:
In a medium bowl, combine the chocolate chips and chopped butter.

In a separate bowl or a large measuring cup, heat the milk in the microwave for two minutes on the stove until hot.

Combine hot milk, chocolate chips and butter. Let sit for three minutes before stirring. Whisk to stir until smooth. Allow to cool for thirty minutes before pouring over the completely cooled brownies. Freeze, then cut into squares. 
 Now you have an amazing dessert of Cosmic Brownies minus all the preservatives and wrappers! They will last you a long time, becoming your new go-to homemade sweet treat.