Columbia Academy student wins National History Day
For many at Heights, just the sound of "History Day" might be enough to send shivers down their spine. They envision this time in middle school where hours upon hours were spent on creating a project that had to be history-related—whether they liked it or not. But for others it can bring nostalgic memories of both hard work and success. This could very well be the case for Thantruc Mai (9). 
As an eighth grader at the time, Mai was able to place first in the National History Day competition in the Junior Individual Website category for "Oyama v. California: Confronting Alien Land Laws." This year, instead of traveling to Maryland to attend the ceremony in person, Mai witnessed all of her work pay off through the virtual awards ceremony. 
For those who don't know much about the competition, History Day is a contest where middle and high school students compete in junior and senior divisions respectively and are able to create a presentation across five different mediums. Once they choose a topic that fits the theme they can begin. After researching and putting together a final presentation, the first step is Regionals. Once there, a student must present their project to judges who then decide whether they qualify as a state competitor. Waiting for the results is often a stressful and nerve wracking process. 
Finally, all the students and advisors gather in one auditorium to hear a History Day representative call out the names of honorable mentions followed by the names of the projects advancing to the state competition. 
"Oyama v. California: Confronting Alien Land Laws – Thantruc Mai," the representative called out on Sunday, May 3rd, 2020.
Mai had made the cut. Now it was time to put in yet more work and ready her project to compete against the whole state for the opportunity to vie for a place on the national stage. This meant more research, more typing and endless hours spent revamping her website. Of course, choosing a topic that interests you and fits the theme ("Breaking Barriers in History") makes this laborious journey just a tad bit more tangible. 
"I looked through a packet [History Day] provided to us and after looking at some options, I realized I wanted to do something with an Asian American civil rights case," Mai said. 
History Day is challenging. Participants have to endure all of the work and stress of working on creating flawless projects that don't violate any rules while also carrying on with the rest of our life. Unfortunately, all of this stress can prove to be too much for some, but not for this particular student.
"Truc's work ethic definitely got her to Nationals and eventually 1st place. At each level of the competition she continued to find new resources, rewrote paragraphs, and even changed whole sections of her project," Columbia Academy Geography teacher and eighth grade History Day advisor Ms. Chris Mason said. "She listened to feedback from teachers, judges, and History Day mentors but still made it her own project."
After days of working tirelessly on her website, the day of the state competition had finally arrived at her front door. In past years, the state History Day contestants gathered at the University of Minnesota's Coffman Union to compete for a national competition spot. This year, though, everything was held virtually. Presentations that were usually held in person were instead typed on a document and read independently by the judges. 
After the excruciating process of waiting for results, Mai was informed via email that she had qualified for the national competition. She was now headed to the highest level in the contest. She was 14 at the time. 
To her surprise, "Truc," as her friends know her, would have to continue the long journey once more. Finally, the day had come. Her website was turned in and locked so she no longer had access. Everything was ready to go. National History Day was here. 
"I never actually watched any award ceremony," Mai said when asked about how she found out that she had won. Because Mai had decided to create a website, judges would make their final decision based solely on the work that had been turned in—no verbal explanation whatsoever. Her work would do all the talking.
Ring. Ring. Ring. Mai looked at her phone and saw an unknown number on her screen. She rejected the call and went back to reading "Avatar: The Last Airbender" comics. Minutes later, she heard her mom scream. It was then that Mai found out that she had won first place in the National History Day Competition. All of her hard work, the countless hours spent working on her project, the stress, the occasional joy, the smile on her mom's face—she had done it. She had just become the first person to ever earn this extraordinary accolade in the entire history of Columbia Heights Public Schools. 
"Sometimes it's okay to take short breaks…[eventually] you'll have a project that you're proud of," Mai said. 
Check out her website here
About the Contributor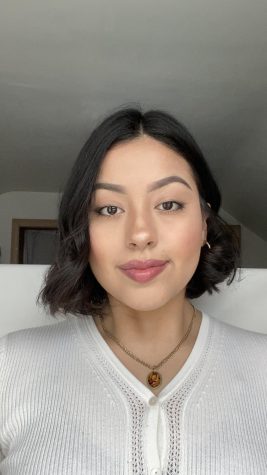 Gissel Inamagua, Co-Editor-in-Chief
Gissel Inamagua is the Co-Editor-in-Chief for The Heights Herald. She is involved in numerous activities here at CHHS. Currently, she is the captain of...