Apps to get through quarantine
Now that many of us find ourselves with an endless amount of time on our hands, some of us have chosen to spend it on one of the most iconic staples of American culture: our cell phones. Whether or not you are still employed, I think it is fair to say that many Americans and people around the globe are turning to their phones and the internet as a way to cope or (more popularly), procrastinate. But finding substantive ways to kill time can be overwhelming when it comes to the seemingly limitless possibilities the web provides. Here are some suggestions to help you spend your time more productively, build some structure in these unprecedented times and hopefully find purpose to keep you going despite all of the side effects of self isolation. 
First, if you're looking to be more organized or need help sticking to a routine to help you get on with the day, I suggest the following: 
Notion: This app is an awesome tool to help you stay organized! You can write notes, create a reading list, keep a journal, create a task list and more! It has tons of options to help you customize your notes or journal entries. It is rather easy to use but if you find it somewhat confusing you can find Notion on Youtube and view the various tutorials available if you'd like! This app is free for download on iOS or Android. You can even use it on any computer or laptop that runs Microsoft Windows software. Very versatile and accessible to everyone. 
Next up is Microsoft To Do. This isn't your average reminder or planner app. Microsoft To Do is structured like a planner but adds its own special touch. Not only can you personalize lists or events within the app, but you can also connect it with other applications. This is very useful if you have various emails or text messages that you'd like to keep on track. Another cool feature that this app has is the fact that you can sync lists across all of your devices! Anybody with a Microsoft 365 account can also access this app and sync their important events on here! Most importantly, the app is free and can be downloaded on Android, IOS, Windows 10, and MacOs!
Things are difficult. But you're not alone. Taking care of your mental health is just as important as your physical health. If you need to take a break from all of the chaos outside or maybe just need to take a breath, try the following apps to help you find calmness and stay positive!
Headspace is a great app to start. This app helps you learn how to meditate and focus on certain aspects of your life. For beginners, I recommend trying the Basics course. Each day you can choose to meditate for three, five, or 10 minutes. If you are not new to meditation, there are countless other courses to help you navigate through your thoughts. Headspace is also a great app because it includes other options to help you sleep or even work out! To top it all off, the graphics are super cute and the layout of the app is fairly easy to use. Right now, Headspace is also offering courses to help manage anxiety due to COVID-19. Unfortunately, there are some features that are only available if you get Headspace Plus with the most economical plan at $12.99 for a monthly subscription or $69.99 for a year. Don't worry, though: you don't have to commit right away! If you're feeling wary I suggest you try the regular version first, but if you decide you do enjoy Headspace, you can check out the Headspace Plus free trial! 
The next app might come as a surprise, but…it's Spotify. I know that for many, music is a coping mechanism that helps people relax and destress from daily pressures of life. I love that unlike other streaming music apps, Spotify creates personalized playlists just for you! And of course, within the app, you can also create and share playlists yourself, which is another great way to both pass the time and stay connected with friends. Music isn't the only thing available for app users; you also have access to podcasts too. There is a wide variety of podcasts from various creators and an extensive library filled with different categories and genres that can satisfy whatever mood you are in. There's even a daily wellness mix that combines music and short snippets of advice from different people. One cool pro tip is if you're having trouble falling asleep I recommend taking a look at the many playlists for the Sleep category. Once you've made a selection, tap on the three circles on the top right of your screen, scroll down until you see "Sleep Timer." You can choose to have your audio automatically stopped in five minute intervals beginning with five minutes all the way up to an hour. I've found this feature to be extremely helpful if you're looking to fall asleep and save your phone battery at the same time!
If you're looking to have a little fun and relax more, the following apps are free and for you. They might keep you on your phone for hours or—depending on your mood—might compel you to throw your device at the wall! 
First, we have Stack. This may be an oldie to some, but it continues to be an engaging and addicting game. The goal is to continue to stack 3D squares as long as you can. Sounds boring until you've tried it, believe me!
If you're looking for a little more brain action, try Solitaire. You can never go wrong with this classic. This simple card game can have you hooked for minutes on end. Challenge yourself by working on making as few moves as possible. 
Lastly, if you're looking for a game of skill or you're a K-pop fan, this is for you. Superstar SM is like the mobile piano version of Guitar Hero. It has various songs by SM artists available to try and three difficulty levels. Each week you're assigned a league depending on your performance. One downside is that you have to constantly update the app, but otherwise it's a fun game that might make you want to scream from frustration! 
Having so much time on our hands might not have sounded so bad until now, but don't be discouraged! There are benefits to staying at home. Besides the fact that by staying home you are saving lives and preventing the spread of COVID-19, you can also choose to use this time to grow as a person and learn to appreciate the things that really matter in your life more. So, check your phone's storage, maybe look into purchasing some blue-light glasses and take a deep breath; we're going to get through this together…with the help of our phones.
About the Contributor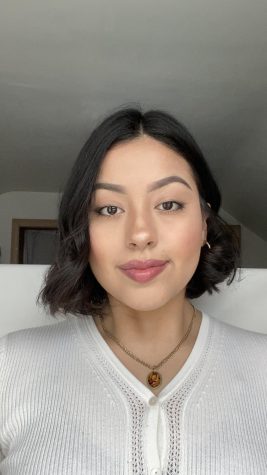 Gissel Inamagua, Co-Editor-in-Chief
Gissel Inamagua is the Co-Editor-in-Chief for The Heights Herald. She is involved in numerous activities here at CHHS. Currently, she is the captain of...