Tokyo Olympics 2020 postponed
In 1940, the city of Tokyo was preparing to host both the Summer and Winter Olympic Games. But, the Games were abruptly cancelled because of Japan's invasion of Manchuria and the ensuing second World War. Eighty years later, another Tokyo Olympics will face postponement, this time not from warfare but from a global pandemic: the Coronavirus.
Exactly five months prior to the planned opening ceremony at Japan National Stadium, both the International Olympic Committee (IOC) and the Tokyo Organising Committee announced that the 2020 Olympics and Paralympics would be rescheduled for 2021. While originally announcing a four-week timeline to make a decision, the IOC sped up their process after receiving backlash from Olympic organizations in the United States, Canada, Great Britain and Australia. 
In a joint statement released March 24, IOC President Thomas Bach and Japanese Prime Minister Shinzo Abe cited World Health Organization research that showed the COVID-19 pandemic spreading at an alarming rate. In contrast to the 2016 Zika virus outbreak at the Rio games, it is easier for humans to pass the Coronavirus onto fellow athletes, coaches and more, which prevented Tokyo from hosting the Olympics safely.
"[The games] must be rescheduled to a date beyond 2020 but not later than summer 2021, to safeguard the health of the athletes, everybody involved in the Olympic Games and the international community," the IOC said in their joint statement with the Tokyo 2020 Organising Committee.
As for an alternative, the IOC simply scheduled the Games for the same time next year: July 23 through August 8, 2021. Shaun Bailey, a British mayoral candidate, proposed using venues from the 2012 London Games to host the Olympics, but that idea was quickly shut down by the IOC and Tokyo Governor Yuriko Koike.
"It is not appropriate to try and make [the Olympics] an issue in a mayoral election," Koike said.
Prior to the changing of dates, approximately 6,500 athletes had already claimed their spot in the Games. The IOC released new qualifying regulations in early April that will lock these athletes, while recommending that sport-specific governing bodies relax rules for 2020 athletes so they can qualify for 2021. For soccer, FIFA already announced plans to raise the maximum age limit from 23 to 24 years old.
The postponement is expected to cost Japan anywhere from 12 to 25 billion dollars, while also impacting broadcasters and advertisers. According to the Associated Press, 73% of the IOC's income cycle comes from broadcasting; it is estimated that NBC is responsible for half of the broadcasting number. Brian Roberts, CEO of Comcast (NBC's parent company) is unworried, telling CNN Business that the company is insured.
"Should there be some disruption, as others have said, we anticipate these kinds of things," Roberts said in a late-March interview.
Expectedly, athletes are disappointed about the postponement. Japanese tennis star Naomi Osaka, a two-time Grand Slam champion, posted on Instagram about both her sadness regarding the games but also her optimism for her home country.
"Sport will eventually unite us again and be there for us always, but that time is not now," Osaka wrote. "To the people of Japan: stay strong, hang in there, and let's show the world our beautiful country when the time is right in 2021."
As far as Team USA, many are already questioning who will be present (and who will be absent) come 2021. Swimmer and 12-time medalist Ryan Lochte told ESPN he's "100 percent in" for Tokyo. Volleyball player Tori Dixon, a University of Minnesota alumni, has been aiming to play in Tokyo after she missed Rio due to a knee injury.
"If it had been canceled, I'd be crushed," Dixon told the Minneapolis Star Tribune. "But athletes are trained to deal with adversity. It's like, 'OK. One more year of training.' The dream is still there. It's just put off for a little bit." 
However, fans of Team USA will be a little nervous to hear that Simone Biles, the most decorated American gymnast ever, has not committed to Tokyo next year. 
"I don't know if I can deal with USAG for another year," Biles told The Wall Street Journal, referencing both the aggressive training regimen and the recent abuse scandal with former team doctor Larry Nassar.
Regardless of who shows up to compete in Tokyo next summer, it should be considered a victory that the international sporting spectacle is being held at all. All eyes will be on Japan, as the world eagerly awaits the return of the Olympic Games.
About the Writer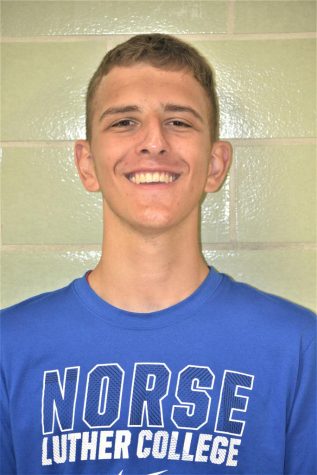 Peter Heryla, Co-Editor-in-Chief
Peter Heryla is a senior at CHHS and an Editor-in-Chief of the Heights Herald. This is his third year on the staff. In addition to the newspaper, he is...