Vegan cookies prove to be versatile
No eggs? No butter? No problem. Veganism, otherwise known as the practice of not consuming products derived from animals, may seem like a struggle. And for some, this may prove extremely challenging, but for others, it's exactly the opposite! Veganism—which is not to be confused with vegetarianism—is more than just the practice of not eating meat, and it has also made progress in entering the mainstream food industry. Options like the Impossible Whopper at Burger King and the Plant-Powered Vegan Bowl at Chipotle can help you make environmentally-friendly decisions while making your tummy happy. This is a win-win situation if you ask me, and I've been proudly vegetarian for six months now!
The following recipe makes about 8-10 delicious cookies. Prep time: 10 minutes. Cook time: 25-30 minutes. Total time: 73 minutes
Ingredients: 
3 ounces of finely chopped walnuts (about 1 cup) 

3/4 cup of refined coconut oil, melted 

3/4 cup of dark brown sugar 

1/2 cup of granulated sugar

1/4 cup of unsweetened almond milk (or non-dairy milk of choice) 

1 teaspoon of vanilla extract 

1 1/2 cup of all-purpose flour

1/2 teaspoon of baking soda

1 1/2 teaspoon of kosher salt 

1 3.5 ounce vegan dark chocolate bar, chopped 

1/2 cup of vegan dark chocolate chunks 
Instructions: 
Add chopped walnuts to a large skillet. Toast over medium heat for 5-8 minutes, until walnuts begin to darken slightly, stir continuously to prevent burning. Pour melted coconut oil in skillet and stir to combine. Bring to a low simmer and steep walnuts for 8-10 minutes until the coconut oil is tinted brown and there is a nutty aroma. Whisk occasionally to prevent burning. Remove skillet from heat and let cool for 5-10 minutes. Strain walnuts and save for other uses.
Add warm coconut oil to a large microwave-safe bowl. Add brown sugar, granulated sugar, almond milk and vanilla extract. Whisk well to combine. Microwave for 20-25 seconds until sugars begin to dissolve. In a medium bowl, combine all-purpose flour, baking soda, and kosher salt. Mix with a fork to combine. Sift flour mixture into wet ingredients and fold in with a spatula. Be careful not to overmix. Fold in the chopped dark chocolate bar and chocolate chips until evenly distributed.
Scoop dough with a 2-ounce scoop onto parchment-lined baking sheets. Space at least 2 inches apart. Chill in the refrigerator for 30 minutes. Preheat oven to 375° F. Bake cookies for 15-20 minutes until the cookies are visibly browned. Let cool for 10 minutes on a cool surface. Enjoy your vegan cookies!
Adapted from a recipe originally by Rachel Gaewski of Buzzfeed.
About the Contributor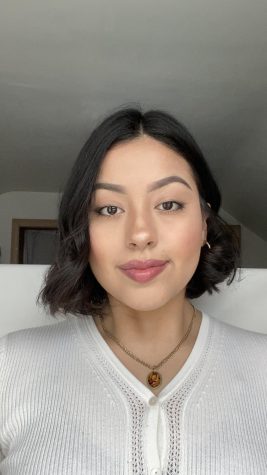 Gissel Inamagua, Co-Editor-in-Chief
Gissel Inamagua is the Co-Editor-in-Chief for The Heights Herald. She is involved in numerous activities here at CHHS. Currently, she is the captain of...