CHHS hosts country stars
Hang on for a minute...we're trying to find some more stories you might like.
Music students at Columbia Heights High School have always prided themselves on a level of professionalism and talent unparalleled by many, yet the chance to meet and speak one-on-one with career musicians hasn't always been available. In November, however, CHHS embraced their inner country music star and showed many how the district has their "hearts in the arts."
Columbia Heights High School welcomed Old Dominion, a chart-topping country band with many hits including "One Man Band", the video of which is at 24 million views and counting on YouTube.
Advanced music students had the opportunity to attend a songwriting seminar with special guests Matthew Ramsey, Trevor Rosen and Brad Tursi with the help of the Country Music Association Foundation (CMAF), who will give CHHS a $35,000 grant for the music department in 2020. These students also had the opportunity to attend a performance by Old Dominion and their periodic band songwriter Josh Osborne at the Ordway Theater of Performing Arts, where CHHS student Sophie Kuether (9) also had a chance to make a special on-stage appearance.
 A little over ten years ago, Columbia Heights Public Schools received a grant from the VH1 Save the Music Foundation to help develop their dwindling music program since the band program has been canceled. The VH1 Save the Music Foundation was very impressed with what the district has done in the years since and recommended CHPS for a grant from CMAF last year. CHPS was one of four districts in the country to receive the grant. 
"This district is different," CMAF Executive Director Tiffany Kerns said. "We want to walk into a district that says they will never allow the music program to be cut and with additional help we can build these programs."
CMAF is a branch of the Country Music Association made up of country artists who have a passion for music education and want to help keep that opportunity alive for young, aspiring musicians. CMAF raises its funds through a festival where 350 artists perform for free. The foundation also raises funds through various business partners, one of which is the Minnesota-based US Bank, employees of which came into the new band room and gym stage to paint. As a part of the CHPS bond referendum passed in 2018, the district received enough money for extensive and much-needed renovations, including to the Columbia Heights High School band room. US Bank used its volunteering program to bring out many employees including CHHS alum Dan Bennek (class of 1980) and Paige Oveson (class of 2009), who both now work in the US Bank's human resources department.
"I was a little hesitant to come back to Heights at first,"  Bennek said. "The old [band room] has been there since I was in school and I'm really impressed that they are spending their money on band because [it's] a great way for people to socialize."
As a part of the program, a select group of advanced musicians were also allowed to view and participate in a songwriting seminar. These choir and band students met select Old Dominion members and their good friend and collaborator Osborne. Between Ramsey, Rosen, Tursi, and Osborne, they've written songs for many well-known country music singers, including Keith Urban and Sam Hunt. At the event, student musicians and singers were given the opportunity to ask questions about the songwriting process, including what to do about writer's block and what comes first—the lyrics or the melody.
Kuether was one of the students that attended and took their advice to heart, as she has written some of her own original songs, including "Don't Quit on Me", which is about the important people in her life, including her family, friends and dog. Kuether, accompanied by her cousin Joe Berger, who is a part of the Los Angeles and UK-based band Raynes, got the opportunity to perform "Don't Quit on Me" in front of Old Dominion, Osborne and 1,500 audience members, all of whom gave a standing ovation after Kuether's final note.
"The experience was surreal," Kuether said. "It was amazing to be on such a big stage, surrounded by talented people who were really nice and welcoming."
When the crowd wasn't going crazy over Kuether, they were filming the performances of songs Ramsey, Rosen, Tursi and Osborne had written, including chart-toppers like "John Cougar, John Deere, John 3:16" by Keith Urban and "Better Dig Two" by The Band Perry, the latter of which topped three different charts and was written by Rosen.
"I consider this a love song, but some people think it is a murder ballad," Rosen said before performing. 
Along with all of these opportunities, CHPS will be a part of an upcoming documentary about music programs in public schools produced by CMAF, which will also include footage gathered during the March 2019 New York Seminar, including many performances by the band during the trip. 
"I'm really excited for the documentary to come out but also nervous because you never knew when they were filming, [and it] sometimes caught you off guard,"  band student Christina Bloodsaw (12) said.
The in-school event was covered by many major news sources including the Star Tribune of Minneapolis, local TV stations WCCO and KSTP, as well as representatives from Getty Images. 
CHHS has proven in the last 10 years that it truly has its "hearts in the arts" through dedication, love, and passion for the music they create. This passion is now paying off in a unique opportunity. This once-in-a-lifetime experience is a reflection of the hard work these young students have put their hearts into, exemplifying their commitment to the arts. 
In the midst of construction on a new band room disturbing their classrooms, the CHHS music department was given an amazing opportunity to talk and learn from professional songwriters and musicians. Maybe one day Heights will see students like Kuether on the top of the charts, visiting her alma mater and imparting her own advice on future generations.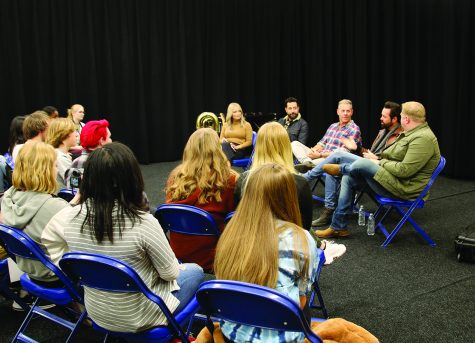 About the Writer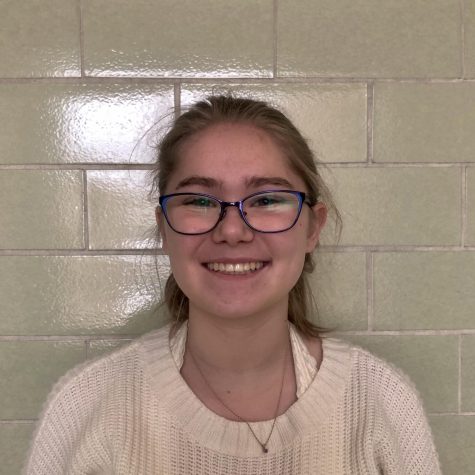 Molly Wilson, News Editor
Molly Wilson is a Senior at CHHS. This year she is the News Editor for the Heights Herald. Molly went to Twin Cities German Immersion School where she...