Paint-your-own pottery studio provides sanctuary for artists
If you are looking for the perfect place to relax, let go of your worries and let your creativity flow, Color Me Mine is the perfect place for you! 
Color Me Mine is an interactive art studio that offers a wide variety of pottery pieces to choose from to paint in any style and design. From mugs to adorable animals, it can take an eternity to choose. With affordable price ranges for the various ceramics plus a nominal studio fee, it's an experience that is accessible to all. There are also three convenient locations throughout the Twin Cities metro area: Eagan, Maple Grove and Woodbury. But do not worry, as no matter the location, relaxation and fun are ensured! 
No kind of experience with pottery is needed before walking in Color Me Mine either! A kind worker will explain the steps to select your piece, whether it's just a regular plain work of pottery to a more personalized item. The steps are very simple, will cause no stress and are as simple as preparing your piece with a damp sponge. After prepping your piece, it will be time to design and let that creativity flow. If any guidance or suggestions are needed, the studio's employees will not hesitate to help with anything. 
"The vibes were definitely really nice, the music was nice [and even] the lighting was nice. It was a nice space," Edison High School junior Paris Garcia said. 
Paris used all of her favorite colors and painted a mug in a style that will bring her joy during everyday use. Not only are her favorite colors a part of the mug but this special memory of being with friends and having fun is attached to it! 
Color Me Mine allows customers to throw birthday parties too! Seeing people from all walks of life enjoying such a special day with their important people while painting a piece is heartwarming, although seeing that tasty cake can make your stomach a bit sad if you're an onlooker! Party or not, though, you get to see how everyone is sharing a great time that's also calming and meaningful. 
"[I] 100% believe that art heals,"  Color Me Mine employee Lisa Holst said. 
The music and warm vibes of the studio can exchange your stress for peace instead. It definitely reminds one of spending a nice, relaxing day by the beach while listening to the relaxing sounds of the water with no care in the world but the ocean and its beauty. This led me to become inspired and paint a plate in the form of a color palette, but instead of it being your regular old color palette, I designed it to resemble a beach! Who doesn't love looking at the beach while enjoying a meal? Being able to design your piece in any way you'd like and feel allows you to express yourself and feel better. It's a great way to de-stress!
Holst shared that she herself has sat down at the shop and designed a piece! She says it made her feel "relaxed and happy!"  
After designing your pottery piece, it's time to put it in the oven, and then you will hear back from Color Me Mine in about a week or so to pick up your beautiful piece(s). Now they are all ready to be used over and over again, or become a decorative staple for a shelf or mantle! 
So instead of staying at home on a rainy day this summer, consider visiting Color Me Mine. Perhaps you can put your feelings on a 'plate' instead of just swallowing them. This unique and welcoming studio helps its customers express what you can't put into words, and by the time you're done, I promise you'll be feeling a lot better!  
About the Contributor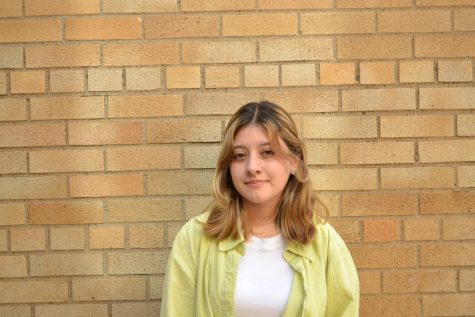 Sofia Romero Lopez, Staff Writer
Sofia Romero Lopez is a junior and first-year staff writer for The Heights Herald. She likes to write and read poetry and listen to music that puts her...