Synchronized swimming valued by students
Just because fewer students participate in a given sport doesn't mean it should be valued less than other athletic groups. Even though performing choreographed routines in the water isn't something that many people are commonly interested in, synchronized swimming is an extremely entertaining and impressive sport. 
The Columbia Heights High School (CHHS) synchronized swimming team has not only shown how fun and creative the activity can be, but their talent and success has, this year, officially advanced them to the state level. Typically, only a few swimmers move to state, but after their uniformly outstanding performance at sections last Saturday, May 19, every single swimmer on the team has advanced to state. 
These girls have achieved this well-deserved success under Ms. Camille Gross's coaching and noticed remarkable improvement, as seen by their victories at each and every competition. Their diligent work and determination to excel as a team, as well as boasting a robust number of individual standout swimmers, has given them the advantage more so than any other recent spring season. 
Late in the season, the synchro team (as they're called for short) competed against Forest Lake, a very challenging opponent. The performances from the synchronized team was astonishingly a great success, they performed for their community to prove their ability to be great swimmers but also represent CHHS.
"You have to be able to work well with each other inside and outside of synchro," Beatrice Carter (11) said. "We have to build personal chemistry to better perform."  
The scores in synchronized swimming are based on three main factors: the execution of the performances, which really just means how effective the swimmers' movements are; breathing, which is aided by the use of a nose clip to keep water out of the nasal cavity; and synchronization, which requires all performers on the team to be coordinated with their teammates and the music. Despite being somewhat of a solitary sport, synchro also requires a lot of teamwork and coordination, yet it can also be very difficult at times to keep up with the rhythm set by the beat of the chosen song playing overhead, especially underwater. 
Each performance may feature a single swimmer, a pair of swimmers, a trio or even more swimmers, depending on the routine. Synchronized swimming at CHHS is relatively small with just 12 participants as of this latest season. While coaching a larger team may appear to be more difficult, keeping things going and consistent with smaller teams also has its obstacles. Some difficulties Coach Gross faces include a lack of sufficient members to perform some bigger (and thus arguably more spectacular) routines; another difficulty is that tiny teams are not favored, both financially and in terms of respect from other competitors and judges. There are, of course, also some key benefits to being unlike the more common 25-30 member team in the water.
"A positive thing is that our small team allows us to have a stronger community, which is something a lot of bigger teams lack," Katelyn Hackett (11) said. 
Despite how simple it may appear to observers, synchronized swimming is a difficult sport that requires a lot of practice, skill and athleticism. While it's not likely to ever "pack the stands" like a playoff football game on a Friday night, it really should — it's all up to you, Hylanders, to show these girls the encouragement and attention for which they are overdue.
About the Contributor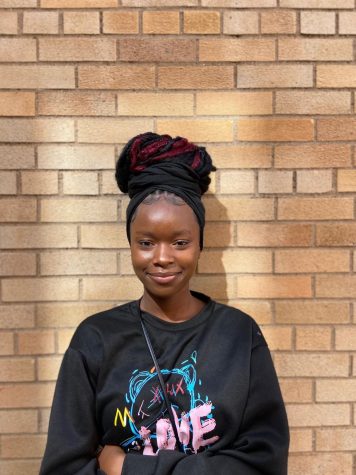 Ilma Ntambwe, Sports Editor
Ilma Ntambwe is currently a junior and the Sports Editor  for The Heights Herald. She hopes to have fun in journalism and be the best she can be. In her...