Rookie K-pop group releases first studio album
LE SSERAFIM has come back with their first studio album titled "UNFORGIVEN" on May 1 as "villains" breaking societal norms, encouraging listeners to follow their own path. 
LE SSERAFIM debuted on May 2, 2022 under the label Source Music with their debut album "FEARLESS". The music video for the title track "Fearless" has currently garnered over 160 million views on YouTube. LE SSERAFIM has five members: Kim Chaewon, Sakura, Huh Yunjin, Kazhua and Hong Eunchae. They originally debuted with six members, but Kim Garam left the group on July 20, 2022 shortly after they debuted due to allegations of bullying. This led to a lot of backlash and ultimately resulted in her removal from the group. All accusations were found to be false. Hybe Corporation put out a statement when LE SSERAFIM debuted denying the rumors and reaffirmed that there had been no physical violence committed by Garam. 
The debut of LE SSERAFIM was highly anticipated because former members of the popular K-pop girl group I*ZONE Miyawaki Sakura and Kim Chaewon were announced to be debuting in the new group. In addition, since they were debuting under the label Source Music, which was acquired by Hybe Corporation, they quickly became popular. Hybe Corporation is home to many well-known K-pop groups, including BTS, SEVENTEEN, TXT, ENHYPEN, NewJeans and more. The group name LE SSERAFIM is an anagram for "I'm fearless," which is fitting for their concept as a group. 
Before joining I*ZONE, Sakura had started her career as an idol early in her childhood and was in the J-pop groups HKT48 and AKB48. She has mentioned publicly how some thought that she was too old to be debuting once again. Many idols debuting nowadays are very young, with many being minors, which has led to idols who debut as adults being seen as "old." 
Member Kazuha was a former professional ballerina with no knowledge of Korean before she got scouted by Hybe to be a trainee. She had to quickly learn Korean and adapt to Korean culture while training for a year to be an idol before she debuted in LE SSERAFIM, while also closing her chapter as a ballerina. Member Huh Yunjin appeared on the show "Produce 48", which debuted the girl group I*ZONE alongside Sakura and Chaewon, but she failed to debut. She said that she had lost hope in becoming an idol and was about to be lost to business school in America before she was scouted by Hybe. 
Yunjin grew up in upstate New York and has lived in many places across the United States. She has experience in singing opera and being a songwriter. The twenty-one year old Korean American vocalist has experience writing for the group, as well as for her own solo tracks "Raise y_our glass", "I≠DOLL" and "love you twice". 
The new LE SSERAFIM studio album "UNFORGIVEN" includes 13 tracks, with the first six songs being from their previous albums "FEARLESS" and "ANTIFRAGILE", with some remakes as five members, as well as six new tracks. 
The seventh track, "Burn the Bridge", contains messages from the members that proclaim the start of their new journey as a group.
The eighth and title track "Unforgiven" is a hip hop song that features a steady and distinct guitar instrumental. In it, the group sings about how LE SSERAFIM are going to walk their own path despite the judgment and prejudices of the world. 
"It's giving girlboss." Columbia Heights High School (CHHS) student Samia Abade (12) said.
Later on the album, "No-Return (Into the Unknown)" is about starting a new adventure and expresses the excitement felt ahead of it. "Eve, Psyche and Bluebeard's Wife" is cheery with lyrics about doing what's forbidden, breaking the taboo and following your own rules. 
"It's uplifting and fun," CHHS student Hanan Johar (12) said.
The eleventh track, "Fearnot (Between You, Me and the Lamppost)", is a song for LE SSERAFIM's fandom. Next up, "Flash Forward" is a funky electro-pop song with lyrics about a heartfelt romance with an unsure ending. The thirteenth and final track "Fire in the Belly" is a pop song with some lyrics in Spanish. It is inspired by Latin pop sounds and is about burning the "fire" inside of you. 
"I thought [the album] was really good. There were a lot of different genres in the album, from 'Eve, Psyche and Bluebeard's Wife' compared to 'Unforgiven', and then 'Fearnot'," Mushtaaq Yasmin (10) said. "Each of them have a different vibe to them and I really like that. Even though it's a repackaged album, it's definitely on repeat. It's really cool and I really like 'Unforgiven'. It might be better than 'ANTIFRAGILE'. [My favorite song on the album] might be the title track, 'Eve, Psyche and the Bluebeard's Wife' or 'No Return'. Those are my top three [songs] right now. I really want to see more [of their] storyline included into their music videos. You can see their storyline in the trailer but not a lot in the music video." 
LE SSERAFIM is surely one of the current leaders of the fourth generation of K-pop. Their previous title tracks "FEARLESS" and "ANTIFRAGILE" have proven to be very popular among fans. Each member has something to offer on their own, but as a group everything clicks. 
Make sure to check out the new song "Unforgiven" by LE SSERAFIM, or maybe even give the entire album for a longer but just as enjoyable listen!
About the Contributor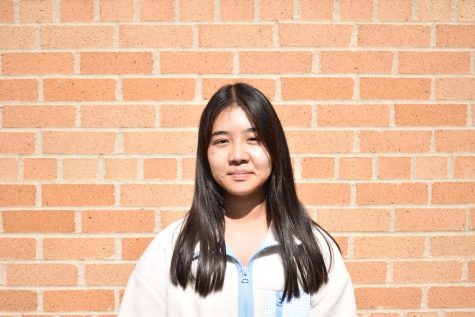 Tenzin Sonam, News Editor
Tenzin Sonam is a senior at Columbia Heights High School. She is the 2022-2023 News Editor for the Heights Herald. Outside of school, she enjoys listening...