Speech team experiences great success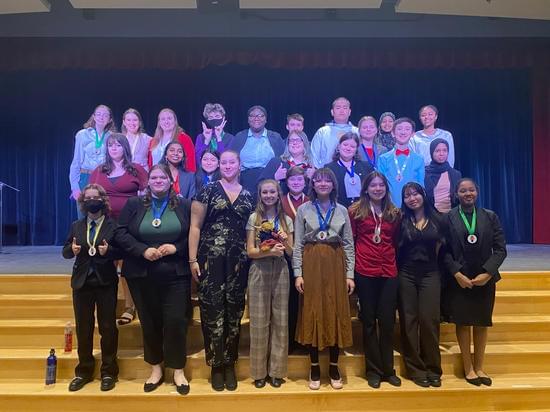 This story was originally published in Volume 22, Issue 2 of the Heights Herald Print edition. 
In 2019, Columbia Heights High School (CHHS) brought the speech team back, and now the group has grown to be one of the biggest on campus.
CHHS's speech team competes every Saturday at various high schools in the Twin Cities metro area. English teacher Ms. Rachel Mann and choir teacher Mr. Nick Hollermann coach the team through coordinated practices and offering personalized advice to each individual student. 
Like most other sports and activities, the speech team also has captains: senior Sophie Kuether and junior Bea Carter. This is one of the only non-athletic Minnesota State High School League (MSHSL) competitions that our school competes in (the One Act play being the other). That means that our speakers compete in the MSHSL Section and State competitions. 
"Everyone is friends with each other," Kuether said. "It is very inclusive and people on our team really support each other. There are so many different categories in speech, so there are many opportunities for success."
It all started with CHHS alum Maria Hernandez (class of 2020), who approached Mann about a revival of the speech team previously coached by math teacher Mr. Dan Ronchak until 2016. Over the previous four years, speech had grown slightly in size, but this year it really boomed, going from nine members last year to 30 now. The team's constant wins and overall talent last year was brought to the attention of many students over the loudspeakers and via Hylander News Network (HNN). 
When competing, members choose from 13 different categories. Some popular ones among the team are Creative Expression, Humorous Interpretation, Serious Drama Interpretation, Serious Poetry Interpretation, Serious Prose Interpretation and Storytelling. The speech member then goes up on stage or to the front of a room and delivers a speech in front of a panel of judges. Afterwards, competitors are ranked as any other of the tournament. With so many different categories, ranging from having a discussion with a group of people to giving a historical speech or a humorous or performing alongside a partner, members can decide what fits best with their personality and what they find the most fun!
"I was absolutely blown away by how many students were interested in joining the team this year," Mann said. "Mr. Hollermann and I had expected the team to grow, but I certainly didn't expect it to triple in size. It's really exciting working with a bigger team, and we have the opportunity to coach categories that we haven't coached in the past."
Adding to the excitement, on March 2, the CHHS speech team hosted their first ever conference tournament. Schools from all across the metro came to compete including all the schools in our conference, some being Academy of Holy Angels, Fridley High School, Bloomington Kennedy High School and so many more! Speeches were held in classrooms all over the building and the awards took place in the PAC. A total of 17 speakers placed in the top five of their respective categories and six Hylanders placed first. Katelynn Hackett (11), Sophie Kuether, Cassidy Wise (10), Caroline Raleigh (11), Sandy Moncayo (11) and Lily Kleinschmit (11) all took first place in Creative Expression, Drama, Great Speeches, Poetry, Prose and Storytelling respectively. 
"Hosting the Tri-Metro tournament was a lot of fun but also a ton of work," Hollermann said. "There is a lot of preparation that goes into hosting a tournament, but it all paid off. It was fun to have a home tournament and perform in a place that is familiar to us."
Unlike typical sports, speech only competes on Saturdays at all-day tournaments. This allows for a lot of bonding between the team members as well as encouragement and a healthy team. 
"The speech team is a really encouraging environment," Leo Pham (10) said. "We are all at the tournaments aiming to do our best, and we're cheering each other on along the way."
The section tournament will take place on March 28 at Stillwater High School, and the State Tournament is April 28-29 at Eastview High School. To cap it all off, and perhaps most anticipated for the rest of the school, the speech team will be holding an exhibition to showcase their talents for the CHHS student body later this year. So stay tuned for more details!
About the Contributor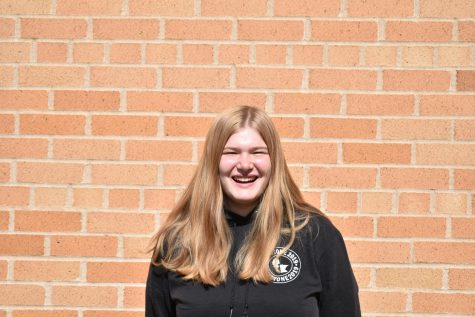 Greta Wilson, Co-Editor-Chief
Greta Wilson is a senior at CHHS. This is her third year on staff with The Heights Herald, this time as the Co-Editor-in-Chief after being the Sports Editor...