Popular musician expands on sound in new project
Taylor Swift's new Album 'Midnights', released in October pof last year has held a spot on the billboard for the twelfth week in a row. The album contains 13 songs and has many moods and features a dream-pop and Electronica vibe. 
Swift is a 33 year-old American pop singer and has been creating music since 2004 when she was just 14 years old. She composes music that has an American pop and country music sense too. She has grown a wide audience since she first started her career, having her songs featured on playlists, radio and in movies and televisions all over the world. 
Swift's albums always include different styles of music even though she tends to be labeled over and over, even as she evolves her sound. She is far from the generic singer-songwriter that her haters claim her to be. Her albums often jump from genre to genre,all while delivering innumerable infectious melodies, keeping her audience wanting more after every album drop. Let's look at her latest track by track to prove this point.
The album begins with the single, "Lavender Haze". This song is the perfect start to the album. It has this natural groove to it and sets the right mood for the rest of the album. Like falling in love for the first time, it describes the nervous rush mixed with the beautiful excitement of it all. Swift shows this through the repeated peaks of the song, followed by a calmer rhythm that eventually rides into a peak again, almost like a nervous love confession. The use of the lyrics "all of this is new to me" solidifies the message of falling in love for the first time. 
The next song, "Maroon", feels like the affecting aftermath of "Lavender Haze". In this song, Swift grieves the happiness she had with her past lover when something good turns sour and all you can do is think about all the moments you had together, good and bad. It's reminiscent of a girl in a coming of age movie going through a summer heartbreak.
Next up is, "Anti-Hero". This song has a synth-pop 80s ambience to it. Even though it is very upbeat and fun, Swift talks about her insecurities and self hatred. The lyrics, "I have this thing where I get older but just never wiser" really hit home for me. Unfortunately, his song has been spoiled by its constant usage on apps such as TikTok. Nevertheless, "Anti-Hero" creates a break from the repeated groovy rhythm Swift creates in "Lavender Haze" and gets the listener ready for the next song.
"Snow on the Beach" was one of my favorite songs on the album so far. As a fan of modern country-tinged pop icon Lana Del Ray (most famous for the 2012 hit "Summertime Sadness"), I enjoyed her feature in it. It also had a Christmas-like soundscape that I perfect for the winter. 
Next, "You're on Your Own, Kid" talks about that lingering feeling for someone you feel months or years after you parted ways. The lyrics, "you're on your own kid you always have been" expresses a deep loneliness and the darker sides of being famous, with Swift singing about the pressures of keeping up one's physical appearance and meeting beauty standards.
In a similar vein of introspection and sorrow, "Midnight Rain" discusses relationships with people with differing goals. Swift wants money, fame and power as her partner wants to settle down and be her husband. This song teaches that it's okay for relationships not to work out if you both have different goals and one shouldn't force a relationship and should let go.
"Question…?" goes on to deal with Swift constantly questioning the person she's interested in. She is cautious, not realizing that pressuring someone with personal questions can lead them to distance themselves. 
"Vigilante S***" has a very hip hop rhythm to it. The inclusion of lyrics like "Draw the cat eye sharp enough to kill a man" made me laugh in a light-hearted way. I wouldn't rank it as the best but neither is it the worst track. My 25-year-old sister would definitely listen to this going to work.
"Bejeweled" builds on Swift's rebellious streak on the album and gives a 21st century femme fatale vibe. Taking a turn from earlier songs in the album, Swift now talks about not needing a man and knowing her worth. 
"Labyrinth" is the perfect continuation to "Bejeweled". "Oh no I'm falling in love again," she sings on the track, healing phase but then falls in love at the wrong time. You know you're not ready and you don't want this to happen, but the feeling the person gives you makes you feel like it's worth-while. The tragedy ends with the narrator knowing it won't be worthwhile after all, that she'll end up broken just like the end of every other relationship. 
"Karma" is another standout on the album as it is a very relatable song about people who get what's coming to them after doing horrible things. Probably my second or third favorite overall on "Midnights" the message is honestly a relaxing and satisfying thought, just like Swift says in her song. It has a nice bop to it, resulting in an official dance trend on TikTok. 
"Sweet Nothing" finds Swift at her most nostalgic again, looking back on a relationship with someone who doesn't appreciate her efforts and all the memories they've made together. She ends up romanticizing all the sweet nothings from their past together and the bare minimum her partner did for her. I love the tune and this might honestly be a fan favorite, and mine personally too. 
Closing track, "Mastermind" tells the tale of Swift trying to make the person she's interested in her lover. She takes cautious steps and really plans out everything, explaining why she is repeatedly calling herself a mastermind. Her plan works out and everything falls into place, successfully making the person of interest hers. She reminds me of myself when I really want something to work out for me, romantically — and ends the record on an optimistic, confident note. 
Overall, it seems like most Swifties enjoy but aren't completely enamored with the musician's 10th full-length.
"Even though '´Midnights' is not my favorite Taylor Swift album," Allison Dickson, (10) said, ."I was pleasantly surprised."
As a non-Swiftie, I'd rate this album an eight out of ten. Her songs all have meaningful lyrics and everyone can relate to at least one or more of the tracks. The beats and rhythms, however, all have a very millennial quality that by now is a bit played out. I feel if she experimented with her beats more, her audience would grow and it'd be good for her to get out of her comfort zone a bit.To be perfectly honest, I doubt I'd listen to any of the songs again, except "Snow on the Beach" of course.
About the Writer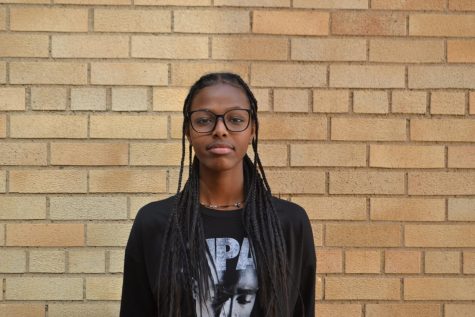 Safiya Ahmed, Lead Photographer
Safiya Ahmed is the Lead Photographer for The Heights Herald. She also writes poetry sometimes and loves the 90s band Deftones!