Vietnamese cuisine showcased in Northeast Minneapolis
In recent years, American diners have expanded their food selections to more than just the typical Chinese comfort food and sushi options. Vietnamese cuisine, in particular, has risen in popularity, and Quang Restaurant in Minneapolis has been a hot spot for a while now. Serving the metro area since 1989, one of the family-owned restaurant's famous dishes is the com suong + bi cha, combination platter of grilled pork chop, shredded pork skin, and crab and pork meat pie. It's served with lettuce, rice, pickled carrots and nuoc mam (fish sauce with lime and garlic). They offer many different entrees: starters, bun vermicelli noodle salads, platters, banh mi sandwiches, noodle soups, pho and a section for weekend specials. They also offer a selection of che (Vietnamese desserts), bubble teas and traditional beverages. Growing up in a Vietnamese household, I have eaten many Vietnamese dishes, and eating at the Quang restaurant was a great way to bring back the flavors of Vietnam!
Walking into the restaurant, a section full of Vietnamese desserts are displayed on the counter with a miniature Buddha shrine and Quang merchandise hanging from the wall. The lighting set the mood for a homey feeling, something that the restaurant clearly wants their customers to experience when indulging in Vietnamese cuisine.
Quang offers a menu with a wide selection of food with conveniently labeled popular specialties, such as the com suong + bi cha platter and their aromatic jasmine bubble tea. They also are thoughtful on food sensitivity, and have labels on specific dishes for gluten sensitive, gluten free, vegetarian, and vegan customers. Even though the restaurant is often crowded with customers, the wait times (five minutes for a drink, under 20 for a main dish) are more than reasonable. The smell of the meat makes mouths water upon first sight. The pork has a surprising sweetness, with a burst of flavor making it obvious why it is such a popular dish. It had the perfect amount of juiciness, and as a person who has braces, it was not too chewy. The veggies, rice, shredded pork skin and meat pie have less of an intense flavor, which balances the platter, and the nuoc mam adds an additional boldness to the entire plate. I rate this entree a 9/10.
Next was the jasmine milk tea. As a milk tea enthusiast, I was eager to try the drink. Taking my first sip, I was in awe. It was honestly the best jasmine milk tea that I had ever tasted. Boba shops tend to add more milk than tea to their drinks, but Quang had brought out the aromatic flavor of the jasmine tea. The boba pearls, however, needed to be more chewy. They were quite soft and melted in my mouth. I would rate this drink a 10/10 if it came without the pearls, but the pearls drop the rating to an 8/10.
Another customer ordered another popular dish, called hu tieu xao which is spicy pad thai and devoured the dish in ten minutes. "The dish was spicy, but it was addicting," Alan Molina of St. Anthony Village High School said. "The peanuts in the dish added a nice crunch and nutty flavor. I would rate this dish a 7.5/10."
Whether or not you have tried Vietnamese food, Quang is the perfect place to enjoy some Vietnamese cuisine! From the wide variety of appetizers, soups, noodles, platters, desserts and drinks, their food can be loved by anyone of any background. Hopefully, your experience will be as great as mine, so the taste of Vietnam can steal your heart!
About the Contributor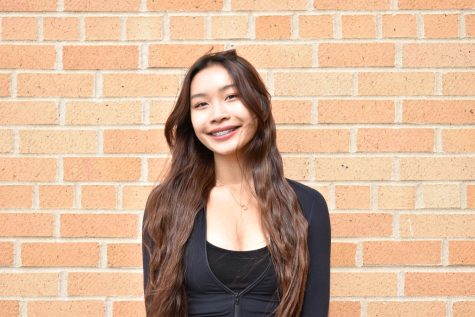 Danquyen Le, Staff Writer
Danquyen Le is an adventurous staff writer and podcaster who is always down to have fun and lives by the motto "You never know until you try!" She...