Dance team triumphs, concludes 2022-23 season
Columbia Height High School (CHHS) has a great dance team that is entirely underrated.
The dance team here at CHHS started back in the 70s. The head coach is Alison Humpal and there are currently 11 students on the team. There are three coaches, one head coach, and two assistant coaches, Coach Cazho and Coach Ortiz. They practice Monday-Friday in the dance studio at the High School throughout the season which starts in late October.
The head coach, Alison Humpal, is a dancer herself and currently teaches 8th grade English at Columbia Academy. She feels that dancing helped to make her feel free, and as she trained dancing just became an instinct to her, which gave her confidence in her dancing.
"We learn two dances every year [and] I also get to learn about everyone on the team and get close to them," captain Libby Schoenbauer (10) said.
You can see the team perform at select (TBD) halftime shows during CHHS basketball games, along with at any of their competitions. There are a few upcoming competitions from January to February; the Totino-Grace invitational on January 21st, the conference championships on January 27th, and finally to wrap up the season sections at Bloomington Kennedy on February 11th.
There are three different sections of teams within the dance team. There's junior varsity jazz, varsity jazz and varsity kick. The overall team includes all teams as one but there are differences within each section. The JV and varsity jazz teams are the same style of dance, but are just at different levels of dance. The varsity kick team section is just a different style of dance than jazz. The style of jazz versus kick is that kick has a lot of jumping, lower body movements and of course literal kicks, as jazz has a mix of upper and lower body movements and has more fluid actions.
So far this season the varsity jazz team has gotten third place at the Fridley invitational and the junior varsity team got second place at the all-jazz conference meet.
"Dance can be a huge confidence builder – it's hard to get up in front of everyone and perform, especially when most people don't understand how difficult and potentially dangerous many dance skills are," CHHS dance head coach Alison Humpal said.
Although being a part of the dance team has benefits like making friends and learning new skills as dancers, there are many other benefits that might not be as commonly thought of. Being a part of a dance team can improve your overall skill as an athlete, from discipline to improved cardiovascular health. No matter what other sport you may be in, dance has many benefits to go around. It helps to grow strength, balance, body awareness, stamina and much more. Along with the obvious athletic benefits there are mental benefits as well. For example it can be a way to express emotions. Many dancers are constantly motivating their teammates, motivating themselves and overall bringing confidence and pride to the team. Dance is also a way for individuals to express themselves, so it can be an outlet for dancers.
Thinking about joining? Talk to Alison Humpal or any of the coaches for more information. It could be a great way to make new friends, improve yourself mentally and physically.
Supporting our dance team is just as important as supporting our football or basketball team, so keep an eye out for any competitions coming up and bring your school spirit!
About the Writer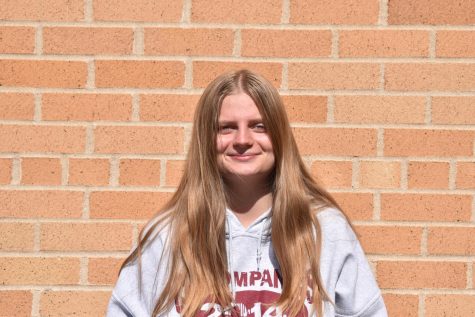 Cassidy Wise, Staff Writer
Cassidy Wise is a sophomore and a Staff Writer for The Heights Herald who loves horror movies, TV shows, and true crime stories.