K-pop groups stuck together less and less often in 2022
2022 was a big year for K-pop, with the debuts of anticipated groups such as LE SSERAFIM and TEMPEST, and the comebacks of established groups like Stray Kids and Red Velvet. Along with these positive moments, there were a lot of negative moments too, including the exit and/or removal of members from multiple groups for a multitude of reasons. Though members leaving groups is nothing new in K-pop, 2022 brought about a wave of scandals and drama, leaving fans with little to no answers on why their faves are no longer with their groups.
The removal of member Soojin from the girl group (G)-idle last year due to bullying scandals, which are taken very seriously in Korea, raised anger among fans. The response or lack thereof from Cube Entertainment, which is known to leave its idols out to dry during scandals, did not improve the situation.
 "I was sad and thought that this was unfair. It kind of made me think again how different the entertainment industry [in South Korea] is from the Western entertainment [industry]." Melat Gebre (12) said. "You would think that a company would try to investigate the situation like other companies in [South] Korea but no. This led to Soojin being put on hiatus, her departure from the group, and then termination of her contract with Cube Entertainment."
The removal of Soojin hit fans extra hard as idols Dawn, formerly known as E'Dawn and Hyuna, were forced out of Cube Entertainment after they confirmed relationship rumors between the two. 
One thing that separates K-pop groups from most Western groups is the time and practice that goes into preparing for their debut, with some idols spending close to a decade as a trainee with their company before taking to the stage. Because of this, members that train together spend a lot of time with each other, creating deep friendships and bonds. Many trainees start as young as the age of fourteen (or even younger in more extreme cases), making them very moldable and very affected by their environment. This also results in trainees and pre-debut groups having fandoms without having official releases. With all the time that is spent together as trainees and the years together as a group, it's no shock that members leaving a group has a very big emotional toll on the remaining members.
Another thing that separates K-pop groups from others is the content that they put out. The average K-pop group not only releases albums and goes on tour, they also appear on variety shows, have their own reality shows, post on YouTube and social media constantly, and use platforms like Bubble or Weverse that allow artists to communicate with fans directly. Because of this, K-pop groups and their fans tend to have a connection that can't be found anywhere else. So when fans find out that their favorite idol has just been removed from a group that they have watched and listened to for a long time or even since pre-debut, they are angry and likely to speak out. Adding fuel to the fire is the fact that companies rarely release statements that satisfy the fans, and K-pop idols are not allowed to speak out about their experiences per their contracts with their agencies.
There is a very visible trend in the K-pop industry with many scandals revolving around bullying, relationships or past behavior. There are many celebrities who have committed actual crimes (Chris Brown, Mark Wahlberg ) that continue to have a strong fan base and support from people, but if there is even a rumor about an idol being rude to a staff member? They might be removed from their group and have their contract ended, losing something that they may have worked years to achieve. 
"I think that Jinni from NMIXX leaving the group was really confusing. It was just so random and it happened so fast," Farhiya Mohamed (12) said. "Because the group just recently debuted, Jinni leaving didn't really affect me all that much. They said that it was for 'personal issues,' but I think that something else happened because of how happy she was that she finally debuted. Since she left the group we haven't heard anything from her, but hopefully, we will soon."
Many scandals start out as and stay rumors, such as the multitude of bullying scandals that turn out to be nothing with a recent example being Hyunjin from Stray Kids. He was put on hiatus but later cleared of accusations and continues to be an active member. The fact that a random fan or person can just make something up about someone and ruin their career as a member of a group is ludicrous. Even if the rumors are proven to be false after the fact, the damage is done, and then they are no longer a part of the group. 
There have, however, been instances that ended on a brighter note. In late 2019, seven-member boy group Monsta X and their company, Starship Entertainment, announced that their lead vocalist and dancer, Wonho, would be leaving after four years with the group. This came following rumors that he had participated in the recreational use of marijuana. Fortunately for fans, Wonho was cleared of all drug charges and debuted as a solo artist not long after under Highline Entertainment, a subsidiary of Starship. He continues to have a thriving fan base and has made five albums to date. This is an example of a positive that has come out of a member leaving because if he hadn't, who knows if we would have gotten the gems "Open Mind" or "Lose".
This topic has been on the minds of fans for a while now with the removal of RAVN from the K-pop group ONEUS really adding to the list of controversies. Hearing his voice on their Japanese album, which was released after his departure, was heartbreaking and made me realize I would never hear him on one of their projects ever again. I'm honestly scared because I never know if a scandal will hit a group that I really love and they will lose a member. I can't ignore all of the sadness and hurt that this causes to the idol and to the fans. You definitely should never get attached to a celebrity or anyone that you have never even met before, but a fan's pain of never being able to listen to a new song written by one of your favorite artists or see your favorite group as one again is valid.
About the Contributor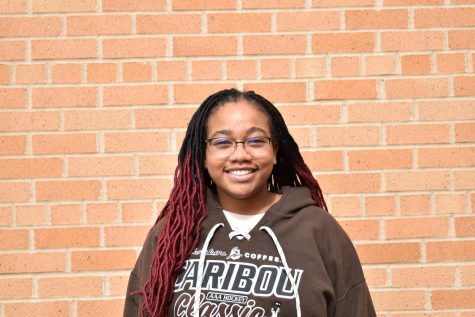 Destiny McDowell, A&E Editor
Destiny McDowell is a senior at CHHS, and it's her second year on The Heights Herald, this time as the Arts & Entertainment Editor. She enjoys eating...