Netflix Original film offers complex look at teenage romance
No one forgets their first true love. A good romance movie reminds us of this, and a great one allows us to, if only for two hours, relive it. 
"20th Century Girl" is a South Korean film about a romance taking place in 1999 between two young lovers. A production of Yong Film ("The Handmaiden"), directed and written by first-time filmmaker Bang Woo-ri, it stars Kim Yoo-jung ("The 8th Night") and Byeon Woo-seok ("Record of Youth") as the leading characters. One year before the new century, we follow the story of Na Bo-ra (Kim) and Poong Woon-ho (Byeon).We watch as the two unravel a new concept of friendship, emotions and first love. 
The film starts off with Na Bo-ra in the year 2019 when she suddenly revisits her hometown and recalls past memories from high school. The story is then told through the perspective of Na Bo-ra as a 17-year-old high school student, retelling the story of her first meeting with Poong Woon-ho while pursuing information about Poong Woon-ho's best friend Baek Hyun-jin (played by Park Jung-woo),  on behalf of her best friend Yeon-du (played by Roh Yoon-seo), who has left for the United States in need of heart surgery, leaving Na Bo-ra with the tasks of collecting information of a boy she recently took a liking to. While in the process of gathering information about Baek Hyun-jin, she decides the best way to acquire intel is to take advantage of a person that is closest with Baek Hyun-jin. Na Bo-ra then takes an interest in Poong Woon-ho, gradually leading into a romance forming between the two. 
Bang's film is able to capture the freshness of love through purity, comedy and the complexity of friendship. The climax and pacing of the story is timed effectively and is able to convey a reasonable amount of time for a romance to spark. The film also includes challenging obstacles that test the couple's relationship, such as Yeon-du actually crushing on Poong Woon-ho instead of Baek Hyun-jin. 
"I really felt like the film is able to capture the first experience of love and how it feels to be in love with someone," Columbia Heights High School (CHHS) student Heidy Coral (10) said. "It has grown to become one of my favorite romance movies." 
The movie is set in a small town, with the colors being visibly more vibrant and saturated than in the present year, representing Na Bo-ra's youth and innocence during their adolescence. The lighting was less effective during scenes that took place in the night and afternoon as they were over-saturated, causing the color of the actor's skin to be vibrantly more yellow than normal. Beside that fact, the film was greatly able to set the scene while creating an atmosphere that both are memorable and aesthetically pleasing to the audience.  
The emotions "20th Century Girl" manages to express through the actors onto the audience is admirable. They are able to create characters that the audience grows to love and eventually learn to empathize with during the short watch time of one hour. It is both heartwarming and heart-wrenching watching the first and last steps of their relationship take place. 
"I really loved the movie," another CHHS student, Mersony Hester (10), said. "I enjoyed the rollercoaster of emotions I felt during the heartbreaking scenes and how the actors were able to convey it."
Towards the end of the film, as Na Bo-ra and Poong Woon-ho part ways, they gradually stop staying in contact with each other—just as life moves on, so do they. When the film returns to the present, Na Bo-ra learns the reason Poong Woon-ho stopped staying in contact shortly before the beginning of the 20th century. 
"20th Century Girl" manages to take the theme of first love and turn it into a beautifully written piece of art. Bang tells a story of friendship and the importance of cherishing moments before it's too late. The impact that first love has on someone is truly, always, an unforgettable experience. It's now streaming on Netflix.
About the Contributor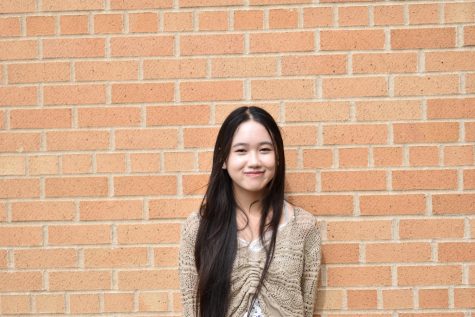 Hiedi Lee, Staff Writer
Hiedi Lee is a sophomore at Columbia Heights High School and a Staff Writer for The Heights Herald. Her hobbies are piano, reading, writing and cooking.