#HylandersRead: "Concrete Rose"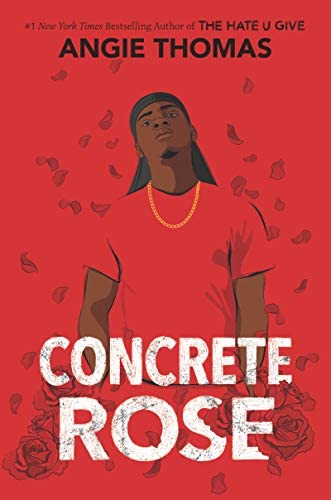 This story was previously published in the Heights Herald fall print edition.
New York Times #1 Bestseller "The Hate U Give" by Angie Thomas was a hit amongst all audiences, showing the polarity between a Black neighborhood and a white-majority prep school. Four years later, Thomas released a sequel, "Concrete Rose", following the transition Maverick Carter makes from a drug-dealing teenager to a father of two, one of which is Starr, the protagonist of the aforementioned hit novel turned into the 20th Century Fox 2018 feature film. It shows the unromantic lifestyle of a teenager who lives in a very low-income household in the late 1990s and has to find ways to support both himself and his family. 
Thomas captures both the joys and the struggles of being a parent and a teenager, emphasizing how important strong friendships can be in relieving stress from your everyday life and showing the repercussions of losing those friendships as well. The glamor that is so often added to shows and movies about teenage life is stripped away, revealing how challenging it can be to manage work, school, and relationships. The novel explores many topics that often aren't discussed in other media, ranging from the depiction of emotional vulnerability in men to talking about alternate pathways to success besides obtaining a diploma. When Maverick discovers that he won't be able to graduate, for instance, both he and readers are taught about the option of a GED and how it doesn't necessarily inhibit your ability to pursue your dreams. 
"Concrete Rose" has very well-written believable characters as well. In both this novel and its predecessor, Thomas sustains a high level of authenticity by using AAVE, or African-American Vernacular English. The combination of using this language and the breaking of stereotypes makes this novel very educational to all audiences, but especially non-Black readers, as it manages to strike an important and powerful balance between realistically portraying the poverty and violence that afflicted several urban Black communities in this time period without ever glamorizing it or making the characters feel incapable of escaping it. 
"Concrete Rose" is a must-read for everyone, showing how one can overcome obstacles if they find the right pathways and use their available resources. Angie Thomas breaks both racial and societal boundaries to create a novel unlike any other, just like "The Hate U Give".