CHPS appoints first black school board member in district history
This story was previously published in the Heights Herald fall print edition.
As you may have heard, previous Columbia Heights Public Schools (CHPS) board member and Chair Naty Severson stepped down from her position, effective immediately as of October 25. 
"My journey with generalized anxiety disorder began not long after the birth of my third child," Severson said in a statement. "Since then, there have been ups and downs. I am very thankful for everyone who has come alongside me during this journey."
In order to fill the vacancy, the school board accepted applications for a special appointment to the board on November 7, leading to the appointment of CHPS's first female African American school board member chair Ms. Michelle Pettway. 
How does it feel to be CHPS's first African American female board member?
Being the first African American female board member never really crossed my mind. I mean I can definitely recognize and appreciate it, but it's not my focus. I don't feel like I'm doing anything more extraordinary than the person who will be seated to the left or right of me. I just feel excited and grateful for the opportunity! 
What goals are you trying to achieve now that you are a part of the board, and what impact do you want to make?
My goals right now are to learn my job and listen to those around me, then I can make future goals and plans. I just look forward to taking in all that I can from the formal board member training, other board members, community members, other CHPS staff and whoever else has advice to give. I'm not sure what individual impact I want to [or] am capable of having yet, as I'm sure it can go in many directions, but in general I believe that what you put out is what you get back, so I plan to put lots of positivity and hard work into whatever task is placed in front of me. We have an amazing district, and I want to help it continue to build and shape our community and schools. 
How is the environment the board and district been since being appointed as a new member?
I won't attend my first official board meeting until January, so I can't say what that environment is like, but I can say the rest of the board members make me feel welcome, eager, and a little less anxious about taking on my new role. As far as other environments, like my daughter's school (North Park School for Innovation), everyone is so supportive! What positivity! I've received many well-wishes and congratulations! It's all a bit overwhelming because I'm not used to being recognized for much, but it's nice to know that I can have that effect on the people around me! Now I guess it's time to do more with it! It's also a great energy to start with as a new member!
How long have you lived in Columbia Heights/Fridley, and what brought your family here?
We moved to Minnesota from Cleveland, Ohio four years ago and started out at an apartment in Fridley but needed a larger living space. We lived in two different cities and attended the school out-of-district for two years until we found a townhome back in Fridley within the CHPS district. We just moved in this past June. Ohio had little opportunity for growth for our family. We had friends who lived here and loved it. We visited in the dead of winter—January 2017—and moved here permanently [in] October 2018 and never regretted it for a second. We love Minnesota! My mother even moved with us, which can bring comfort even in the scariest of times. 
What do you do outside of being a parent and soon-to-be board member?
Outside of parenting and board member activities, I am one of two parent facilitators of the Families of Color Affinity Group at North Park. We help the families use the school's diversity to their advantage by creating a safe and open space for their voices to be heard and bonds to be created. It's another first for me, but it's been a great experience and helps with my new position on the board as well. I am [also] an Orthopedic Coder for Allina Health in my professional life. Personally, I love to craft/create, do puzzles and go to the movies. I also love playing games on my phone where I can beat my personal best scores (at the moment, Beatstar, Yahtzee and Sudoku). There's loads of great friend and family time spent as well! If anyone knows my little girl, Anita, they can confirm that she will never allow there to be a dull moment…ever.
What have been your favorite activities to do or businesses to patronize around Heights/Fridley?
We are still a bit new to the area so everywhere tends to be a new experience. We go exploring quite a bit and try mostly everything new at least once. The district  and schools have great events that we try to attend and parks are always fun, plus there are so many to choose from. Huset Park is one of our favorites. We also like trying the local bakeries and ice cream shops. So much ground to cover—we aren't bored, that's for sure. 
About the Contributor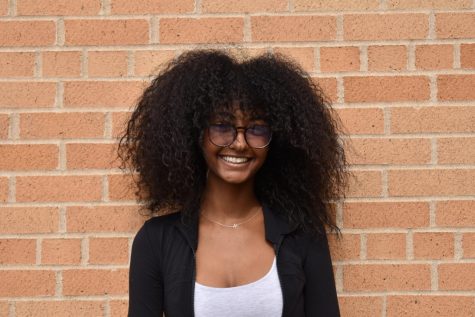 Heaven Gg, Staff Writer
Heaven Gg is a staff writer in 12th grade and captain of the volleyball team. In her free time, she likes to watch Netflix and hangout with friends.