Exchange students adjust to American life
This story was originally published in the Heights Herald Print Edition.
Columbia Heights High School (CHHS) is accustomed to seeing new faces each academic year, what with each class graduating and a new group coming from the middle school, but we have also been able to meet and learn from a couple of visiting faces from different parts of the world. 
People may not always realize the benefits of experiencing school with exchange students—something that has become less and less common at public schools over the decades—but they. They provide an alternate outlook on American culture as well as offer insights into global communities, among other benefits. 
CHHS has welcomed exchange students from all over for a number of years, but the program was understandably on hiatus during the COVID-19 pandemic. And it's refreshing to have it back, this time with concurrent global additions to the Heights community. 
Our first exchange student is Alessia Marceddu. She is a junior this year and in Columbia Heights from Arbatax, Italy. 
"It's really hard being away from my family, my friends and everything I've known since I was little," Marceddu (11) says. "I've been thrown into a reality that isn't at all what I was used to, and I basically have no one who I can rely on besides my host family and my association."
As some can imagine, it's not very easy being an exchange student. You don't get to see your family for months, you have to get used to a completely new setting, school and home, and it can be very overwhelming. They also can't just talk to their family whenever they want. They have to keep in mind the time difference and only call or text during certain hours of the day. When coming from a different country, exchange students also can't really speak their home language as much, so it can be very exhausting sometimes to speak English all the time.  
"The school system [in Italy] is completely different," Marceddu says. "The high school lasts five years and [classes last for] five hours [a day]. The thing that shocked me the most was how connected you are with the school. In Italy, school and the school community do not have as much of a relationship as you do here. We don't have school teams [or] school games, and I hope that this will change." 
Also in Italy, when students are done with middle school, they can choose which high school they'd like to attend out of three. Each school specializes in something different, but subjects like Italian, English and mathematics are provided throughout all three schools. For example, Liceo Linguistico is one of the three options, where high schoolers can study French and German along with their other nine subjects that include psychology, theology and more. Another example is Liceo Classico High School. There, you can study Latin and Ancient Greek. Just like Liceo Linguistico, you have nine other subjects to study which at Liceo Classico, can include history and philosophy. 
"I almost always don't ever notice that [they're] a foreign exchange student," social studies teacher Mr. Michael Prellwitz said. "Because Columbia Heights and any public school have so much diversity and people moving from other countries, it can usually take a class period or two to even realize they are a part of an official foreign exchange program. Once I figure that out, obviously I'm interested but I try not to fixate too much on it because I worry that student is constantly getting bombarded with questions about their country but I can't deny, it fascinates me as a social studies teacher, as someone who is interested in history and all cultures, I always find a way to ask questions and an opportunity to give their perspective."
Haakon Christiansen is another exchange student the Hylander community has had the opportunity to get to know. He is also a junior and comes here all the way from Tønsberg, Norway. 
"The first day here was terrifying," Christiansen (11) said. "I came here [to CHHS] with no idea where to go but I knew the soccer team. It's weird because in Norway you know everyone and here you're completely new to everything." 
For exchange students, there's a lot to get used to: the new sounds, the social life, normalities on a daily basis and even restaurants. Of course, another thing you're getting used to here in America is the bigger portion sizes and depending on where you're from, getting used to having to pay for healthcare. 
"In Norway, we don't use notebooks," Christiansen says. "We only use computers and I'm not used to taking a lot of notes. We also don't get homework in Norway. The only thing we get graded on is the tests we take, and those tests consist of only fill-in-the-blank questions." 
One of the aspects of school in America Christiansen is looking forward to and has already begun participating in is athletics.
"I was playing for the boys soccer team and also did that in Norway but it's called handball," Christiansen said. "The other sports I'd like to try while I'm here in America are either baseball or hockey."
Whether it's through athletics, academics or both, Christiansen has also already quickly found a group of friends, classmates and teammates to help him through the stressful parts of daily American life.
"I really try my best to continually make Haakon feel welcomed because I moved to Minnesota from Louisiana," Bruce Thomas (12) said. "Coming to Minnesota was very different for me. I came in blind, not knowing anyone. It was a challenge so I wanted to make sure he felt welcome and let him know that he had someone here. We really just clicked—we understand the struggle of being new, not knowing anyone and being put into a new environment."
Make sure to give Alessia and Haakon a warm welcome in the halls and in class, also make sure to play kindness forward. Always be open-minded to befriending someone no matter where they come from, just like Bruce and Haakon. 
About the Writer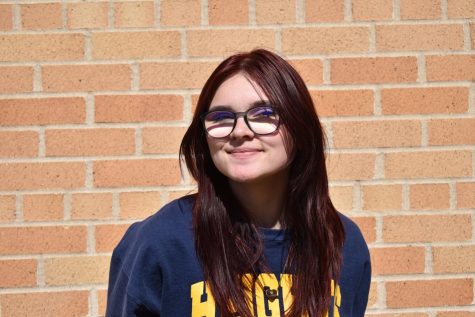 Rae Lawrence, Co-Editor-Chief
Rae Lawrence is a senior this year at Columbia Heights High School. This is her third year on The Heights Herald, this time serving as Co-Editor-in-Chief...