Broadway show finds new audience at MN theater
A certain "wicked" Broadway show made its way to the Orpheum Theater in downtown Minneapolis over the summer. With musicals back in full swing after being on pause due to the pandemic, seeing "Wicked" live in person was the perfect opportunity to visit the theater.
Initially adapted from the 1995 novel "Wicked: The Life and Times of the Wicked Witch of the West" by Gregory Maguire in 2003, both the novel and  its eponymous musical take the characters from the original "Wizard of Oz" as well as several new faces to offer a backstory of the Wicked Witch of the West, or Elphaba, and her frenemy Glinda the Good Witch. The musical itself is on a journey to be adapted into a movie now after touring nationwide for over 16 years now. Leading the project is "Crazy Rich Asians" and "In the Heights" director John M. Chu. Stars Ariana Grande and Cynthia Erivo were revealed in late 2021 to be in leading roles playing Glinda and Elphaba, respectively.
The 2022 stage musical was led by Lissa deGuzman as Elphaba and Jennafer Newberry as Glinda. Both leading ladies have had many stints on Broadway: DeGuzman has been in "Aladdin", "Fiddler on the Roof", and "West Side Story". Newberry has been featured in more modern musicals like "Freaky Friday" and "Finding Nemo". Secondary characters were played by other stars like Jordan Litz ("Legally Blonde"), Jake Pedersen ("Newsies") and Lisa Howard ("Les Misérables").
With such a talented cast, it's no shock that the performances were outstanding. Going in, I didn't realize how much of a comedy the show was going to be. The comical acting of deGuzman and Newberry had the whole audience laughing the entire show. 
"My emotions during the performance were all over the place because I couldn't believe I was actually seeing it in person and not just listening to it," C.J. Daher (12) said about their live musical experience. "It felt like a safe space for me because everyone there liked the same things as me. I remember when my mom told me about 'Hamilton' [getting canceled due to Covid] and I actually cried!" 
Newberry's performance of Galinda, later known in the story as Glinda, was an audience favorite. Her portrayal was the perfect amount of entitled popular girl and hyper, borderline crazy witch. Her laugh, physical comedy and, of course, voice were perfect for Glinda and made it extremely hard for me to be genuinely mad at her even when I didn't entirely agree with the choices of her character. The chaotic and cute sides of her performance contradicted the meaner side of Glinda that backstabs her friend by revealing the weakness she has in her sister, Nessarose. 
Lissa deGuzman as Elphaba was also amazing. Her portrayal of the character was so moving, but quotable at the same time, making me want to say her iconic phrase "Toss, toss" every five minutes after seeing the show.
Pedersen's portrayal of Boq, admirer of Galinda and love interest of Nessarose, definitely left a lasting impression too as he quickly transformed from a character that could have been pigeonholed into the role of comic relief to a devastatingly sad, forced romantic interest that Nessarose imprisons after rejection.
The staging of this musical was beautiful. As soon as my mom and I walked into the theater and saw the capacious dragon attached to the top of the stage we knew we were in for a fun ride. The tension and danger of countless scenes was heightened by the tremendous amount of smoke that erupted from the dragon's mouth. The Wizard's lair and, specifically, his menacing fake head was probably my favorite set and prop. The lights, sound and smoke every time someone spoke using it made me shiver in my seat. I am always amazed by the endless amounts of scenes and settings that can be created on one stage. 
Spending years in choir, I had expectedly heard of and even sung a few of the songs from this musical and was pretty excited to hear them live and in full context of the story. As predicted, "Defying Gravity" and "For Good" were amazing. In particular, deGuzman's delivery of "Defying Gravity" was breathtaking and the perfect song for midway through the show, leaving you wanting more during the intermission. Elphaba exposing her true feelings about wanting to go against all odds while being lifted majestically through the air surrounded by loads of billowing black fabric, smoke and the Wizard's guards literally and figuratively trying to bring her down, really stuck with me as one of the most memorable moments in the show.
This show not only reminded me of how much I love this story and characters but also how much I love musical theater in general. It reintroduced me to the fantastical world of the performing arts and opened my eyes to the amazing moments there are to be had while attending these shows. 
Seeing "Wicked" live made me begin to think about perspective and what point of view many stories, and even history, is told from. Any story you see could have had a starting point off-screen that greatly changed the characters in the story. This has also been my mom's favorite musical for as long as I can remember, and now I fully understand why. I will definitely be wearing my "Friend of Elphaba" shirt with excitement and pride from now on.
About the Contributor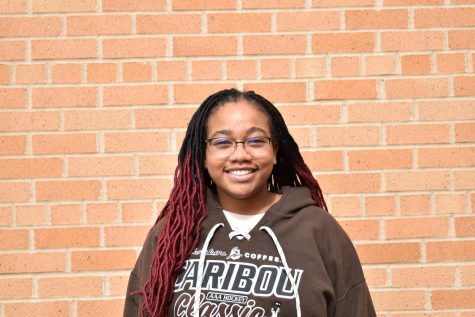 Destiny McDowell, A&E Editor
Destiny McDowell is a senior at CHHS, and it's her second year on The Heights Herald, this time as the Arts & Entertainment Editor. She enjoys eating...