Star-studded "Sonic" film hits the big screens
The world's favorite blue hedgehog, Sonic, has returned to the big screen in the hit family film "Sonic the Hedgehog 2" by Sega and Paramount Pictures. Along with Sonic are two iconic characters from the original video game series joining in on the comedy-action—Tails the Fox and Knuckles the Echidna.
We were first introduced to the Sonic cinematic universe in the first installment of the franchise, "Sonic the Hedgehog", in 2020 by the eponymous character, a supersonic anthropomorphic hedgehog voiced by Ben Schwartz ("Parks & Recreation"), who's living on earth after fleeing his home planet Mobius. Sonic then solicited the help of a human named Tom Wachowski, played by actor James Marsden ("Enchanted"), after being spotted by the government. 
The duo goes on a road trip while being hunted down by Sonic's notorious enemy bestie, Doctor Ivo Robotnik, portrayed by Jim Carrey ("The Truman Show"). In the end, Sonic manages to find a way to save the day and stay on earth with his friends and newly adopted parents, Tom and Maddie Wachowski played by Tika Sumpter ("Ride Along").
After the credits roll, a bonus scene hints at a possible sequel being produced with the addition of Sonic's partner from the video game series, Miles 'Tails' Prower. For any Sonic fan, this would signal that the follow-up to the enjoyable first film could be the greatest time of your life.
Having surpassed other 2020 films at the box office such as "Birds of Prey" (2020) and "Fantasy Island" (2020), the blue hedgehog's film earned $57 million on its opening weekend, setting a record for video game adaptation films. Leaving high expectations for the sequel, Paramount and Sega went back to work, and back to work they did. Beating their previous record with the second installment earning an astonishing $72 million on its opening weekend this past March.
Eight months after the events of the first film, Sonic's peace comes to a halt when Robotnik comes knocking at his door with the help of Knuckles the Echidna, voiced by actor Idris Elba ("Fast & Furious Presents: Hobbs & Shaw"). Luckily, another extraterrestrial creature named Tails the fox (voiced by Colleen O'Shaughnessey) arrives at Sonic's aid and explains the importance of getting to the mythical Master Emerald. Soon, the race begins to see which team can be the first to reach the Master emerald and the power it holds.
Written by Pat Casey, Josh Miller and John Whittington and directed by Jeff Fowler, "Sonic 2" is a heartwarming, silly action-adventure film that is a more confident and action-packed continuation of its predecessor. Bringing two new characters from Sega's video game franchise awhile digging deeper into their backstories and how they go through their self-discovery arcs during their adventure, the sequel pleases both long-time Sonic fans and new viewers with references from the game franchise that fans will enjoy and other movie references that everyone can appreciate. 
"Overall, the production of the film was amazing except for certain parts where the VFX were a bit janky," Simon Lee (12) said. "The film has a good [sense of] adventure and was very wholesome."
Although the movie is an enjoyable action film for most viewers, it is worth mentioning that the film wasn't created for those that are looking for a serious and mature movie. Filled with fart jokes and other potty humor, it is clearly targeted at the younger audience to enjoy. If you were hoping to be able to go watch a movie free from bathroom comedy, you are unfortunately not safe this time. 
Another flaw is how it belittles characters due to the main focus surrounding the new cast. Characters like Tom and Maddie played key roles during the first movie but are cast aside in the sequel as a part of a different plot point. This presents the problem of a Hawaii trip plot that feels unnecessary and only there for the case of advertising it as a perfect vacation area.
Another significant side effect of "Sonic 2" is that since its release, Jim Carrey has publicly stated that after 45 years of acting, he is finally taking a break and retiring. 
"I'm being fairly serious," Carrey says in an interview with Access Hollywood on the Sonic 2 movie. "I really like my quiet life, and I really like putting paint on canvas, and I really love my spiritual life, and I feel like—I have enough. I've done enough. I am enough."
This is devastating news for all of Carrey's fanbase, but it is well deserving for Carrey to take a break after a long career of acting. His performance as Robotnik in both Sonic Films is his first and last major role since "Dumb and Dumber To" (2014). Carrey has also joked, however, that there's a possibility of him returning under the precise conditions that "angels bring some sort of script that's written in gold ink."
Whether you are a fan of the Sonic the Hedgehog franchise or just looking for a fun-loving movie to watch, this is a must-see 2022 film featuring a speedster blue hedgehog and a flying fox saving the world from a power-hungry doctor and his irrational animal sidekick.
What else Sega and Paramount Pictures have in store for us in the future is uncertain, but what we do know is that with Carrey retiring from acting, and thus, Sega is searching for a replacement for Dr. Robotnik for the already confirmed third installment of the Sonic cinematic universe.
About the Contributor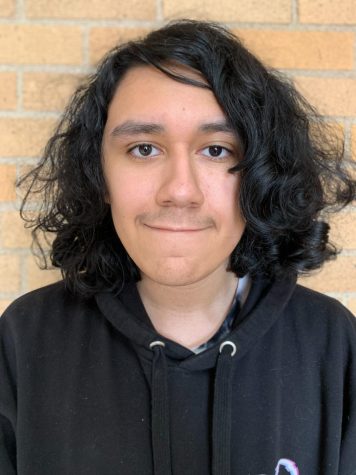 George Bonete-Quintero, Staff Writer
George Bonete-Quintero is a senior at Columbia Heights High School and Staff Writer for The Heights Herald. He is an active member of Chess & Games...