K-pop group gains attention with strange new album
Stray Kids are back and feeling odder than ever! The eight member group released their latest album, "ODDINARY", on March 18. This marks twelve albums since their debut a mere four years ago.
Like many other K-pop acts, they were formed through a survival program. "Stray Kids", created by JYP Entertainment, aired on MNET from October 17 to December 19 in 2017 and showcased nine contestants preparing for their debut. Typically, members are selected by judges, a voting audience or both, but each member of Stray Kids was chosen by the leader of the group, Australian-Korean Christopher Bang, also known as "Bang Chan". This instantly differentiated the group from any other as they debuted with a large group input on the music and concepts instead of just the ideas that their company presented to them, which is how most groups usually start out.
Stray Kids have been involved with writing and producing songs not only on their albums, but also for other projects uploaded onto their YouTube channel. Stray Kids' trio of producers, who are referred to as "3Racha" (a spin on the hot sauce Sriracha), are lead vocalist Bang Chan, rapper and vocalist Han Jisung and rapper Seo Changbin. They were active as a hip-hop trio before Stray Kids' debut, releasing their music on SoundCloud, and have produced tracks on all of Stray Kids albums since before their official debut, beginning with "Mixtape", an EP released two months before their debut. 
The group's many accolades include a Golden Disk Award for Best Performance last year and the MTV Europe Music Award for Best Korean Act in 2020. Along with the group's awards, the members of "3Racha" have the most song credits in the K-pop industry with over a hundred credited works between all of the members. The group has also been praised for their recent innovative music videos for "Gods Menu", "Thunderous", and "MANIAC" as they have been experimenting with new transitions, editing, and filming techniques. 
The group also has two subunits, or smaller groups, within Stray Kids: "Vocalracha" and "Danceracha". Dance leader Lee Minho (Lee Know), Korean-Australian Lee Yongbok, who goes by the stage name Felix, and Hwang Hyunjin make up Danceracha, the performance team. Vocalists Kim Seungmin and Yang Jeongin compose Vocalracha, the vocal subunit of the team. All members of Stray Kids have credits for writing on albums and contributing to the group's projects, though "3Racha" usually produce majority of the group's songs.
Since their debut four years ago, the group has presented different concepts and themes. Their first trilogy of albums "I Am Not", "I Am Who" and "I Am You", released throughout 2018, focused on childhood and the struggles youth go through. These albums featured the rock-influenced debut song "District 9" that established the group as a symbol of youth and "District 9" as a place welcome to everyone. The rock and hip hop blend, "My Pace", spoke of not worrying about others or letting them affect your pace in life. The pop song "Get Cool" showcased the group's brighter side with a light upbeat instrumental to match. In 2019, they released "Cle", a series of albums that included "Cle 1: MIROH", which produced one of their most popular songs, "MIROH". The other two albums in the series, "Cle 2: Yellow Wood" and  "Cle 3: LEVANTER", featured the scream-heavy EDM song "Side Effects", which discussed the headaches caused by the pressures of life. "Double Knot" was an EDM and hip hop-influenced song that the group used to talk about all of the hard work they have done and how they have persevered through all of their struggles.
The group's fame really took off in 2020 with the release of their album "GO LIVE". The title track "God's Menu" became very popular, with the music video receiving 314 million views on YouTube. They released a repackage of the album that added eight new songs including funk-inspired "Back Door" and power ballad "My Universe". Late last year, they released "NOEASY" and continued their trend of incorporating eye-catching transitions and combining traditional Korean attire and music with modern themes in their music videos.
They also expanded their reach in the Japanese market with the release of their Japanese-language album "ALL IN". The project included a trumpet-heavy title track "ALL IN" and the original soundtrack that they recorded for the anime "God of Highschool".
The group's latest album, "ODDINARY", presents Stray Kids as a response to all of the criticisms they have received. The album was a milestone for the group as it debuted at number one in the Billboard Top 200, beating out Western artists like Lil Durk and Juice WRLD. This is yet again another example of Korean and other foreign artists becoming even more mainstream with their popularity in the West increasing.
The title track "MANIAC" talks about not pretending to be what society declares as "normal" and just letting out your inner "maniac". The verses in "MANIAC" are filled with fun synths juxtaposed by a slow, dark sounding chorus. The album also included full group b-sides like "FREEZE" and "Lonely St.". "Waiting for Us", performed by Bang Chan, Lee Know, Seungmin and I.N., and "Muddy Water", performed by Changbin, Han, Hyunjin and Felix, were subunit b-sides also featured on the album. Songs like "VENOM" and "Waiting for Us" discuss different types of relationships, both romantic and platonic, with "VENOM" describing feeling trapped by another person and "Waiting for Us" being dedicated to their fans, who are called "Stay" which comes from the group's motto, "You make Stray Kids Stay."
The stand outs of the album are "Charmer", "Muddy Water" and "MANIAC". "Muddy Water" shows off the lyrical talent and rap skills from the rap line while they explain that negative words will only make them stronger. It is also their first venture into the boombox style of hip hop. The creation of "Charmer" was influenced by the story of Pied Piper and features an earworm of a melodic flute in the hook as the lyrics explain that the members are too charming for "Stays" not to get entranced by them. 
"FREEZE" and "Waiting for Us" were songs that didn't hold up as well. "FREEZE" was a little more reminiscent of the music on their older albums but cut off abruptly and features an instrumental that may be a bit too busy for some listeners. "Waiting for Us" is another addition to the group's sad love songs that didn't quite match up with their earlier ballads like "Ex" or "On Track".
"ODDINARY" is a great representation of who Stray Kids are as a group. It features new additions to their sound as well as songs that will take longtime fans back to their earlier albums. This album also gave members like Felix and Lee Know the opportunity to really show off their rap and vocal skills, something they couldn't do as much in earlier albums due to the distribution of lines in their songs among members. Just like "MIROH" and "God's Menu", "Maniac" has expanded their audience, topping the charts and leading to the group's North American leg of their world tour in April. This project would be a great album for potential new fans of the group to jump into.
About the Contributor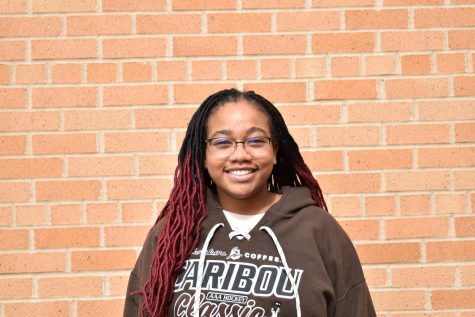 Destiny McDowell, A&E Editor
Destiny McDowell is a senior at CHHS, and it's her second year on The Heights Herald, this time as the Arts & Entertainment Editor. She enjoys eating...