Middle Eastern side dish perfect for breaking fast
With the start of Ramadan and Muslims fasting from sunrise to sunset, it's safe to say that food is most definitely on everyone's mind. Contrary to the fact that you fast all day, food is a huge part of Ramadan, whether it be suhoor (the meal before you start your daily fast) or iftar (the meal you break your fast with). Especially because after a long day of fasting, it feels like it only takes a couple bites of food to fill you up, so you have to choose what you eat wisely. In my family, iftar is an elaborate meal with many side dishes and endless options of Middle Eastern foods that we only make during Ramadan. 
One delicious dish that's absolutely a Ramadan staple in my house is manakish, sometimes called za'atar pie. It's a delectable savory bread topped with a za'atar (a spice blend typically of sesame seeds, dried sumac and salt) and olive oil mixture and baked to golden perfection. They are also easy and relatively quick to make, which is always an upside, especially since this is the first Ramadan in two years where we aren't in quarantine and actually have to go to work and school.
Ingredients:
Dough
4 cups of flour

1 tablespoon salt 

2 ¼ teaspoon instant yeast 

2 tablespoons olive oil

1 ¾ cup room temperature water
Za'atar topping
About 5 tablespoons za'atar, more if needed

About 5 tablespoons of olive oil (more if needed)
Instructions:
In a big bowl mix together the flour, salt and instant yeast.

Create a well by pushing some of the mixture to the sides, then pour in the olive oil and water and mix with a rubber spatula until well combined. 

Knead the dough for about 10 minutes, then cover the bowl with plastic wrap and let the dough rest for about an hour until it doubles in size. 

Flour a flat surface and cut the dough into small cookie-like pieces. Flatten each piece slightly, making it a circle about the size of your palm. Then place the dough circles onto a baking sheet. 

In a small bowl, stir together the za'atar mix and the olive oil and spread generously onto the dough circles, making sure to leave the edges exposed. 

Bake for about 15 minutes, then enjoy.
This is just one of the many amazing Middle Eastern iftar recipes that are most definitely worth trying this Ramadan!
About the Contributor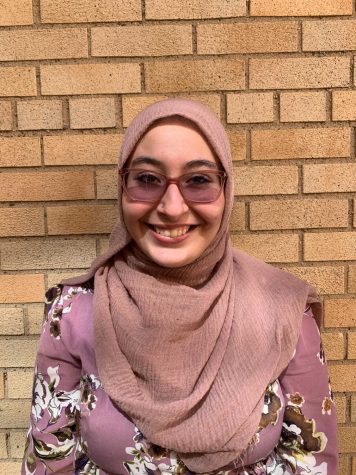 Buthaina Asamarai, Taste Editor
Buthaina Asamarai is a senior at Columbia Heights High School. She is the Taste Editor for The Heights Herald and enjoys photography and baking.