Family days give Hylanders a chance to congregate
As the weather gets nicer, and the days get longer, Hylander families are invited to come watch our high school athletes compete and work hard in their respective sports.
Re-introduced this fall by Activities Facilitator Crystal Vital-Schwartz, Hylander Family Nights brings students from Early Childhood, Highland Elementary, North Park School of Innovation, Valley View Elementary and Columbia Academy to spend an evening enjoying a sports event with their family and friends. They get to set their eyes on sports that they might be interested in playing one day, and on these specific nights, students are honored before games. During the football season, elementary students got to line up and run out of the "Roll On" inflatable tunnel while Columbia Heights High School (CHHS) Band students played the Hylander anthem. They, along with middle school students and their families, were also invited to various winter sports events and are now invited to spring games. 
"One of our main focuses this year has been to grow the Hylander Community," Activities Director Mr. Jake Henderson said. "We want to bring people and energy to our events and celebrate our awesome students in activities."
Tons of Hylander athletes are returning this spring to display their skills, and although many games and meets have been postponed due to the cold and rainy weather, they are ready to play! The varsity baseball team, co-opted with Park Center High School, had their first game against rival Fridley High School. The game ended with a victory of 11-5. Their next game is April 26 against Coon Rapids at Park Center Fields. 
Comparatively, the varsity softball team, co-opted with Fridley, had their first game on Wednesday, April 13 against Como Park High School. While they unfortunately didn't prevail, their next game is tonight, April 26, against Bloomington Kennedy at the CHHS softball fields (Ramsdell Park), and they welcome the support of fans. These players are ready to be outside and swing their bats and hit some home runs.
On May 9, everyone is invited to watch the baseball game against St. Anthony Village and the softball game versus Holy Angels Academy. Both varsity games begin at 4:30 p.m. with baseball playing behind the football stadium on the baseball field and the softball game at Ramsdell Park, across the street from the high school. 
Meanwhile, synchronized swimming is off to an incredible start, as they had their first meet against Osseo High School on March 24 and the team won 22-7 with Maddie Mueller (10), Lucy Rosengren (11), Marrissa Foy (11) and Beatrice Carter (10) coming up in the top five. They had other meets against Forest Lake and Stillwater. While the official Hylander Family Night already passed for synchronized swimming, Hylanders are still encouraged to come and watch the synchro team on April 28 at Stillwater Junior High. 
Lacrosse was the last sport to begin this season. Co-opted with DeLaSalle, the first game took place April 19 against Tartan/North St. Paul. Unfortunately, they fell 17-3. Hylanders are invited to come and enjoy the game Friday, May 13 at the CHHS stadium. The game will be against Minneapolis, a team made up of all Minneapolis Public Schools, and it begins at 5:30 p.m.
"We are excited to spread the game, and very enthusiastic for new players to try out for the team," Silvia Hernandez-Monroy (11) said. "By exposing younger families to the sport, we're hoping the game will continue to grow and our program grows along with it."
Track and Field, a popular sport at CHHS, also had a meet on April 19 at Fridley High School. These athletes have been braving the cold and running well. They are excited to have their first and only home meet today. The meet will be on the track field in the hylander stadium hosting DeLaSalle, Fridley and St. Anthony. 
Another popular sport, boys' varsity tennis, has begun preparing for their season playing their first matches, which included a recent face-off with St. Anthony Village High School. Both of their Hylander Nights are today, April 26, with the tennis matches beginning at 4 p.m. on the tennis courts. Just 15 minutes later, one of the only home track meets of 2022 will begin at the stadium, with multiple schools attending. Come cheer on our Hylanders!
Lastly, younger students don't need to just watch sports games! They can also come on April 28 and watch the CHHS musical, "Matilda", for free! Students will get to experience the Roald Dahl classic performed by some talented CHHS and CA students. This magical production full of drama, comedy, singing and dancing will surely entertain and delight everyone of all ages. 
Hylander athletes and performers are excited to see the younger Hylanders come to their events and see them doing what they love in action!
About the Contributor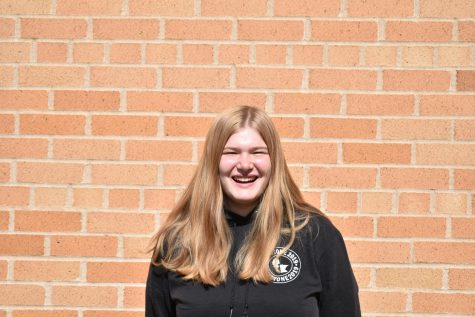 Greta Wilson, Co-Editor-Chief
Greta Wilson is a senior at CHHS. This is her third year on staff with The Heights Herald, this time as the Co-Editor-in-Chief after being the Sports Editor...