Affordable summer treats perfect for warming weather
Do you have a hankering for local, affordable ice cream now that the weather is warming up? Well, you're in luck. Minnesota Nice Cream is a local business located in Northeast Minneapolis not too far from Columbia Heights. What first originated as an award-winning ice cream truck in 2016 quickly became a welcoming and fun indoor ice cream shop.
To begin, the menu is very affordable compared to your typical, mass-marketed ice cream companies with very little personality such as Cold Stone and Dairy Queen. Their sizes range from extra small ($3.00) to large ($5.00), and you can pick between a dish, cake cone, or waffle cone (regular or dipped). MN Nice Cream has a few core soft-serve flavors such as vanilla and chocolate, but they also have vegan options like black chocolate and additional featured flavors that they rotate throughout the year such as orange and green tea matcha.
"It's hard to pick one favorite thing as there is a lot to love about MN Nice Cream, but if I had to pick I would say my favorite thing about working there is the opportunity to make someone's day special," Food Truck Operations Manager and partial owner Brett Ley said. "Ice cream is a special treat, so any time someone comes to our shop, it's already a special thing that the customer is seeking out."
A few weeks ago, I decided to seek out MN Nice Cream to try it for myself, and it certainly lived up to its rave. Everything about the place is amazing, including the location, service and ice cream itself. I ordered the bourbon caramel brownie ice cream in a medium dipped cone, and it was delicious! The main ice cream flavor in my cone was vanilla, but it had additional brownie chunks, whipped cream, chocolate chips and a caramel drizzle. It is safe to say this place does not hesitate to overload the cone with both ice cream and toppings, which makes the place all the more of a treat as well as a deal for your wallet. 
"My favorite sweet treat on our menu is our Cookie Monster special, which features our homemade cookie dough, Oreos, caramel, and sprinkles," Ley said. "I like to have it with the classic vanilla soft serve and, of course, you can't forget to add our signature edible glitter on top to really make it shine."
By the way — that edible glitter? It's always free!
It is important to know that you as a customer have the ability to build your own ice cream creations and are not limited to the specialty menu items, though many of them are carefully crafted by the owners and difficult to resist when you see the hand-designed chalkboard menu. The large variety of toppings is impressive too, from the expected (sprinkles and whipped cream) to the decadent (gummy worms and toasted marshmallows)! As if the place couldn't get any better, they also serve as a cafe, so don't be afraid to order a coffee to go with your yummy ice cream.
MN Nice Cream is easily my new number one spot for ice cream due to its overall convenience, value and quality. As if the location couldn't get better, there is often a food truck located in front of the building where you could grab food prior to your sweet ice cream treat or after. Though their main shop is located in Northeast Minneapolis, another shop located in Stillwater opened just recently as well. I would highly recommend taking a trip down to Broadway Street, especially now as the weather finally begins to warm.
About the Contributor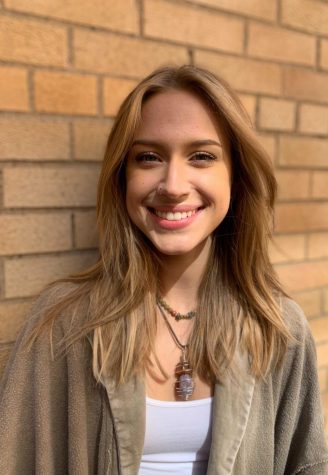 Ava Gregorich, A&E Editor
Ava Gregorich is a senior at Columbia Heights High School. She is also the A&E editor for the Heights Herald.