BookTok reintroduces many to their love of reading
Sometimes, you don't have to put down the screen in order to pick up a book. The rise of BookTok, the common nickname for the book-oriented side of social media giant TikTok, has created a wonderful platform for both readers and authors to express their love of reading through reviewing and recommending books. The community has not only helped many users get back into reading, but it's also sparked a newfound interest and love of books in many younger generations. BookTok has become a great new and convenient way of finding good books, as TikTokers both passive and active can find people's honest opinions and recommendations of books in a variety of different genres. 
The growing popularity of BookTok has raised sales for many bookstores such as Barnes & Noble, which now boasts a BookTok section both online and in stores. Countless locations have even made TikTok accounts where employees can contribute to BookTok by sharing their favorite titles. Recently, in Los Angeles, a Barnes & Noble location hosted a panel with some of the amazing BookTok influencers like Ayman Chaudhury, Pauline Juan and Selene Velez.
Here are 10 new and highly recommended BookTok titles that'll without a doubt become your next favorite page-turner! 
"It Ends With Us" by Colleen Hoover
This powerful and heartbreaking Colleen Hoover book follows a girl named Lily who finds herself falling for Ryle, a complicated guy with an intense aversion to relationships. As Lily chips away at his exterior, she soon finds herself the exception to his "no dating" rule. What happens when Lily's first love comes back and threatens the life she's worked towards building with Ryle? Will their relationship survive? 
"The Unhoneymooners" by Christina Lauren 
This romantic and rather humorous New York Times Bestseller is a personal favorite and is most definitely worth the read! Olive, the maid of honor at her twin sister's wedding, is forced to go on her sister's non-refundable honeymoon trip to Hawaii when the wedding party gets food poisoning. The catch is…she's not going alone. The groom's brother and best man, Olive's sworn enemy, is going with her. While in Hawaii they must pretend to be a happily married couple on their honeymoon, but what happens when the lines between real and pretend start to blur?
"The Seven Husbands of Evelyn Hugo" by Taylor Jenkins Reid
"The Seven Husbands of Evelyn Hugo" follows a famous old Hollywood actress who has a final interview where she shares the dramatic, scandalous and rather heartbreaking story of her life. Monique Grant, a young struggling journalist, has been handpicked by Evelyn to be the one to interview her, as well as write her biography. 
"Stop what you're doing," @aymansbooks on TikTok said. "Shut up and read this. There was not a dull moment in this book."
"You Deserve Each Other" by Sarah Hogle
This lovers-to-enemies to romance story will keep you on your toes. An engaged couple who looks perfect on paper, soon individually start to feel bored with each other. When they find out the feeling is mutual, the logical answer would be to call off the soon-approaching wedding, except the person to call it off would have to pay the non-refundable wedding bill. This sends the pair into a spiral of pranks and sabotage, trying to get the other to call it off first. Except in the midst of it all, they start to see why they fell in love. Will the wedding be called off after all?
"The Inheritance Game" by Jennifer Lynn Barnes 
In this twisted and mysterious thriller, an old billionaire named Tobias Hawthorne dies and leaves his entire fortune to a random 16-year-old girl Avery Grambs for no apparent reason. The girl's new and unexpected inheritance gets her caught up with the billionaire's strange family where she finds herself in the middle of a deadly game. Will she be able to survive? This psychological thriller is jam-packed with twists and turns and sprinkled with possible romance and a dash of comedy. 
"The Song of Achilles" by Madeline Miller 
This immensely moving retelling of the Greek legend of Achilles and the Trojan War is highly recommended on BookTok. It'll certainly have you on an emotional rollercoaster, so make sure to grab a box of tissues! This moving story follows a young Greek warrior, Achilles, who ends up creating an unexpected yet powerful bond with an awkward exiled prince, Patroclus; a bond that only grows deeper as they become young men. Will their relationship stand the test of time and war? Will fate keep their two hearts close together, or tear them apart? 
"The Spanish Love Deception" by Elena Amas
This astounding romance is a BookTok sensation. A girl by the name of Catalina desperately needs to find a date for her sister's wedding in Spain after lying to her family about having an American boyfriend. Aaron, a guy who she works with, volunteers himself. While it sounds good in theory, they can't stand one another. What happens when they realize pretending to be in love with each other may not be as hard as they had originally thought? 
"A Good Girl's Guide to Murder" by Holly Jackson
This young adult crime thriller follows a girl named Pippa who looks into a closed murder case that happened in her very own small town for a final project in one of her classes. After thoroughly examining all of the detailed evidence, she begins to believe the real killer was never actually caught and is still out there. Read on as Pippa begins to uncover many of the case's secrets and cover-ups. When Pippa gets closer to discovering the truth, to what extent will people go to to keep their secrets tucked away and Pippa's lips sealed?
"Shatter Me" by Tahereh Mafi 
"Shatter Me" is the first book of many in a dystopian series about a girl whose touch can kill. Juliette has been locked up in a cell for 264 days after an incident where she accidentally killed someone with her fatal touch. When the outside world begins to be plagued with disease and hunger, 17-year-old Juliette fades into the background and is labeled as a lost cause. But is Juliette's power the answer to getting the world back to normal? This intriguing page-turner will definitely have you at the edge of your seat. 
"The Invisible Life of Addie Larue" by V. E. Schwab
This book follows the adventures of Addie Larue, a woman who made a dangerous bargain of being able to live forever, but the catch is…she'll be forgotten by everyone she meets. Addie has lived for 300 years, traveled the world and witnessed mesmerizing art and history throughout the centuries. How far will Addie go to feel remembered? What happens when she finds herself in a bookstore with a man who actually remembers her name?
These are just some of the amazing books you can find on BookTok. Search #BookTok on TikTok to find so much more!
About the Contributor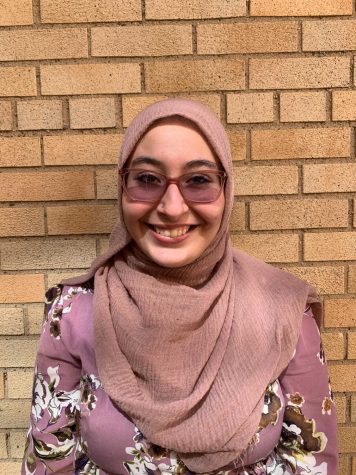 Buthaina Asamarai, Taste Editor
Buthaina Asamarai is a senior at Columbia Heights High School. She is the Taste Editor for The Heights Herald and enjoys photography and baking.