Elementary school first in the country to boast biodigester
North Park School for Innovation is not an elementary school that you could find just anywhere; with environmentalism at the forefront of its mission, students as young as five are using state-of-the-art technology, preparing for the future of sustainability.
With so many around the world looking for solutions to make the average person's lifestyle more sustainable, new inventions have come about recently in an attempt to fix the many problems our planet has, whether it be vegan leather or sneakers made from ocean waste. Some bigger, more industrial issues include non-sustainable energy suppliers, like gas, wasting water and encouraging the masses to live a waste-free life. North Park's biodigester, one of four in the U.S. alone, tackles all of these problems head-on.
A biodigester is a machine that converts organic waste, like leftover food from North Park's school lunches, into soil for the school's garden and energy used for the school's heating through microorganisms. The biodigester pairs with the school's upcoming addition to their facility: a biomass boiler, hopefully arriving sometime this year, which combusts sustainably sourced wood pellets to create heat. Both are gifted by Waste to Energy Canada, a company that provides "integrated 'clean and smart' waste management and energy recovery infrastructure", according to their website.
"So, what can you do with this wonderful nutrient-rich compost?" Mr. Froggy, a character on North Park Science teacher Mr. Stan Mraz's YouTube channel, says. "You can feed the digestate, or natural fertilizer, to your garden plants! You can give the digestate, or compost, to trees in a nearby park! You can sprinkle the digestate, or nutrient-rich plant food, around the topsoil of your house plants."
North Park has a history of putting sustainability as one of its top priorities. In the past few years, North Park headed an initiative at the other district elementary schools and Columbia Academy, to start sorting school lunch leftovers into recyclable items (like plastic utensils and cardboard milk boxes), compostable food items and items that have to be thrown away. Using the compostable food items, worms and compost bins, students compost and use the soil made on their very own school grounds. North Park also uses recycled paper towels, has a solar panel system on its rooftop, and has on-campus rain gardens.
"There [are] so many things that we're doing that are leading the way for them to become citizens of the Earth," Mraz says in a video on his channel, Helping Our Planet.
Everyone knows our planet is not in the greatest condition right now due to many factors. Although state legislatures like California are currently attempting to turn the tide in our battle against climate change by holding big businesses and corporations more accountable for their waste, there needs to be more widespread responsibility towards big corporations who are contributing greatly to our climate crisis. But seeing that elementary school students as young as 5 can make a difference is just proof that we all can. Even little things like turning off lights when they're not in use, creating a designated recycling bin in your home, buying more sustainable clothing items once in a while or turning off your water faucet when you are not using it can create a big change.
The importance of keeping our planet clean is unfortunately beyond any of us individuals, though; it requires a collective effort by governments, corporations and organizations. However, these big changes to our planet often start from a local, individualized level, and North Park is clearly at the forefront of sustainability right here in Columbia Heights.
About the Contributor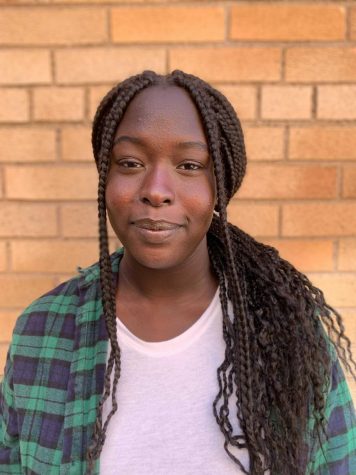 Kwot Anwey, Co-Editor-in-Chief
Kwot Anwey is a Senior at Columbia Heights High School and she is currently the Co-Editor-in-Chief of the Heights Herald. She enjoys journalism because...