K-pop band proves multifaceted in new mini-album
Even though their music is in a language not spoken by many in America, ONEUS, like so many other K-pop groups nowadays, has easily grabbed the attention of the public eye. Composed of six members that formed in 2018, ONEUS begins every album with an intro that typically has a hard hitting beat that instantly makes one interested in listening to the rest of the album, and that includes their recent efforts "Binary Code" and "Blood Moon".
In early January of 2019, the pop singers released their debut album, "LIGHT US" and ever since, they have been releasing around two or three albums per year. The South Korean boy band gained more popularity through their fourth project, "FLY WITH US", which features their most streamed song on Spotify, "LIT", as a key track. In addition to their streaming success, ONEUS has won three awards so far such as the "Next Artist Award" in 2019 and the "Focus Singer"/"Music Icon" awards in 2020.
In May of this year, ONEUS released "Binary Code". The album's opening song, "Black Mirror", shows homage to 70s R&B and 80s pop legend Michael Jackson, making numerous references to him through its choreography and lyrics. It also includes a new, more rocking rendition of their debut song "Valkyrie".
"It's my everyday life," ONEUS member Leedo said in an interview with Billboard. "Just the small details that come out of anywhere, be it what I eat or just walking in the street". Another member, Ravn added "new artists, new fashion, new shows, new movies. From that variety I get inspired for my artistry."
Many of the K-pop band's songs reference flying and reaching the sky, dating back to their inaugural efforts in 2019. Another common message ONEUS conveys throughout their songs is letting tension within yourself go and taking your time to heal instead. They also mention traveling large distances to be with those they love.
Unlike some other more Western-influenced bands from Korea, the group uses a lot of traditional Korean sounds and instruments including drums, flutes, and a wide range of vocals, truly taking advantage of all six members in the band. They also combine traditional elements with modern hip-hop and trap beats to fuse several sonic styles.
Just last month, ONEUS, at the risk of alienating some fans, proved themselves even more versatile with the release of their sixth mini-album, "Blood Moon". The album featured "LUNA" which is not your average K-pop opening track. Usually, they are very big and fast paced. "LUNA" is more like a b-side and is more calm and less in your face.
"Life is Beautiful" is another unique standout, with fascinating flutes during the chorus and an overall positive message. "Shut Up 받고 Crazy Hot!" dials in some much-needed energy and has a catchy piano riff to boot. And of course "Who You Are", which channels the strong R&B elements of "Black Mirror", is familiar and soothing.
Yes, there are two tracks that just aren't as strong—"Yes Or No" and "We're in Love" don't stand out much and seem more like your typical K-pop love b-side, but neither takes away from the enjoyment of the album overall.
With the title track "LUNA" already having a million streams on Spotify, "Blood Moon" is definitely doing well and catching people's ears. ONEUS's career has only just begun, and this latest album will only further increase the fanbase they are already getting.
About the Contributor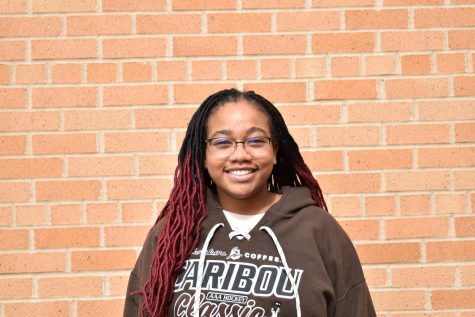 Destiny McDowell, A&E Editor
Destiny McDowell is a senior at CHHS, and it's her second year on The Heights Herald, this time as the Arts & Entertainment Editor. She enjoys eating...