Local #710 awards beloved North Park art teacher
"A good teacher can inspire hope, ignite the imagination, and instill a love of learning," former governor of Oklahoma Brad Henry said in 2002 when advocating for teachers during his gubernatorial campaign. What does it mean to be a "good teacher"? How does one determine who's the "best" teacher of any given year?
Well, the 2021 Teacher of the Year award for Columbia Heights Public Schools goes to Ms. Ariane Kokes, an art teacher at North Park School for Innovation. She has worked at North Park for 15 years and during the 2017-18 school year, she also worked part-time at Columbia Heights High School. 
"Ms. Kokes is passionate and committed [to] equity and justice," North Park Principal Jeff Cacek said. "No one works harder and more tirelessly to live up to her values [or] to create a better community for our children." 
A mother of triplets that also attend North Park, Kokes has shown first-hand how dedicated she is to being a part of the CHPS family in more ways than one. In addition, she is a devoted advocate for students with disabilities, and she takes pride in not just teaching art but also being an environmentally conscious leader in the classroom. 
"I wish she was my elementary school art teacher! I would have learned to love making visual art [with Ms. Kokes]," Cacek said when effusively praising the Teacher of the Year in an interview. "She gives the perfect amount of art history and context to every project."
Each spring, teachers that meet these kinds of exception criteria are nominated by their peers in the district. Once nominated, if the teacher chooses to continue with the process, they provide a resume and answer two essay questions. The Teacher of the Year is then chosen by the Teacher of the Year Committee and the Local 710 union for Columbia Heights teachers. In March, Kokes was nominated alongside 19 other Heights teachers, and in April, she was announced as the recipient of the annual honor.
"She is committed to equity for all learners, social and racial justice and represents others as a parent, teacher, and community member," Local 710 President and Highland Elementary Pre-K teacher Ms. Karissa Ouren said. Kokes was shocked and honored to be awarded Teacher of the Year and nominated alongside other dedicated and innovative teachers.
"To have that work recognized is really humbling," Kokes said. " "I look forward to using the platform to continue to advocate for policies that address equity." We all are so proud of Ms. Kokes. She is a great teacher that will undoubtedly continue to show her students the path of lifelong learning, which was certainly a more difficult task this past year than any prior ones. And while celebrating as we slowly say goodbye to a stressful year might not come naturally, if anyone deserves recognition, it's her.
About the Contributor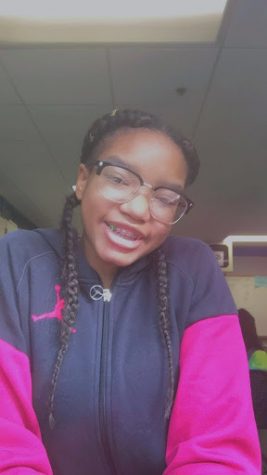 Ny'Jerria Jordan, Staff Writer
Ny'Jerria Jordan is a sophomore at Columbia Heights High School, and she is a staff writer. This is her first time writing for the newspaper.