Athletes call for professional psychological support
Though many professional athletes know their sport like the back of their hand and sometimes play it for years on end, several often suffer from a serious mental health crisis. Critics who have not even played their sport, fans who have not been in their shoes and even regular trolls on social media may play into their insecurities, leading to emotional and psychological struggles.
Mental health issues are affecting a lot of athletes who have to forfeit or not participate in major tournaments. Naomi Osaka is a professional tennis player who won four Grand Slam singles titles in the 2018 and 2020 U.S. Open, and the 2019 and 2021 Australian Open. She also won the Best Female Tennis Player ESPY Award and the Best Female Athlete ESPY Award. When Osaka went to the French Open tournament earlier this year, however, she forfeited because she was concerned about her mental health problems that she has been suffering from since 2018. Then she got fined $15,000 for missing a news conference. Osaka experiences anxiety before talking to the media, and you may even see her wearing headphones as that helps dull her social anxiety. 
Osaka isn't the only global athletic superstar that struggles. Simone Biles, an American gymnast known for her performances at the Olympics and in the World Championship competition, has won 19 medals. She forfeited from the Olympics this past summer because she was having mental health issues, which led her to almost wiping out while performing. 
"We also have to focus on ourselves, because at the end of the day, we're human, too," Biles said, according to the Associated Press. "We have to protect our mind and our body, rather than just go out there and do what the world wants us to do."
Sha'Carri Richardson is yet another athlete suffering from mental health struggles. An American track and field sprinter, Richardson won the 100-meter dash for Team USA with a time of 10.86 seconds, which was a record breaker. She then got suspended from participating in the 2020 Olympics (which were held in summer of 2021) after testing positive for marijuana use. The runner said that she takes responsibility for violating the anti-doping rules, but the only alleged reason Richardson took marijuana was because of grief due to her biological mother's death. Although Richardson does not have a known mental illness, she is a good example of all the stress that athletes can face. 
So what can be done to help these athletes as they, like so many of us, continue to thrive in times of trauma, triggers and enormous mental pressure?
 "[You should] talk to people who you actually like talking to and that help you the most out of all things, but the people who actually care about you help the most," CHHS varsity defensive tackle Oscar Carpio (12) said. He went on to say that the person he goes to for support is his sister because she supports him in both games and life. 
In professional football, many NFL players suffer from mental illnesses as well. Richard Sherman is an American Football cornerback for the Tampa Bay Buccaneers. Sherman was drunk and attempted suicide. Right now, though, he is getting the help he needs by having access to professional mental health services provided by his league like NFL Life Line and the Player Care Foundation.
These kinds of resources are especially important in football because of the high risk and physical nature of the sport. Junior Seau played for the New England Patriots and committed suicide because he was suffering with Chronic Trautic Encephalopathy (CTE), a brain disease caused by repeated blows to the head and repeated episodes of concussion. 
The widespread phenomenon in football players is still the source of much scrutiny in the professional mental health community. Just last week, former Miami Dolphins offensive lineman Jonathan Martin announced he would donate his brain when he dies to CTE mental health research.
Still today, though, athletes get minimal support when they are facing mental health problems. So many fans just think they have a perfect life, which is simply not true. There are a lot of people suffering from depression, anxiety and suicidal thoughts, and just because they are famous and rich does not mean they are living their best life. They should have access to support groups and professional care in case they have mental health problems, which could help set a standard and reduce stigma for the general population too.
Part of this responsibility falls to the coaches of these athletes too, including right here at Heights.. 
"[Mental health is] checking in to see how your psyche is doing," boys' varsity soccer Head Coach Hector Leon said. "You also tie mental and emotional [health] together because if you are not emotionally healthy it's hard to be mentally healthy. Checking in on yourself is a great way to improve your mental health especially while being an athlete." 
Whatever sport you play can of course positively impact your mental health because it can help you manage stress, reduce feelings of depression and overall improve your mood. If you are playing the sport you love the most, you are giving it your best out there. You feel free when playing without worrying about anything, but it can also ironically lead some athletes to worrying about so much. Some of the best ways to get help is to talk to people you are close with like friends, family and coaches, but also consider professionals like those at Minnesota Mental Health Clinics, who provide mental health diagnostic assessments and therapy.
After all, just like those cheers in the stands and high fives in the hallways, you deserve it.
About the Contributors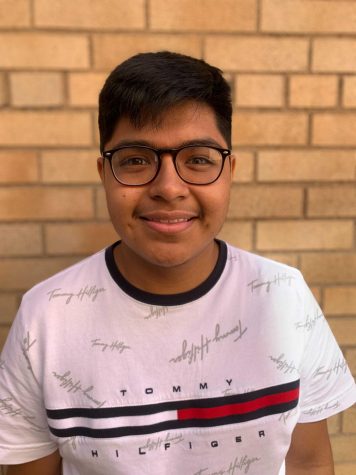 Gabriel Palmas Santiago, Staff Writer
Gabriel Palmas Santiago is a senior at Columbia Heights High School and Staff Writer for The Heights Herald. He likes to explore, and would like to improve...
Adriana Inamagua, Co-Lead Illustrator
Adriana Inamagua is the Co-Lead Illustrator for The Heights Herald. She is a junior and is involved in various sports including soccer and lacrosse. She...