Michigan band gains acclaim from new generation of rock fans
All under the age of 23, the four-man band Greta Van Fleet from Michigan has recently received a burst of stardom from the world.
Greta Van Fleet is composed of lead vocalist Josh Kiszka, guitarist Jake Kiszka, bassist/keyboard player Sam Kiszka and drummer Danny Wagner. When the group established itself in 2012, Kyle Hauck was the band's original drummer but before their road to fame, Hauck withdrew from the band due to undisclosed health concerns. 
The new-age rock band essentially pulls their inspiration from artists that were active from the 1930s through the '70s. In an interview with Guitar World magazine, Josh Kiszka points to legendary blues guitarists Robert Johnson, John Lee Hooker, Elmore James and Lightnin' Hopkins as several of the band's main inspirations. 
In 2017, Greta Van Fleet released their debut album "From The Fires". Shortly after its release, their songs "Highway Tune" and "Safari Song" gained popularity in countries all across the world. In September 2017, their hit single "Highway Tune" topped the U.S. Billboard charts for both Mainstream Rock and Active Rock for a total of four consecutive weeks.
Only one year after the release of their first project, Greta Van Fleet released yet another album, "Anthem of the Peaceful Army", in 2018. Hit songs such as "When The Curtain Falls" and "You're The One" were performed on tour later that year. In 2019, after the release of their second album, Greta Van Fleet won a Grammy for "Best Rock Album of the Year" and continued to hold high Billboard rankings months after its release.
Greta Van Fleet was also asked to be the musical guest on "Saturday Night Live" that same year. After their nationally televised performances of popular songs "Black Smoke Rising" and "You're The One", Greta Van Fleet hit the popular social media app TikTok and recruited many younger listeners who are now part of their fanbase.
With their fame came an extreme amount of backlash from popular news sources such as The New York Times, Esquire and NPR. Many of the critics took blows to lead singer Josh Kiszka's voice, describing it as "scratchy and shrill" and that it had a "grating, maximalist pitchness." 
"I've gotten plenty of ridicule and I expect to get more. In fact, I'm looking forward to it," Josh said in an interview with The Guardian. "Some people are writing their articles in their mother's basement and they're p*ssed off that we're doing something. If your career is writing negative things about people, I would think you'd have something better to do."
In addition to criticisms, Greta Van Fleet has also been compared to countless bands and individual artists. They have received mixed reviews due to their likeness in sound to the '70s rock band Led Zeppelin, with many citing Josh Kiszka's voice bearing great resemblance to Robert Plant's. 
"They are 'Led Zeppelin 1'," Plant said in an interview comparing Greta Van Fleet's sound to his band's first album. "He [Josh] is a beautiful little fellow and he borrowed his voice from someone I know very well," Plant added, referring cheekily to himself. 
In April of 2021, Josh and Sam Kizska were virtually interviewed by NME to discuss their new album "The Battle at Garden's Gate". 
"You can't really say anything about 'The Battle at Garden's Gate' that would draw negative comparisons," Sam said. "I think it's 110% Greta Van Fleet and in a lot of ways, our coming of age record."
Greta Van Fleet's highly anticipated third album already has two hit singles: "Age of Machine" and "My Way, Soon", which have both topped the charts. Recently,  the band has been busy releasing music videos for various tracks from "The Battle at Garden's Gate", raking up more fans while they're at it. 
It wouldn't be entirely out of character for Greta Van Fleet to surprise their fanbase with a new single too, so make sure to be on the lookout!
About the Contributor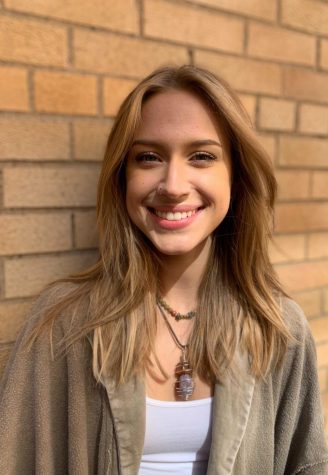 Ava Gregorich, A&E Editor
Ava Gregorich is a senior at Columbia Heights High School. She is also the A&E editor for the Heights Herald.