Lemon-blueberry poke cake melts in your mouth
It's spring, and that means it's time for all the bright, colorful and tart desserts that didn't quite hit the same during the dead of winter. This tasty cake recipe contains my favorite flavors, lemon and blueberry, which have an unforgettable taste when combined, and because of its delicious looks. Not everybody has as much of a sweet tooth as I do, but this is the kind of tangy, fluffy treat that even health nuts can't resist. Although the process of making the dessert takes up to four hours to prep and bake, you will not be left unsatisfied when you're done making this lemon-blueberry poke cake.
Ingredients: 
Lemon cake ingredients:
Nonstick vegetable oil

1 1/2 cups all-purpose flour

2 teaspoons baking powder

3/4 teaspoon kosher salt

2 tablespoons finely grated lemon zest

1 3/4 cups sugar

2 large eggs, room temperature

1/3 cup vegetable oil

1 teaspoon vanilla extract

3/4 cup plain whole milk yogurt

5 tablespoons fresh lemon juice

1/3 cup of cold water
Blueberry filling ingredients:
1/2 cup sugar

1 cup blueberries
Lemon glaze ingredients (optional): 
3/4 cup powdered sugar

1 tablespoon fresh lemon juice

2 tablespoons blueberries
Lemon cake instructions:
Preheat oven to 350°F. Line a loaf pan with parchment paper, and lightly coat with nonstick spray.
Mix flour, baking powder and salt in a medium bowl. Whisk lemon juice into sugar in a large bowl until very fragrant. Add eggs, oil and vanilla and whisk until light in color and slightly thickened. 

Whisk in half of the dry ingredients, then whisk in the yogurt. Whisk in remaining dry ingredients. Add lemon juice and whisk to combine. Scrape batter into prepared pan and smooth the top with a spatula.

Bake cake, rotating pan halfway through, until top is golden brown and a tester inserted into the center comes out clean, 55–60 minutes.
Blueberry filling instructions:
Bring sugar and 1 cup water to a boil in a medium saucepan. Add blueberries, then reduce to a simmer. Smash blueberries with the back of a spoon and continue to simmer for 20 minutes.

Meanwhile, sprinkle gelatin over 1/3 cup cold water in a small bowl; let sit for 10 minutes to soften.

Strain blueberry mixture through a fine-mesh sieve into a medium bowl, pressing blueberries with the back of spoon to release juices. Chill at least 1 1/2 hours.

Using parchment overhang, transfer cake to a baking sheet or cutting board. Starting at one end of the cake, use a 1/8″ dowel or the thin handle of a wooden spoon to poke holes in rows spaced about 3/4″ apart, alternating between 2 and 3 holes per row (total of 11 rows).

Transfer chilled blueberry filling to a pastry bag, turkey baster, or squeeze bottle. Carefully squeeze filling into holes.
Lemon glaze instructions (optional):
Mix together powdered sugar, lemon juice and 1 tbsp. water in a medium bowl. Spread glaze over cake with a spatula, covering the holes. 

Toss blueberries in remaining glaze to coat, then sprinkle blueberries and lemon zest over cake. Chill until filling and glaze are set for about one hour.
Making this delicious dessert is no easy process but is well worth the wait. This lemon blueberry poke cake is packed with a light and delicious flavor that is beyond fabulous, making each bite equally as satisfying as the last.
About the Contributor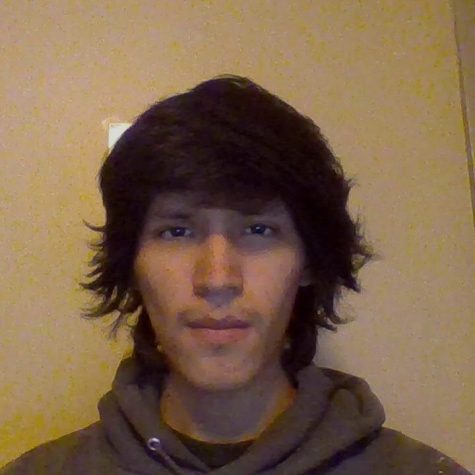 Dayton Zgodava, Staff Writer
Dayton Zgodava is a senior at Columbia Heights High School. He enjoys reading and looks to improve more on his writing skills. He's often elsewhere learning...