Hip hop legend remembered for more than just music
Sadly, we have lost yet another legend.  Earlier this month saw the passing of hip hop superstar DMX. But who was he exactly? 
Earl Simmons, better known as DMX, was born on December 18, 1970 in Mount Vernon, New York to Arrent Simmons and Joe Baker. DMX was an American rapper and actor from many crime and action movies such as "Cradle 2 the Grave", "Belly" and "Romeo Must Die". 
Despite showing deft talent on screen in the 90s and early 00s, DMX was mainly known for his incredible music. He started performing in 1984 as an underground rapper before that his demo landed in The Source magazine in 1991. 
After collaborating with multiple rap icons such as Jay-Z , LL Cool J, Ma$e , The Lox and Lil' Kim, among many others, he signed to Def Jam Recordings in 1996. In May 1998, he released his debut album  "It's Dark and Hell Is Hot", which hit No. 1 on the Billboard 200. He was also the leader of the Ruff Ryders, a hip-hop group that featured The Lox, Eve and Swizz Beatz. 
DMX's most recent album, "Redemption of the Beast", was released in 2015, but he re-signed with Def Jam in 2019. Last July, he competed in a much-publicized Verzuz rap battle against Snoop Dogg that has since garnered nearly three million views on YouTube.
In late March, the rapper was hospitalized for a reported overdose and heart attack.  Seven days later on April 9, DMX died of cardiac arrest in White Plains Hospital in New York. 
"Earl Simmons passed away peacefully with his family present," the hospital stated.
DMX is survived by 15 sons and daughters, including his eldest son Xavier and youngest daughter Praise Mary Ella. 
"Earl was a warrior who fought till the very end," his family said.
Dark Man X's songs were really popular and were used a lot in remixes while a lot of Heights staff were younger. Many millennials and Gen X'ers were sad when he died even before he died she was sad when he was in a coma. 
"I started listening to DMX in high school and college," CHHS social studies teacher Ms. Kristen Sinicariello said. "Another great artist who was taken too soon."
DMX wasn't just known for his great music but also his acts of kindness. In 2016, he encountered a woman and her step-daughter on a flight to San Diego, whom he talked with throughout the flight. After landing, DMX invited them to his show, offering to pick them up in a private SUV and have them seated on the stage, even tagging them in social media posts. 
In 2003, DMX was one of the biggest rap stars in the world to perform at The MOBO Awards, the United Kingdom's annual ceremony celebrating Black artists. He also made friends with a family and their child at a local toy store, where he bought them a popular remote control plane that he assembled himself and flew in Hyde Park. 
"DMX was having too much fun," said British photographer Jamie-James Medina. DMX made sure he signed the plane and gave it to the child before rushing over to perform across town. 
The rapper's family and friends hosted a "Celebration of Life Memorial" on April 24 and a private funeral the next day. 
"He loved his family with all his heart and we cherish the times we spent with him," his family said. Simmons's music inspired many fans across the world, and his iconic legacy as a Ruff Ryder and a caring soul will live on forever.
About the Contributor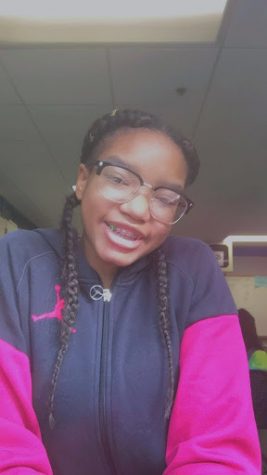 Ny'Jerria Jordan, Staff Writer
Ny'Jerria Jordan is a sophomore at Columbia Heights High School, and she is a staff writer. This is her first time writing for the newspaper.