Wireless headset opens doors for Virtual Reality gaming
The gaming world started with a controller and a screen, and now it's time to introduce a new wave of gaming: Virtual Reality.
Virtual reality or "VR"  was originally invented in 1957 by Morgan Heilig, who created a multimedia device he named the Sensorama. The term "virtual reality" wasn't coined until 1987 by researcher Jaron Lanier, and it wasn't until 2010 that the first prototype of the Oculus Rift was created. Then, in 2014, Sony Playstation released "Project Morpheus," which is better known as Playstation VR for the Playstation 4. 
In 2014, Facebook bought Oculus for around $3 billion dollars, but it wasn't until the release of the Oculus Quest in 2019 that Facebook required users to have a valid Facebook account to play games. With the release of the Oculus Quest came its hardware limitations that were improved by its successor. 
In October of 2020, the latest iteration of the VR platform, Oculus Quest 2, was released, and it changed the way we game in VR. The Oculus Quest and the Oculus Quest 2 were both designed to be standalone consoles, meaning you won't have to get tangled up in wires and cords to play some of your favorite games. 
The Quest 2 costs $299 for 64 GB of storage or $399 for 256 GB, and getting 192 GB extra for $100 dollars isn't a bad deal. With a resolution of 1832 x 1920px per eye, a refresh rate of 72 Hz, though developer modes unlock refresh rates up to 90 Hz for certain programs, 6 GB of ram and a battery life of 2 to3 hours of consistent playtime, the Quest 2 brings out the best of VR. 
The Quest's wired alternative, which is also from Oculus, is the Rift S. It is not a standalone VR headset and needs to be plugged into a computer to function properly. Oculus recommends these system specs for your computer in order to play games as smoothly as possible: Intel i5-4590/AMD Ryzen 5 or greater, NVIDIA GTX 1060/AMD Radeon RX 480 or greater and 8+ GB of ram. The Rift S itself has a resolution of 2650x1440px per eye and a refresh rate of 80 Hz. Besides playing titles like the propulsive rhythm game "Beat Saber", both devices can be used to watch Netflix, YouTube and to generally browse the Internet.
Beat Games' "Beat Saber", which has a 10/10 on Steam, and a 93% from Metacritic, is a music game that uses the tracking of the player's body and hands to destroy blocks in a certain direction using "sabers." Players earn points by successfully cutting blocks to the beat of a song and earn combos to increase their score. This game can be played online with friends and in global leaderboards, or offline to practice and get better. 
Music isn't the only popular genre when it comes to VR. Horror games that place you in their world get people to jump and explore what goes bump in the night. "FNaF VR: Help Wanted" is a perfect culmination of the original Five Nights at Freddy's experience that drove the Internet crazy in 2014, not to mention all of its sequels and lore, both good and bad. This game also has a 10/10 from Steam and an 80% from Metacritic. Without spoiling too much for those who are interested in the game, "FNaF VR: Help Wanted" puts you in the position of security guards from the previous games, and adds some new fun modes like "Vent Repair". In October of 2019, the only downloadable content for the game was released, titled "The Curse of Dreadbear," which added more lore to the game, a different setting, the new setting of a Halloween festival where you find yourself riding rides and walking through mazes.
For those that enjoy the early years of gaming and the well known "source" engine may enjoy "Half Life: Alyx," based on the ever popular "Half Life" series, and for those who just want to sit in a world of VR and talk with hundred of other players, "VRChat" is the way to go, as it allows you to play games like "Uno" or just walk around a VR town.
As fun as it may be, swinging around as Spider-Man in "Spider-Man: Homecoming — Virtual Experience", or wielding the force and a lightsaber in "Vader Immortal Parts 1-3", VR gaming still has a long way to go both in its development of hardware and the development of software that is compatible. So, for the time being, we'll all set down the headset, get back on our PC and wait for the day that we can be fully immersed in the world of virtual reality.
About the Contributor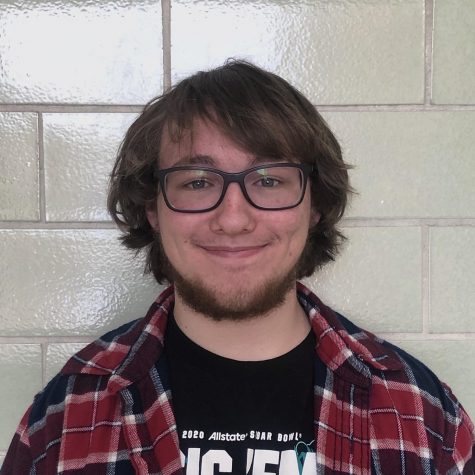 Bill Alexon, A&E Editor




Bill is a junior at CHHS and is on his second year with the Heights Herald staff. He started his Eagle Scout project over this past fall and is...