Biennial New York City seminar transforms into fully online event
This spring break, Columbia Heights High School choir students went on their first field trip in over a year — virtually, of course.
Every four years, the CHHS choir gets to go on a trip to New York City to perform and learn more about New York City performing arts and culture. Due to the current pandemic, students could not travel to New York City and instead attended online seminars over spring break. Twenty-five choir students in total attended the seminar, and later this year some visual arts students will be attending their own seminars. In normal circumstances, every two years the choir and band have alternating trips to the City That Never Sleeps. Typically, select visual arts students travel along to NYC with the choir and go on their own field trips to learn about visual art. The music students meet with professionals in the music industry as well as perform in New York. All students go to museums, memorials and Broadway shows. 
This year's trip was a very different experience for students. Instead of travelling to a place many students have never witnessed before, they sat in front of a screen and watched through Zoom. Although, while lucky to still have some kind of NYC experience, the online seminar can't compare to the real trip. Students are missing out on being on their own in the Big Apple and carrying their own responsibilities. 
"While there are components of an in-person trip that we couldn't fully replicate, this virtual opportunity gave students a taste of New York City," choir teacher Mr. Nicholas Hollarman said. "We were able to meet with artists who live and work in New York City. We also got to explore stories of families who moved to New York and how it has changed over time."
During the seminar, choir students participated in many events including a virtual tour of the Tenement Museum and a music clinic with Dr. Merriweather from Brooklyn College. Students took part in Broadway sessions as well, which included a question and answer session with two artists from the hit musical "Hamilton" as well as a dance masterclass with Michael James Scott, who has played the Genie in "Aladdin the Musical" on Broadway since 2016. Students also had a virtual tour of New York City, taking in the sights of some of the city's most notable landmarks and buildings. Students from all three choirs (Dynamix, Concert Choir and Women's Choir) were able to partake in the virtual trip. 
"I really enjoyed the parts of the trip where we were working with and talking to people from Broadway," choir student Abigail Schoenbauer (10) said. "My favorite part of the trip was the dance session where we learned part of the choreography to Arabian Nights from the "Aladdin" Broadway show."
The Visual Arts program is still in the planning phase of their NYC trip. Right now an estimated 15-20 students will be participating on the field trip alongside their teachers. They would also like to schedule an in-person field trip to the Walker Arts Sculpture Garden, COVID protocols permitting. Students will be getting the run-down on what they would have done in NYC too. They will be learning about the culture of urban art, how artists work and will study various iconic artworks. 
Even though students missed out on a once-in-a-lifetime exciting trip, many are still grateful that the arts program figured out a way for students to experience a taste of New York. Of course, it cannot equate to the real thing, but it was a valuable experience nonetheless, especially considering how much the world has been shut down since last March. 
About the Contributor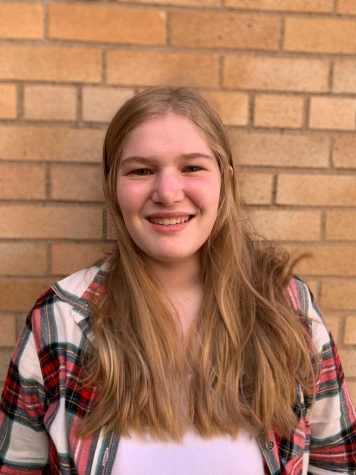 Greta Wilson, Sports Editor
Greta Wilson is a junior at CHHS. This is her second year on staff with the Heights Herald, this time as the Sports Editor. She also participates in band...