Tiny-yet-mighty speech team hits big during its third year
Wow! Where did you come from, young public speakers of Columbia Heights? Speech team is an underdog activity that requires only one strong muscle: your voice. Columbia Heights High School has many different extracurricular activities, but the speech team is one of the only ones that combines both the cutthroat nature of athletics with the creative style of the arts — and this season, they've been dominating.  
Speech team is a Minnesota State High School League (MSHSL) activity that is essentially competitive public speaking. There are 13 different categories that students can choose to participate in. With every different category comes a different style of speech, some can be funny, some can be serious, some are persuasive, some can be improvisational and some may even have students write their own script.  
As a group, the members of the speech team practice every week and compete at tournaments. The students on the team spend their season polishing their speech, and in some categories they work on the same speech all season long.
"I am constantly impressed by the competing students' vulnerability, passion and dedication," English teacher Ms. Rachel Mann, who has coached the speech team for three years now, said. "Public speaking isn't easy and it's even harder when you choose to share deeply personal experiences with an audience or when you open yourself up to a judge's critique."
Coach Mann isn't the only one to feel a strong sense of camaraderie with and respect for the members of the team.
"I think my favorite thing is how close we all are," Amara Thompson (11), captain of the team, said. "We all get along and laugh together, have tons of memories and everyone is just amazing all around!" 
Thompson has been on the speech team for nearly two years and despite the stress that comes with competing and now being captain, she thrives on leading and helping the team prepare for their Saturday meets. 
"When you get past the first minute of your piece and suddenly no person or thing matters except for that piece — that's the best part," Thompson said. "And when you're practicing and  finally nail those parts you've been practicing so hard for, it feels so rewarding."
Also on the team is sophomore Sophie Kuether, who loves the community and excitement that comes with working on poems, monologues and more as a group on a deadline.
"The thrill of competing and seeing teammates in between each round is the best part of the meets," Kuether said. "And that 'a-ha' moment, when I finally realize what gesture to do, or what a line really means, is what drives me during practice." 
All speech team tournaments have multiple categories and are three rounds in length. Every round, students are divided up based on their category (of which there are 13, including Creative Expression, Humorous Interpretation, Serious Poetry Interpretation and more) and are grouped into a speaking room of 5-8 people. Every student individually performs or presents their speech and a judge ranks them. The students that do well on the first three rounds move on to the final round. Once they are in the final round, they perform their speech again; they then get ranked and placed or given honorable mentions. 
Due to the pandemic, the tournaments look a bit different. If it was a non-COVID year, they would have traveled to different high schools around the state and compete in person with many other students, with any national finalists being flown out to D.C. But since we are not so lucky this year, there are some small changes, like all speech tournaments being virtual. Most of their practices are virtual too. They are able to come to school on Saturdays, but there are some precautions too. Each student has to be in their own classroom and perform in front of their judge and competitors in a video chat like Zoom.
Despite these restrictions, the Hylanders have excelled greatly this year. Thompson has placed at five separate tournaments, including a first place win in the Creative Expression category at the Tri-Metro Conference. Sophomore Alex Druley also took second in Humorous Interpretation at the same event, while Olivia Warbler (10) took sixth in Poetry and freshman Lily Kleinschmit took second in Storytelling. At the Zimmerman Speech Tournament, junior Emmanuel Daniel and Warbler received honorable mentions in Poetry, and Druley received an honorable mention in Humorous Interpretation. Finally, Kuether has led the team with first place wins in Poetry at both the Tri-Metro Conference as well as the Keith Roberts Tornado Invitational. Kuether also placed in three other tournaments in both the Poetry and Impromptu categories.
In addition to these accomplishments, Kuether has taken first place in the Poetry Out Loud Minnesota state competition, a similar but separate event coached at CHHS by English teacher Mr. Chris Polley. This is the first time a Hylander has taken the top prize, and now, Kuether is preparing to compete against other state champions at the national competition, which will be virtually held in Washington, D.C. on May 2. She will recite three poems: "April Love" by Ernest Dowson, "To have without holding" by Marge Piercy and "I should have loved you presently" by Edna St. Vincent Millay. Through this competition, similar to speech team poetry category events, high school students show their understanding of the poems through their recitation, competing against students from all over the state and country.
Speech team is one to look out for. While this past Saturday (March 27) was their last tournament, their section tournament happens on April 7, and if anyone places in the top three in their category, they will advance to the state tournament at the end of April. Best of luck to all of the competitors — keep up the good work!
About the Contributor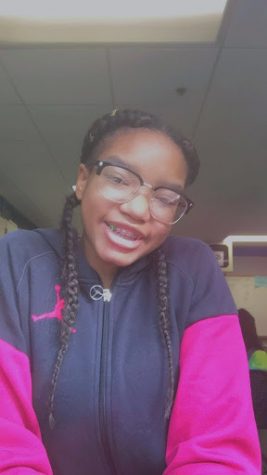 Ny'Jerria Jordan, Staff Writer
Ny'Jerria Jordan is a sophomore at Columbia Heights High School, and she is a staff writer. This is her first time writing for the newspaper.