Boys' basketball team displays dexterity during regular season
"There is no such thing as a perfect basketball player, and I don't believe there is only one greatest player either," Michael Jordan wrote in his 1998 book "For the Love of the Game: My Story".  This quote from one of the best basketball players of all time is reflective of the one-for-all style of play shown by the boys' varsity basketball team this year.
The 2020-21 basketball season has been difficult for athletes both locally and around the world due to safety measures being taken and certain restrictions as a result of COVID-19. However, the team here in Columbia Heights has been persevering through the ups and downs of the season.
"I enjoy the camaraderie, the team bonding with each other [and] producing success," Coach Willie Braziel said. 
Braziel has been coaching basketball since 2002 and began coaching varsity teams in 2003. He also played basketball in Minnesota at Marshall University High School and for two years at Hamline University. Basketball doesn't bring Coach Braziel stress because he cares more about his players as people than he does about coaching them.
"[My] favorite thing about the team is just making new family while playing the sport with new brothers," forward Martez Wise (10) said.
Wise has been playing basketball for five years and says that the sport stresses him out sometimes when referees are being unfair, but he hopes to get more playtime on the varsity team this season. 
Safety measures have been taken to keep the players safe throughout the season, such as mask-wearing — even during games — and as much social distancing as is possible during practice and games. For some, it may be more difficult to play while wearing a mask, but those on the team are committed to playing their best while keeping everyone safe, and they appear to be playing better than ever, or at least since their incredible playoff run during the 2016-17 season. 
Forward Muja Burton (12) has led the team in scoring this year with 226 points, followed by an impressive 204 points by forward Donnovin Hinsz (11). Hinsz also leads the team in rebounds (84) with guard Hassan Kamara (11) right behind him with a total of 62 rebounds between last fall and now. In terms of assists, guard Terrence Brown (11) leads the pack with 80, and guard Elijah Williams (11) follows him with a healthy 44. 
Because of this year's stellar all-stars and the rest of the reputable roster, the team has an overall record of 11 wins and two losses thus far this season. Heights is currently ranked second in the Tri-Metro conference, just behind Richfield, who has a record of 12 wins and three losses.
The remainder of the regular season looks promising for the Hylanders. The final two games of the season are just ahead with the March 13 game against St. Croix at St. Croix High School, and the final game—and final home game—of the season on March 16 against Fridley. Make sure to cheer on the Hylanders as they play out the final games and, if all goes well, prepare to mask up for another thrilling round of state tournament playoffs.
About the Contributor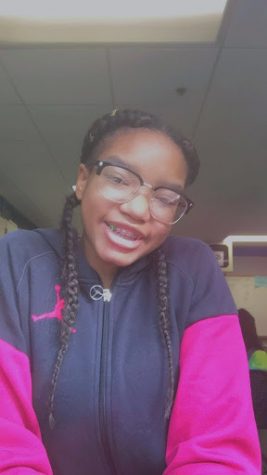 Ny'Jerria Jordan, Staff Writer
Ny'Jerria Jordan is a sophomore at Columbia Heights High School, and she is a staff writer. This is her first time writing for the newspaper.