Teen pop star turned rock star releases fresh album
Over the past decade, Miley Cyrus has hopped from one genre to another. From writing family-friendly country music in 2008 to upbeat club music in 2015 and a so-called "glam-rock" album in 2020, Cyrus's journey through the music industry has certainly been unique. I mean, come on, from acting on a kids TV show to swinging on a wrecking ball and performing at the MTV Video Music Awards four years later? That's quite the range.
Miley Cyrus was born on November 23, 1992 in Franklin, Tennessee. With her father being well-known country singer Billy Ray Cyrus and her godmother being legendary musician, actor and songwriter Dolly Parton, Cyrus came from a family of fame.
At 11 years old, Cyrus auditioned for Disney Channel's television show Hannah Montana and received the leading role in 2006. Then, after five long years, the show had come to an end. This is when Cyrus had her biggest breakthrough. In 2013, she dropped a rather explicit club-pop album, "Bangerz", including hit songs such as "We Can't Stop" and "Wrecking Ball". While this album release was shocking, many believe that this was Cyrus's way of breaking out of her childhood shell. 
As a result of Cyrus's new style, the superstar was hit with a wave of hate from former fans all over the world. Yet she didn't let the negativity get to her. In 2017, Cyrus released another album titled "Younger Now" including songs such as "Malibu", "Younger Now" and a song with her godmother Dolly Parton called "Rainbowland". After the release of Cyrus's new album, she then proceeded to perform at awards shows such as the VMAs and the Grammys.
After a solid three years of no new album releases and very few singles, Cyrus released her highly anticipated seventh album, "Plastic Hearts", in late November of last year. Charting at number 5 on the Billboard 100, her new album, originally titled "She Is Miley Cyrus", surpassed 33,000 sales within the first week of release.
 "My record is called 'She Is Miley Cyrus'," Cyrus said in an interview with Elle Fashion Magazine. "'She' does not represent a gender. She is not just a woman. 'She' doesn't refer to a vagina. She is a force of nature. She is power." Although Cyrus retitled her album, it was easy to predict that "Plastic Hearts" was going to be about taking back power creating a new name for herself. It was also correctly predicted that "Plastic Hearts" was going to include a wide variety of love songs due to her divorce from Liam Hemsworth in early 2020.
Cyrus starts off the album with "WTF Do I Know", which is quite obviously about her relationship with Hemsworth. Throughout the song, Cyrus sings, "getting married just to cause a distraction" and "am I wrong that I moved on and I don't even miss you?" After listening to nearly three minutes of Cyrus bashing her ex-husband, I think it's safe to say that she is quite frankly over the constant Liam Hemsworth interview questions.
The opening song is then followed by "Plastic Hearts", "Angels Like You" and "Prisoner" featuring Dua Lipa. These three songs were definitely fan favorites considering they are, as of now, the most streamed on the entire album. These songs also varied in sound; "Plastic Hearts" certainly has a more rock-y vibe to it, whereas "Angels Like You" is a very slow, heartbreak-ish song and "Prisoner" having a rather upbeat, pop sound.
Some of Cyrus's influences for "Plastic Hearts" were classic 80s rock artists such as Joan Jett and Billy Idol. Not only did these rock legends influence the album's music, but they were actually on Cyrus's album, with Jett featured on "Bad Karma" and Idol featured on "Night Crawling". Cyrus definitely did a good job matching these two iconic artists' vocals. 
Cyrus also had one other notable hit on her album: "Midnight Sky". This song was included in many critics' top songs from the album, as it should be. "Midnight Sky" begins with a softer tone and leads up to a strong chorus with amazing vocals. After the release of "Midnight Sky", Cyrus teamed up with the one and only Stevie Nicks, remixing the track with elements from one of Nicks's most popular hits, "Edge Of Seventeen". Being a huge fan of 80s music, a Billy Idol feature and a Stevie Nicks remix is pretty hard to beat when it comes to the other songs on the album.
Throughout "Plastic Hearts", there are some less favored songs, such as "Hate Me", "Gimme What I Want" and "Never Be Me". These songs are somewhat bland and don't live up to the "out of the box" vibe of the entire piece. 
That being said, Cyrus did claim that the album was going to be more rock-influenced, which it was, but it also consisted of five slower songs. I think that 33% of an album being slower love songs is a little too much to be considered "rock". However, the number of bops on Cyrus' album most certainly outweigh her missteps. 
Ever since the release of "Plastic Hearts", Cyrus has been consistently blowing up on social media platforms such as Tik Tok and Instagram. This album is enjoyable, and it's safe to say that after that three-year gap between albums, we will be left waiting in anticipation of another major project from Cyrus sooner rather than later.
About the Contributor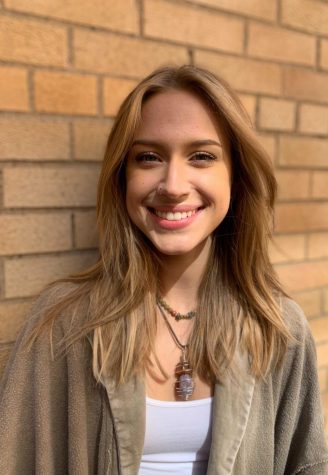 Ava Gregorich, A&E Editor
Ava Gregorich is a senior at Columbia Heights High School. She is also the A&E editor for the Heights Herald.