Deaths of beloved figures sadden, anger America
The last few months of 2020 have been hard and difficult for a lot of us. During this year, we've lost the second female supreme court justice, the fabled Black Panther and cheerleader Santana Lopez. Who were they exactly?
Ruth Bader Ginsburg was born on March 15, 1933 in Brooklyn, New York. She was an Associate Justice of the United States Supreme Court from 1993 until her death in September 2020.
Ginsburg, dubbed The Notorious RBG because of her innumerable strides for equality, died on September 18 in Washington, D.C. due to complications with metastatic pancreatic cancer.  
The judge's legacy lives on in the hearts of so many Americans still today. Ginsburg supported abortions and same-sex marriage long before it was officially legalized in the U.S. She also fought for the rights of undocumented people and the disabled community, as well as for the expansion of voting rights in the United States.
Chadwick Boseman was born on November 29, 1976 in Anderson, South Carolina. He was an American actor. He played in many movies and shows such as the biographical film "42" following the life of Jackie Robinson. He was also featured in the acclaimed 2014 movie "Get On Up", portraying legendary funk singer James Brown.
Boseman's most recognizable role, however, was as the Marvel Cinematic Universe's Black Panther. 
"Relating to characters onscreen is necessary not merely for us to feel seen and understood, but also for others who need to see and understand us," Time arts reporter Jamil Smith said in an obituary for Boseman. With more African-American actors on screen, and not just as superheroes, the representation has a positive impact on viewers who want to see their culture more relatable.
"It's very sad to see such great people leave the earth so soon," Damon Spearman (10) said. "I grew up watching Chadwick in his movies. He left a big enough impact on the world, but there is more that he could have done."
Naya Marie Rivera was born on January 12, 1987 in Valencia Santa Clarita, California. She was a American actress, singer and model. She played in "The Master of Disguise" and other films and TV projects, but Rivera's most notable role was on the hit TV series "Glee" as bully turned queer icon Santana Lopez. 
Rivera's death was unexplainable for days after her death. On July 8, Rivera and her four-year-old went to Lake Piru in California, where they went swimming. When the boat didn't come back at its assigned time, they went out to search for it and found her son sleeping in a lifejacket by himself. After getting her son to the sheriff's office, the Coast Guard set out for a search-and-recovery. Autopsy reports suggest that she accidentally drowned.
"It's horrible. I'm sad for all the families," said Marquez Anderson (10). "2020 has just been a horrible year with all this COVID-19 going around. I just wish the year would end. At least she left a positive impact on the world."
We have lost many iconic people this year; not just those mentioned here, but so many more, from long-time "Jeopardy!" host Alex Trebek to Sean Connery, who played the first James Bond, and so many more. All of the deaths this year have affected various groups of people deeply, whether you're a feminist, young teen of color, or just a human being that recognizes greatness. 
As tragic as 2020 gets, the impact these legends and more had on us will forever unite us. 
About the Contributor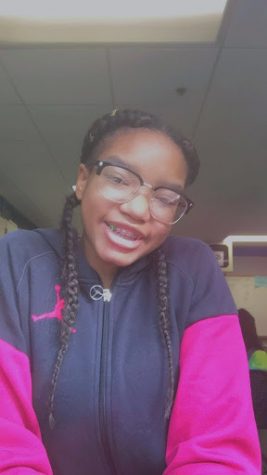 Ny'Jerria Jordan, Staff Writer
Ny'Jerria Jordan is a sophomore at Columbia Heights High School, and she is a staff writer. This is her first time writing for the newspaper.