Local election candidates share visions for Columbia Heights
With the presidential election frequently being the headliner, local elections are greatly overlooked and commonly labeled as unimportant. This is unfortunate because local elections are crucial in shaping a community and its values. In voting, you get an opportunity to effectively voice your opinion and get a say in who you want to represent, not only you, but your neighborhood.
 Currently, the Columbia Heights local elections are in progress, and the positions up for grabs include the two city council seats, along with the mayoral position. Within the city government, the mayor and city council are responsible for designating budgets, creating local laws, and putting policies in place, while simultaneously listening to and taking into consideration community concerns. 
There are four candidates that are running for the city council positions this year: Connie Buesgens, Andy Newton, Kay "KT" Jacobs and Laura Dorle. All responses below were provided over email directly to The Heights Herald.
Connie Buesgens has lived in Columbia Heights for 20 years and is a current city council member. Buesgens goals if reelected include "to finish our new city hall, to keep working on cleaning up and redeveloping central avenue and to work on our parks for everyone in our city, whether it's young families, seniors or teenagers." 
"I believe it's very important to be honest with myself and the residents about what's happening with the city," Buesgens said. "And when they ask me questions to be honest with them, whether it's something that will make them happy or make them angry."
Buesgens feels as though people should vote for her because she loves serving the residents of Columbia Heights and would like to continue doing so.
Andy Newton has lived in Columbia Heights for five years. He has a Bachelor's Degree in Recreation Parks and Tourism Administration and a minor in Environmental Conservation. 
"My plans, if elected, would focus primarily on trying to increase access to the city government in general, to foster an environment of inclusiveness and transparency," Newton said.  "I plan to begin addressing some of our traffic/walkability challenges here in Heights, such as unsafe crossings, lack of sidewalks and unregulated intersections." 
He also has shared innovative plans for our parks and community. His plans include working in our parks to make them even better, including expanding on existing soccer fields, building a possible dog park and increased programs for teens. He'd also plan to put together the city's first annual Columbia Heights Arts Festival next summer. Newton also puts a huge emphasis on inclusivity. 
"I don't see enough people of color represented in our city government, staff and committees," Newton said. "If people of color do not feel comfortable getting involved with city government, it is part of our job to look into why and make sure that we are fostering a safe and welcoming environment for all people. 
"I realize that it is hypocritical for me to say this, being another white male running for office, but if I do my job, I will not need to run again," Newton said. "I will have helped foster an environment in which my presence will no longer be needed."
Newton thinks that people should vote for him because everyone has a voice of their own and every voice should be heard. He stated over email he will consider it his biggest priority to make sure that they are.
Kay "KT" Jacobs has lived in Columbia Heights for 27 years and was pushed to run for city council because she believes we are losing ground in securing the future of our city and that is what began her journey three years ago.
Jacobs is a member of the Columbia Heights centennial celebration group and the Columbia Heights Lions group—an organization dedicated to bettering the community. 
"I began attending council meetings and asking questions; I attended council work sessions and economic development meetings and more," Jacobs said. "I became involved on a personal level so that I could understand the decisions that were being made on the behalf of the residents."
Jacobs' goals if elected are to see more businesses and to see a balance between rental units and owner-occupied housing in Columbia Heights. She wants to see fiscal responsibility for our taxpayers in the developments we allow as well as how we allocate and spend our budget.
"My previous professional experiences and responsibilities as we were being proactive, resourceful, invested, dedicated and engaged in the processes that are required to be a council member allow me to step into the position with an understanding of the job," Jacobs said.
Laura Dorle attended the University of Minnesota, graduating with a degree in Policy and Management. Dorle has dedicated years of her life to environmental organizations and policy work targeting climate change throughout the state. 
"I am running for Columbia Heights City Council because I believe in our collective innovation and creativity to build a city where each and every person and local business feels welcome, is safe, and thrives," Dorle said. "I am committed to Investing in the safety, sustainability, and usability of our streets and parks across age, ability and mode of transportation." 
Dorle states that she plans to support and expand our local business community, ensure the quality and affordability of our housing for all our residents, whether they are renters or property owners, and to put racial and environmental justice "at the heart of everything" if elected.
"I believe I'm the strongest candidate for Columbia Heights City Council because of my experience in community organizing and municipal government, deep understanding of the issues and connections with residents across the city, and commitment to being an inclusive, equity and values-focused leader," Dorle said.
 "I believe we can build a stronger, more inclusive community for all people when we collaborate and use our collective imagination and resources. With the support of the community, I am ready to step into the job and represent and uplift their voices."
Amáda Márquez Simula is a community member running for mayor this year. She is a part of many groups and organizations such as the Columbia Heights Lions and the Columbia Heights Rotary, which is a club that works to combat hunger and improve health and education opportunities. Simula also previously held the title of president of HeightNEXT club, where she continues to organize, lead and participate in street cleanups and other environmental projects to this day. In 2017, she was even named the Columbia Heights Humanitarian of the year because of all her accomplishments. She is currently the program manager of education and is on the school districts finance committee in Columbia Heights. 
"I want to bring Columbia Heights into the twenty-first century by embracing technology and software that will make it easier to access services and information online," Simula said. "I want to modernize public safety by embracing community solutions that will respond to the non-emergency [and] non-violent calls that would otherwise be dealt with by the police. We have a great city already, but these are easy ways to make this a better city for everyone."
When asked about her core values, she emphasizes hard work and diversity. Simula believes that Columbia Heights, being one of the most diverse cities in Minnesota, needs to celebrate its uniqueness in its boards, commissions, small businesses and elected officials.
"I want to turn Columbia Heights into a city of 'yes'," Simula said. "Yes to new ideas and fresh perspectives. Yes to progressive values that will make this city an even better place to live and work. And yes to common sense sustainable solutions that will help our city survive an uncertain climate future. A vote for me is a vote for a bold, decisive, and progressive city."
Nick Novitsky states online that he is a big advocate for helping the environment and believes it should be a priority for everyone. He is also a member of the Columbia Heights Lions. Novitsky is a proud supporter of the Columbia Heights Police Department and the Columbia Heights Fire Department. Novitsky didn't respond to The Heights Herald's request for comments, but more information can be found on his Facebook page, Nick Novitsky for Mayor. 
Elections for both city council and the mayor position will take place from 7 a.m. – 8 p.m. on November 3. You can also vote via mail-in ballot anytime before November 10. With so many great candidates for both the mayor and city council positions, it's important to do your research and voice your opinion by voting for the one you believe can best represent and serve not only you, but your neighborhood, and Columbia Heights community.
About the Contributors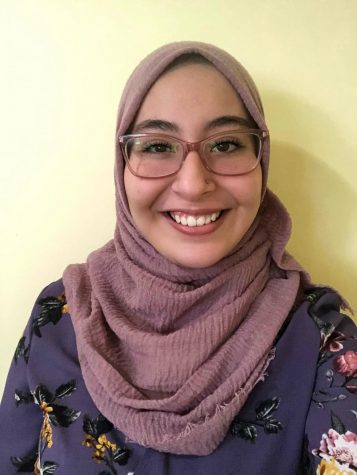 Buthaina Asamarai, Staff Writer
Buthaina Asamarai is a junior at Columbia Heights High School. She is a staff writer at The Heights Herald and enjoys photography, baking, and spending...
Adrian Hemmick, Staff Writer
Adrian Hemmick is a senior at Columbia Heights highschool. He is a staff writer and cartoonist for The Heights Herald. His main goal is to blow up and...