Alumnus Ms. Michelle Douglas wins CHPS Teacher of the Year
Once a Hylander, always a Hylander.
Each year, the Columbia Heights Public Schools teachers' union, Local 710, selects a Teacher of the Year. This year's winner is district alum and Columbia Heights High School teacher Michelle Douglas. 
Douglas teaches Pre-AP English 10, English 12 and Advancement Via Individual Determination (AVID) 10, and she has worked in the Columbia Heights District for over 20 years. First working at Central Middle School (since renamed Columbia Academy) as an English Teacher until 2010 when she started working at Columbia Heights High School. 
Some time ago, Douglas attended CHHS too. When Douglas was a student, she participated in Fastpitch Softball and Volleyball as well as being a member of the National Honors Society. When Douglas returned to the high school, there were a couple teachers she had as a student who still worked here. And though the student body had changed a lot, she knew what it was like to be a student at CHHS.
"I do like reminiscing with students about traditions and how things have changed over time," Douglas said. 
Douglas has been involved in many activities over the past 20 years at Heights. Douglas has been advising the Student Council, and is hoping to continue doing so this year. She has been a Class Advisor, worked in the Homework Center and as a fastpitch softball coach. On top of all of this, she has been very involved in AVID, where she helps students develop their skills, determine their capabilities, and prepare for what's ahead. 
Just like every other teacher, Ms. Douglas has had to adapt during distance learning. Right now, she has to try and build strong relationships with her students without actually seeing them. Regardless, she keeps students involved with class and connected with the material. 
"I am trying to come up with different ways that I can make distance [learning] more interactive and give every student in my class a voice," Douglas said. 
This Teacher of the Year is constantly trying to increase her knowledge to find new ways for her students to connect with the material. She uses interactive materials like Pear Deck,  a platform where students can answer questions during a presentation, and she also uses breakout rooms while meeting with classes on Zoom. According to Douglas, establishing personal connections with many of her students creates a better learning environment for them and makes students more excited to learn. She is a caring teacher who supports her students throughout their ups and downs. 
"[Douglas] is more than a teacher. She actually cares about her students and how they are feeling," Ebyan Jama (11) said. 
This is the 20th CHPS Teacher of the Year award given. A teacher from CHHS has not won since 2017 when social studies teacher Ms. Erin Edwardson-Stern won. Along with the title, the teacher awarded this honor is tasked with representing the district in the Minnesota Teacher of the Year awards. 
When Ms. Douglas is not at school, she spends time with her husband and two children. She enjoys reading, exercising and traveling in her free time. 
From being involved in student activities to caring for her students, their wellbeing, and going above and beyond the expectations of her role as a teacher, she has certainly earned the title of Teacher of the Year.
About the Writer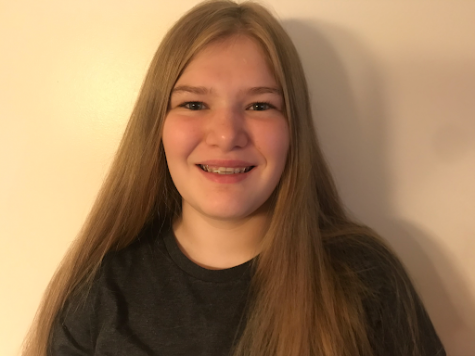 Greta Wilson, Staff Writer
Greta Wilson is a sophomore at CHHS. She is a Staff Writer and also participates in band and plays volleyball.