Three great desserts to spice up your fall
We may be quarantined this fall, but why let that stop us from indulging in all the great fall desserts you can make? Here are three easy and delectable dessert recipes to spice up your autumn. So put on your favorite sweater, grab a cup of cocoa, and get ready to experience the snuggle season like never before.
Mini Puff Pastry Pumpkin Pies
Ingredients:
1 puff pastry sheet pack 

2 cups pumpkin puree 

1 can of sweetened condensed milk (12oz)

2 eggs, beaten                                                             

1 ⅛ tablespoon pumpkin pie spice

1 teaspoon imitation vanilla extract
Instructions:
Preheat your oven to 425 degrees Fahrenheit.            
Thaw puff pastry sheets for 40 minutes.                        
Mix the pumpkin puree, condensed milk, beaten eggs, vanilla extract, and pumpkin pie spice in a medium-sized bowl till well combined.
Unfold puff pastry dough and roll out from the middle out.
With a pizza cutter or knife cut 12 squares (3 by 4). Roll out each square to make it bigger if needed.
Place squares into a cupcake pan and push down lightly.
Place about a tablespoon of the pumpkin filling into the center.
Repeat with the second half of dough onto a second cupcake pan. 
Bake for 15-17 minutes or till the dough is golden and has puffed up.  
Cool for 15 minutes, and serve.
Recipe by Buthaina Asamarai, @Buths.Kitchen on Instagram
Maple Cinnamon Scones
Serves: 8
Ingredients:
1 cup of white whole wheat flour

1 cup all-purpose flour

¼ cup granulated sugar

1½ tsp baking powder

1 tsp cinnamon 

½ tsp salt                                              

 

½ cup butter, cold and cut into pieces 

5 tbsp half & half or milk

3 tbsp pure maple syrup

1 egg

1 tsp maple extract

½ cup cinnamon chips

Additional half & half or milk for coating, optional

Cinnamon sugar for garnish, optional
Instructions:
Preheat your oven to 375 degrees Fahrenheit. Line your baking sheet with parchment paper.

In a large bowl, mix the flours, sugar, cinnamon, baking powder and salt. Mix in your butter cubes and cut into pea size pieces with a pastry blender or knife, making sure to coat the butter.

In a small bowl, beat the egg then whisk in the half & half, maple syrup, and maple extract. Gradually add the dry ingredients to wet ingredients and mix until well combined. Add in the cinnamon chips.

Take out the dough onto a floured surface and knead the dough into a ball. Roll out into an 8-inch circle and cut 8 wedges, or use a cookie cutter to cut out the dough. Brush the dough with half & half and sprinkle them with cinnamon sugar.

Bake for about 12-15 minutes or until they start to turn golden. Make sure not to overbake as they'll become dry.
Recipe by A Kitchen Addiction,  @akitchenaddiction on Instagram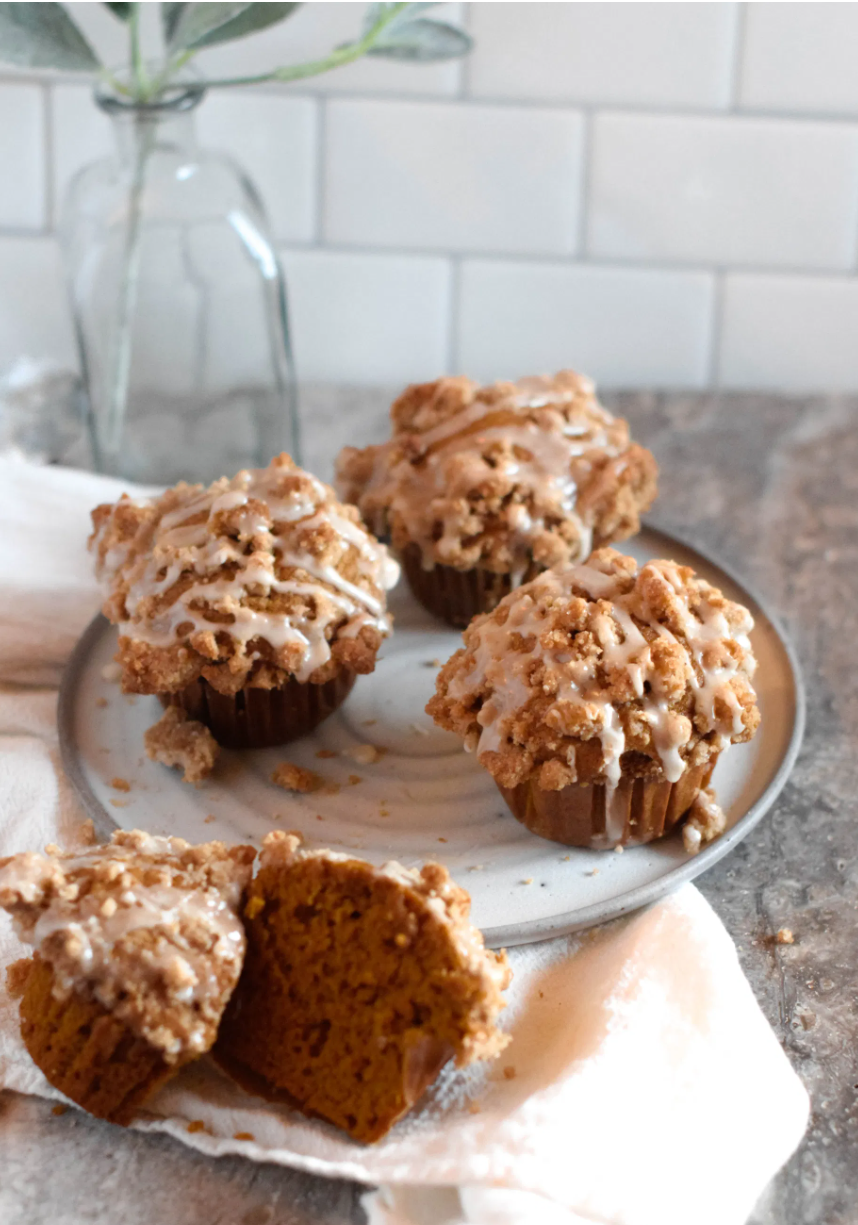 Pumpkin Spice Streusel Muffin
Batter Ingredients:
1 3/4 cup all-purpose flour

1 tsp baking soda

2 tsp ground cinnamon

1 tsp pumpkin pie spice

1/2 tsp salt

1/2 cup vegetable oil

1/2 cup granulated sugar

1/3 cup dark brown sugar, packed

1 1/2 cup canned pumpkin puree

2 eggs     

1/4 cup room temperature milk                           
Batter Instructions:
Preheat your oven to 425 degrees Fahrenheit. Line a 12-count cupcake pan with cupcake liners. This recipe will make about 15 muffins, so prepare a second muffin pan and set it aside.

In a large bowl, mix together the flour, baking soda, cinnamon, pumpkin pie spice, and salt till well combined. 

In a medium bowl, beat the eggs, then whisk in the oil, granulated sugar, brown sugar, pumpkin puree and milk until combined. Pour the wet ingredients into the dry ingredients, folding them together gently, making sure there are no lumps.

Scoop the batter into the liners, filling them ¾ of the way.
Crumb Topping Ingredients:
3/4 Cup all-purpose flour

1/4 Cup granulated sugar

1/4 Cup dark brown sugar, packed

1 Tsp pumpkin pie spice 

6 Tbsp unsalted butter melted
Crumb Topping Instructions:
To make the crumb topping, mix together the flour, brown sugar, granulated sugar and pumpkin pie spice together till well combined. Mix in the melted butter until it starts to form crumbs. Spread the crumbs evenly on top of the batter and slightly press down so they stick to the batter.

Bake for about 5 minutes at 425 degrees Fahrenheit, then reduce the oven temperature to 350 and bake for another 15-17 minutes or until an inserted toothpick comes out clean. Let the muffins cool for about 10 minutes while you make the maple icing.
Maple Drizzle Ingredients:
1 1/2 cup powdered sugar

2 tbsp maple syrup

2 tbsp milk
Maple Drizzle Instructions:
To create the icing, mix the powdered sugar, maple syrup, and milk together in a small bowl till combined. Drizzle over the muffins and serve.
Recipe by Wandering Recipes,  @wandering_recipes on Instagram
These three delicious treats will not only give you cozy vibes this season, but they will also give you the energy and motivation you need to achieve your goals this fall semester.
About the Contributor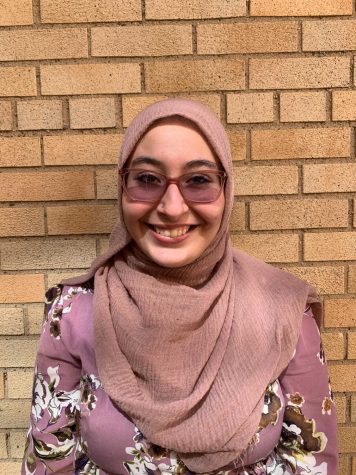 Buthaina Asamarai, Taste Editor
Buthaina Asamarai is a senior at Columbia Heights High School. She is the Taste Editor for The Heights Herald and enjoys photography and baking.