Minnesota responds, adjusts as COVID-19 curve begins to flatten
Throughout the whole world, people and countries are being devastated by COVID-19. That includes Minnesota.
On March 27 at midnight, Governor Tim Walz implemented a Shelter-in-Place order. This effectively put all non-essential workers in quarantine. It came two weeks after the governor shut down all schools and switched the state to distance learning indefinitely. The Shelter-in-Place order officially ends May 22 with many companies beginning the slow process to opening at full capacity. 
As of May 21, Minnesota has reported 17,679 cases of COVID-19 and 786 COVID-related deaths, but these are only the ones that have been tested. With a limited amount of test kits, many are getting sick with no way to know if they have a common cold or COVID-19. Tests are few and far between for many reasons including documented infighting in the Office of the President and various other bureaucracies. This has caused an issue in Minnesota where people who show symptoms similar to COVID-19 cannot get tested unless their symptoms worsen to the point of hospitalization.
Not only are there few testing kits, but hospitals are also short on ventilators and masks. Minnesota companies like Medtronic and 3M have come to the rescue, though. Medtronic has increased its production of Ventilators by 40% as of March 22nd. Meanwhile, 3M is doubling their production of N95 masks to be used in hospitals. These masks, which are heavier than the homemade masks that have become popular recently and resemble a mask that a dentist would wear.
With the new world of quarantine, restaurants have been struggling to maintain customers when they are not allowed to open their doors. This has led to a new form of eating out—curbside pickup. Customers place orders online at their favorite local or fast food restaurants and pick up the food later without coming in contact with another human being. While the situation carries some risk it allows restaurants to stay open through the pandemic. A list of Minnesota restaurants that have curbside pickup can be viewed here. 
June 1 will begin a turning point in the closure of nonessential businesses. Restaurants have started receiving letters from the government detailing how they are allowed to serve customers moving forward. The main factor is that all businesses must only be open at a 50% capacity and any employees who can stay at home are encouraged to do so. 
"Not knowing was probably the hardest part for me and still is," said Donna Mahlmann, owner of the Columbia Heights hair salon Hairatage. "We are at a high risk because we cannot social distance. We cannot control when someone coughs or sneezes while sitting in your chair. We are doing all the protocols that the Department of Health and the Board of Cosmetology have recommended to do to ensure the safest visit possible."
Some businesses are booming in this time like grocery delivery services such as Instacart. In order to prevent going to the grocery store families can hire somebody else to do it for them. Instacart and its competitors, like Amazon fresh, are helping out families with high-risk individuals by shopping for them. The cost adds a service fee to the normal grocery price. 
In general, Minnesota has been struck hard by the impacts of COVID-19 but the steps the governor and the residents of Minnesota have taken to keep everybody safe have gone a long way to "flatten the curve".  
About the Contributor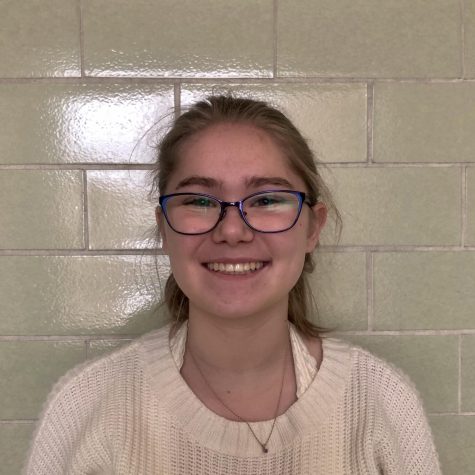 Molly Wilson, News Editor
Molly Wilson is a Senior at CHHS. This year she is the News Editor for the Heights Herald. Molly went to Twin Cities German Immersion School where she...