Congresswoman Ilhan Omar visits CHHS
The first Somali-American member of Congress. The first woman of color to represent Minnesota. A refugee and mother of three. These are just a few of the many impressive titles on Ilhan Omar's resume; earlier this semester, CHHS was treated to a special visit from the influential representative.
60 CHHS students, a majority of which were female and Muslim, filled the media center to listen to Rep. Omar speak on February 20. Introduced by Principal Dan Wrobleski, Omar told a brief story about how she came to America and got involved in politics before taking questions from the student audience.
Rep. Omar emigrated from a Somali-majority refugee camp in Kenya to the U.S. at the age of 12. She then attended the nearby Minneapolis Edison High School before graduating from North Dakota State University in 2011. She got her start in politics at age 14, serving as a translator for her grandfather at local caucuses. But Omar really made waves in 2018, when she defeated Jennifer Zielinski to win Minnesota's 5th congressional district and a seat in the U.S. House of Representatives. 
"Growing up as a refugee, I would have loved to have heard a story like mine," Omar said. "I hope my role as a member of Congress inspires young people to be hopeful, to dream and to aspire for more." 
After explaining how she got into politics, she discussed her legislative plans and vision for Minnesota and the U.S. Rep. Omar gave a brief overview of  progressive bills she has both helped write and supported with the goal to make "a more livable world for future generations." She also spoke to her continual fight for Medicare for All, telling students in attendance that she doesn't understand why Americans spend so much, yet healthcare is not affordable for so many.
"Too many Americans are struggling to make ends meet because of policies that value corporate profits over workers' rights, and by a rigged system that forces most Americans to scrape by on stagnant wages as the cost of living skyrockets," Rep. Omar said. "We need a bold, transformative agenda to reform our democracy."
Later, a student asked Omar how she deals with hate, which has frequently come her way.
"Much of the hate is designed to create an atmosphere of fear—and fear is not a word I allow to enter my vocabulary," Omar said. "My constituents sent me to Congress to fight for them, so I am more focused on achieving policy goals," 
Finally, Omar was asked about how to get involved in politics. Right away, Omar encouraged all students in attendance to attend caucuses, stressing the idea that a shift in representation reminds everyone of opportunity. 
"I want the kids voices to be heard," Omar told everyone in attendance. "When the adults are making the decisions, the kids need to be remembered." 
Omar was able to touch on other quick topics as well. For instance, don't expect to see an Omar 2024 presidential campaign because she has no interest in running for an executive political position. Also, Omar's favorite aspect of holding office is having conversations with young people. 
As far as what's next, Omar is currently pursuing advanced legislation for mobile home owners. The visit finished with a giant group selfie of Omar and the CHHS students, followed by a quick opportunity for students to get their own personal picture with the representative. Students were happy to have had the chance to meet with and learn from her.
"Ilhan inspires me because she is a woman of color, which is really rare in the political system in general," Ngawang Nima (10) said. "I never knew that a woman of color could be in Congress; it's made me think about going into politics myself."
Ilhan Omar's visit to CHHS took place in February. Since then, she's been busy. In March, she joined Vermont senator Bernie Sanders at a rally prior to the first Minnesota primary election in 30 years, which Sanders ultimately lost. Later in the month, she announced her marriage to Washington political consultant Tim Mynett. In April, she and her "Squad" — consisting of herself, New York Rep. Alexandria Ocasio-Cortez, Massachusetts Rep. Ayanna Pressley and Michigan Rep. Rashida Tlaib — sponsored a bill that would cancel all rent and mortgage payments nationwide for the duration of the COVID-19 pandemic. 
Once the chaos of the pandemic dies down, however, Omar will have to turn her focus to her democratic primary next August. She will have to fend off both a strong democratic challenger, Antone Melton-Meaux, and a heavily-fundraised republican candidate, Lacy Johnson. Yet, Omar has made it loud and clear that she will not back down from a fight and will continue to advocate for growing diversity in Congress.
"You can't be what you can't see," Omar said. "It's important to have diverse voices elected in all levels of government that reflect the makeup of this country." 
Rep. Ilhan Omar's visit to CHHS will be remembered by many students as an influential moment in their lives. Bold, progressive and an inspiration to many, Omar's success in Washington is sure to lead to many more women of color being elected to Congress. who's to say this won't include one or more of the CHHS students she took a selfie with on that memorable day in February?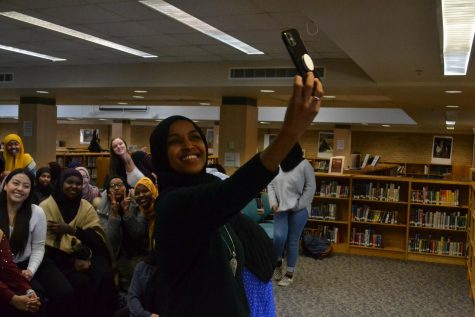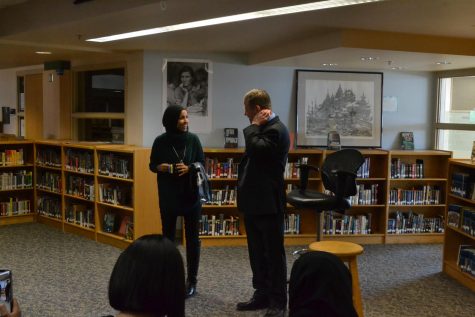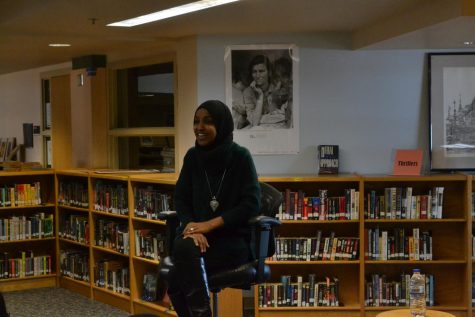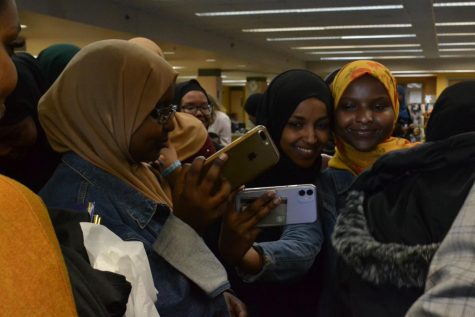 About the Contributors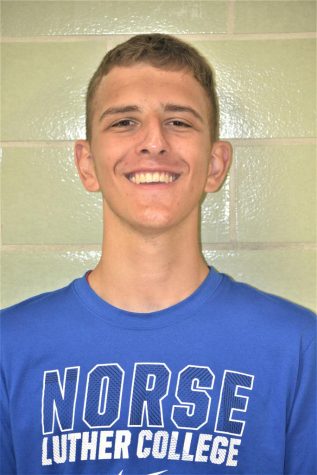 Peter Heryla, Co-Editor-in-Chief
Peter Heryla is a senior at CHHS and an Editor-in-Chief of the Heights Herald. This is his third year on the staff. In addition to the newspaper, he is...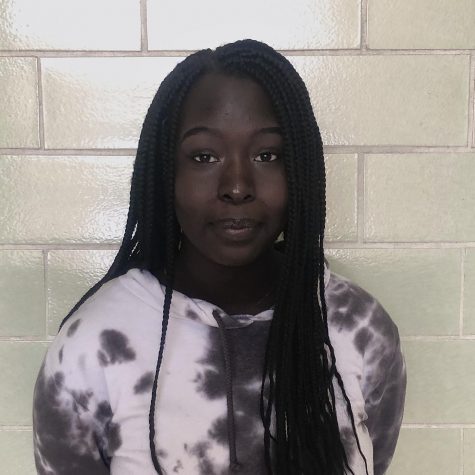 Kwot Anwey, Co-Editor-in-Chief
Kwot Anwey is a junior at Columbia Heights High School and she is currently the Co-Editor-in-Chief of the Heights Herald. She enjoys journalism because...