Dutch oven cooking makes for rich and easy meals
Bronze! Cast iron! Stainless steel! Everything except fabric makes these Dutch ovens cook.
The first Dutch oven was made in the Netherlands during the 17th century. Although the oven was initially cast of brass, it soon changed to stainless steel before the famed founder of Lodge Cast Iron cookware, Joseph Lodge, made them from cast iron. They are approximately six-inch deep pots with legs and a flat lid for holding coals. They only require minimal cleaning, and all the food cooked in them only adds to the strength and integrity of the oven. Cast iron is very porous, and a process, known as seasoning, sticks and fills pores, allowing the cook to throw in any food without worry about it burning or charing.
To start cooking, coals are the most popular choice for fuel. Starting with about 40 coals will allow for ample wiggle room. Putting in the food for preparation is very easy—simply throw it into the bottom of the pot and affix the lid. When the coals get hot enough, put fewer coals underneath the oven and more on top. Heat rises, so make sure extra coal is readily available for when what's on top burns out. Using a steel bar, open the Dutch oven and check on the food. Most of the time, the cooking length will be estimated, but one to two hours usually gets it done.
Egg Bake Ingredients:
24 Eggs

1 Large bag frozen hashbrowns
12 Precooked sausage (optional)
1 Onion (chopped)
2 Bell peppers (chopped)
1 Bag of Mexican blend cheese (shredded)
Salt and pepper
Egg Bake Instructions: 
In a Dutch oven, spread all hashbrowns on the bottom and flatten with a spatula. Crack all eggs into the oven. Cut up sausage links if desired, and spread thoroughly through the eggs. On a cutting board, chop onions and bell peppers to dime size, discarding the onion skin and pepper core. Add the onion and pepper to eggs and lightly stir with a spatula, then sprinkle salt and pepper (as desired) and top with shredded cheese.
Affix lid and place over 15-20 coals, then place 20-25 coals on top and let sit for 45 minutes. At the 45-minute mark, reapply cheese and affix lid again. Add all remaining coals to the top and let sit for another 15-20 minutes. Poke in a knife, and when the knife comes out clean, the egg bake is ready. Cut into squares or just scoop up the preferred amount and serve.
Heavyweight and durable does not make it the best, but the versatility that comes from the Dutch oven makes it a classic and favorite cookware all around the world.
Dump Cake Ingredients:
2 Box Angel Food Cake Mix

2 Liter bottle Sprite
1 Can cherry pie Filling
Optional: Any other fruit desired
Dump Cake Instructions:
Heat 40-50 coals to prepare for cooking. Open cake mix and add it to the oven. Add in Sprite and pie filling. Mix all ingredients together until no more clumps of cake mix exist and affix lid. Place 10 coals underneath, and 20 on top. Let cook 45-60 minutes. Serve with a large spoon. 
About the Writer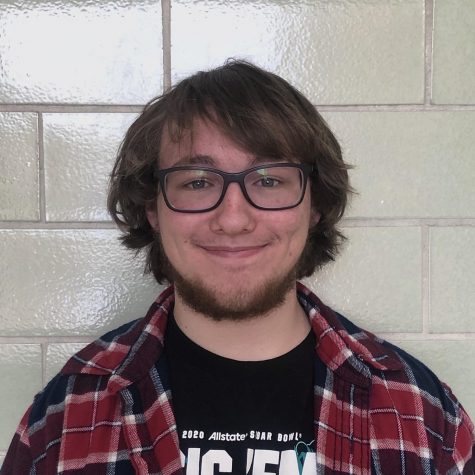 Bill Alexon, A&E Editor




Bill is a junior at CHHS and is on his second year with the Heights Herald staff. He started his Eagle Scout project over this past fall and is...