Hockey comes back to Heights
Hockey: it's one of the most beloved sports in Minnesota. Today, the state is dominated by big schools like Edina and Minnetonka, but at one time Columbia Heights had a stellar varsity team. Nostalgic fans of Hylander athletics will be happy to hear that the hockey program is being revived, with a little help from a few neighbors.
The defining moment of Columbia Heights' hockey program came in 1983 when the boys' team made an improbable run to the state semifinals; the Star Tribune reported on Heights defeating Cloquet and Edina before losing to Burnsville. However, instead of gaining momentum, the program died out, and the Hylanders never made it back to the state tournament. Both the boys' and girls' CHHS hockey teams then merged with Fridley and Brooklyn Center in 2001; that group was subsequently incorporated into Park Center to form the now-defunct North Metro program. But times have changed. Suburban and private school programs now dominate Minnesota's hockey scene, leaving metro-area teams to fend for themselves.
CHHS math teacher Mr. Dan Shuck has seen the struggle of forming a single high school hockey team firsthand. Shuck started coaching the Columbia Heights girls' program in 1999, and continued to do so throughout the team's different incarnations. As the program shrunk and metro teams merged, Shuck continued to coach Hylander hockey players until 2012, when he joined the coaching staff for Champlin Park-Coon Rapids girls' hockey—two schools with a combined total of almost 5000 students but still have to combine programs to form a team.
"Changing demographics have made things very difficult to form a single hockey team," Shuck said. "It isn't a sport that you can start in 9th grade. Development has to start younger."
This year, CHHS will group with Fridley, St. Anthony Village and host Irondale to form a cooperative boys' hockey program. The team, technically named Irondale-St. Anthony, will compete in the Suburban East Conference alongside the likes of Cretin-Derham Hall, Mounds View, Roseville and more. Games will be played at the National Sports Center in Blaine, just a couple of miles up Central Avenue. Practices are scheduled to accommodate Irondale students since Irondale is the lead program. 
As for the team itself, 24 Irondale hockey players, seven St. Anthony players and just two Fridley players comprise the majority of the 34-man roster. That leaves CHHS freshman Matthew Rockwell as the only representative of the blue and gold. However, Rockwell isn't feeling the pressure. 
"Once you put on the Irondale jersey, you're all playing for Irondale. There's so many people from different schools, and it benefits the overall team chemistry," Rockwell said. "It's kind of like, 'Oh, you're from Irondale? Cool. Let's go play.'"
Rockwell has played hockey for 11 years. His love for the sport was built early on, and it's the reason he got into hockey.
"A couple of my neighbors were hockey players. I would go and shoot pucks with them every so often," Rockwell said. "They got me interested in the sport."
As a young player, Rockwell joined the North Metro Youth Hockey Association before spending four years playing for the Minnesota Made Hockey Club in Edina. Last year, Rockwell played for the Sioux Falls Power, a Tier 1 hockey program with the goal of sending players to the top amateur, collegiate and professional levels.
Rockwell has been a defensemen throughout his career, and he will continue to be for the Irondale-St. Anthony team. He will receive playing time at the junior-varsity and varsity levels, something that will benefit him as he looks to gain more experience.
"Matthew is a very good skater. [He] passes and shoots the puck very well," Irondale-St. Anthony boys' hockey coach Mr. Jerry Hayes said. "We are very excited for his future in our program,"
While Rockwell is the only current hockey player at CHHS, numerous teachers, administrators and community members have ties to the "State of Hockey" CHHS band teacher Ms. Caitlin Storm played college hockey at the University of Concordia-Moorhead. CHPS Activities Director Mr. Jake Henderson and Technology Education teacher Mr. Matt Townsend both played high school hockey. Even former mayor Gary Peterson has connections to Hylander hockey: two of his sons played on the 1983 state tournament team. 
Irondale-St. Anthony has had mixed results. At the beginning of the season the team was thrashed 10-1 by White Bear Lake, but they rebounded to beat Coon Rapids 4-3 in overtime. Hayes remains optimistic about growing the program and loves seeing players interact with teammates from other schools.
"I think the more opportunities we can give players to play, the better we all are," Hayes said. "I don't care where they come from as long as they want to be a part of our program."
While it may not be the pure Hylander hockey of the 1980s, the return of the sport to CHHS gives students like Rockwell a chance to play. Time will tell if the program will stick around, but early indications show that the revival is a win for the history book.
About the Contributors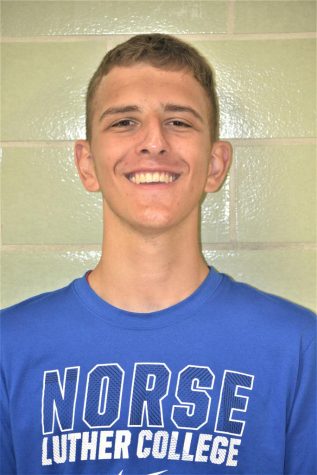 Peter Heryla, Co-Editor-in-Chief
Peter Heryla is a senior at CHHS and an Editor-in-Chief of the Heights Herald. This is his third year on the staff. In addition to the newspaper, he is...