Local Market offers Asian cuisine
You walk through the sliding doors of a small, little-known market next to Harbor Freight Tools. Immediately upon entering, you are hit with a waft of fish sauce, sesame oil, kimchi and spices. You are intrigued by all the things you see: the assortment of specialty Asian drinks, uncommon snacks, desserts and delicacies. You walk down the aisle of the many assortments of oils, pastes and spices and salivate over the wide variety of ramen they provide. Poring over all of these things that you couldn't buy from your local Cub Foods can be a little overwhelming, yet you are so excited about what you will try!
Dong Yang Oriental Food and Korean market is this local hidden gem. Located in Central Plaza of Columbia Heights, the long-standing local business offers a wide variety of authentic Korean and Asian groceries at good prices.
"[It's] an amazing place that offers many Korean and Asian products," Valerie Barrera (11) said. "Not only that, [but] the restaurant in the back serves delicious food."
 As well as being chock-full of unique grocery and merchandise, tucked away is a small counter and restaurant for customers to order traditional Korean dishes. The restaurant is self-serve; the friendly employees working over the counter will take your order and give you a number. All you do is wait for your number to be called and grab to enjoy!
"Dong Yang is very versatile; lots of people I know around my age go to eat there," Jamyang Dolma (11) said. "My personal favorite dish is bibimbap, but they also have so many things from face masks, slippers, snacks, groceries and even utensils."
The restaurant provides 22 dishes that are displayed on a screen above the kitchen and counter. Dong Yang offers delicious dishes such as the tasty and hot Stone Bowl Rice (bibimbap), sizzling Barbequed Beef (bulgogi), flavorful and chewy Spicy Rice Cake (tteokbokki) and the irresistible Seafood Pancake. You can order for takeout or just eat at the seating area they provide.
This sit-down style restaurant and comfortably small grocery gives customers a taste of Korean cooking and merchandise. Many people, from both inside the community and out, seem to be pleasantly surprised by the quality, care and variety they receive when visiting Dong Yang. Stop by for lunch, dinner, a grocery haul or even just a snack. You won't be disappointed and will be longing for more!
About the Writer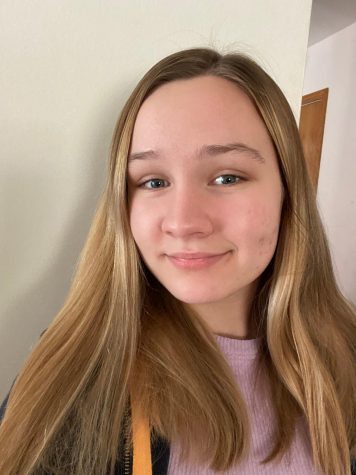 Iona Burton, News Editor
Iona Burton is a senior at CHHS. She is the News Editor for The Heights Herald and enjoys journalism because she values writing and telling stories. She...