Mexican ice cream parlor brings new flavors to Columbia Heights
This story is also available to read in Spanish here via El Heraldo, the Spanish-language section of The Heights Herald.
After a long hot summer day, nothing sounds better than ice cream. In Central Plaza on 45th Avenue right here in Columbia Heights, the Michoacan A Pedir De Boca ice cream shop is the place to go. And even though there's suddenly snow on the streets, it doesn't mean you can't still get your dessert fix just a few minutes away.
The name may be a mouthful, but Michoacan has tons of flavors to choose from and boasts a larger variety than any other ice cream shop in the state of Minnesota. In addition to just being a regular old ice cream parlor with limited traditional options, they offer other refreshing items such as its iconic frozen fruit popsicles, more commonly known in Mexico as paletas, as well as milkshakes, smoothies and even banana splits that can be decorated to your liking. 
As you can already tell from the name, Michoacan is a Latino-founded ice cream shop that originated in Mexico City, next to the Palacio de Lecumberri prison. The Michoacan state is where the shop's name came from, hence the full name Michoacan A Pedir De Boca. 
The shop can be traced back to 60 years ago in the town of Tocumbo, though it's still disputed to this day as to whether it was started by the Andrade, Alcazar or Malfavon families. Regardless,  the shop had many names throughout Mexico like La Flor de Michoacán, Lindo Michoacán, Las Delicias de Michoacán, La Fuente and—of course—La Michoacana. Slowly over the years the Michoacan brand became successful and expanded all over North America, from other regions of Mexico in the 70s and 80s to Chicago in the 90s and now right here in Minnesota, becoming an all-time favorite ice cream shop for frozen dessert lovers of all cultural backgrounds.
The Michoacan located in Central Plaza is one of four in the entire state, with another new location in West St. Paul and two in Minneapolis, including one at the infamous Midtown Global Market. No matter how expansive the brand gets, though, nothing is pre-packaged.
"Everything here is made naturally and by hand at our store," Michoacan employee Hector Ibarra said. "A popular item is our Mangonadas, which we put a lot of effort into making."
The Mangonada is a mango-flavored slushie covered in a spicy-sweet chamoy sauce with bits of fresh mango and a gummy tamarind-wrapped straw. It's at once savory and refreshing—a nice departure from the usual gas station Icee. If something sweet and creamy is more your style, there are seemingly limitless options available, including a particularly delectable frozen yogurt popsicle with real pieces of kiwi and strawberry mixed in.
"I thought they had a lot of options, and I would want to go back to try more," customer and Columbia Heights resident Darcy Dehn said.
Coming a long way from Mexico, Michoacana really is only one of a kind. This chill spot, with its bright pink decor and blasting Hispanic music, being the only shop in the country to have an endless taste of flavors with every delicious item being made to perfection, will make your taste buds go crazy.
About the Photographer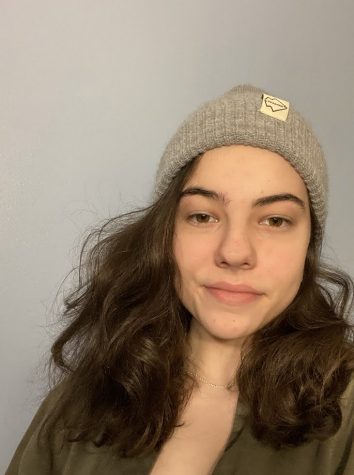 Renee Demars Dehn, Web Editor
Renee DeMars Dehn is a junior at Columbia Heights High School. She is currently the Web Editor of The Heights Herald. She is also involved in choir, Key...