Fulfilling and fantastic, try this vegan Buddha Bowl
Imagine the toastiness and warmth an oven creates—the smells that fill the space around you. As Thanksgiving creeps up on us, food represents many different things for many different people. Today, I would like to share with you a recipe that is very filling and makes me happy: my own version of a "Buddha Bowl"—but vegan. If you are unfamiliar with what a "Buddha Bowl" is, it is a vegetarian meal consisting of many different foods and served cold. It's easy to make, and if you don't like a certain ingredient feel free to replace it with something that you do enjoy!
Ingredients:
Earthly Grains Rosemary & Olive Oil Quinoa Blends
One medium-sized tomato (diced)
1 avocado (diced)
4-5 small sweet potatoes
2 and 1/2  tablespoons of olive oil
2 teaspoons of salt
1 teaspoon of garlic powder
1 teaspoon of ground pepper
1  tablespoon of freshly squeezed lime juice
Prep time: 5 minutes
Cook time: 30 minutes
Instructions:
Preheat the oven to 400 degrees Fahrenheit.
Follow instructions on packaging to cook the quinoa blend.
Wash your tomatoes and sweet potatoes.
Peel the skin off the sweet potatoes and cut them into edible squares. Place them on a large baking sheet.
Massage 2 tablespoons of olive oil into your sweet potatoes. Evenly coat with 1 teaspoon of salt, garlic powder and pepper.
Place into the oven and roast for 20-25 minutes until desired color.
Let cool for 5-10 minutes.
Assembly:
In a medium bowl place your quinoa in the center of the bowl.
Around it, place your sweet potatoes on the side, followed by the tomatoes and avocado.
Sprinkle tomatoes and avocado pieces with the remaining amount of salt, olive oil and freshly squeezed lemon juice to your taste.
Enjoy!
Hopefully, you can try this recipe out this Thanksgiving as a potential turkey replacement. I've been a vegetarian for a year now and I love this meal because it's quick and easy to make. It's also very delicious and fills me up for a long time. Hopefully, you're able to enjoy it as much as I do and add something to your list to try during this time at home!
About the Contributor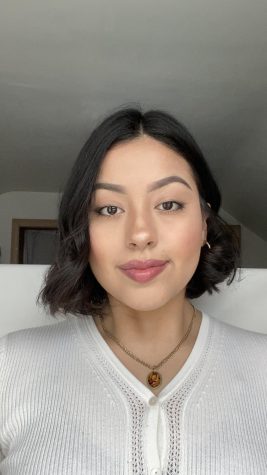 Gissel Inamagua, Co-Editor-in-Chief
Gissel Inamagua is the Co-Editor-in-Chief for The Heights Herald. She is involved in numerous activities here at CHHS. Currently, she is the captain of...