New hobbies await all during quarantine
Spring is here! 
And while having to stay inside is a bummer, anyone can bring a little life into their home by growing plants and even building a terrarium, which is easier than you might think. Whether you have your own garden already or you have some space on your patio for some pots, growing plants is a great way to bring color and new life to the yard or patio. Having plants inside of one's home can improve air quality and remove allergens. Depending on the plants, the budding botanist can also grow herbs to harvest and cook with, then continue to grow. Growing plants can be stress-relieving and help one calm down during this pandemic. A terrarium is also easy to take care of and highly customizable by adding small plants like small ferns, club moss, or succulents into a glass bowl or vase.
Learning how to embroider during this time is another great way to show your creativity, and it helps improve hand-eye coordination for all the gamers out there that want to give their thumbs a rest. Embroidery is one of those hobbies that anyone can use to discover a sense of style. You can use it to decorate almost anything, like clothes and backpacks, which adds a personal touch and a flair to set you apart from everyone else. 
With all this time on our hands, learning to draw or improving one's skill as an artist has opened up as a new possibility as well. Having all this time can help artists finish pieces that they haven't completed yet, or improve other art pieces that still need a little work. Learning how to draw can be difficult, especially trying to learn how to correctly proportion, but tracing over pictures can help an amateur understand where everything goes so when starting to freestyle draw, one can have a better understanding of placement.  
Speaking of DIY art, makeup has always been one of the big ways to show creativity. Especially in 2020, there are many inspiring makeup artists online, like famous YouTuber NikkieTutorials, who composes crazy looks that take hours to complete, but quarantine is a perfect time to try this out and learn how to improve one's blush and contour game. Makeup is a fun way to pass the time, doll yourself up, and it makes for really good practice for all of those Zoom meetings and FaceTime calls with bad lighting. It doubles as an excellent form of pampering and self-care too!  
And if blush and eyeshadow isn't quite your thing, but you are getting bored with your look still, why not do something different to your hair? Trying out a new style, whether it may be dying a new color or cutting, is a good way to try something different, learn to be comfortable in your skin, and boost confidence. People all around the world have been changing their hair and messing it up during quarantine, but having the opportunity to try and change your appearance, even if it goes wrong, doesn't come around too often. By the end of all this, a lot of people are going to be coming out of quarantine looking a little, if not a lot, different.
While staying inside might be a challenge, there are still so many things that you can do to stay busy while improving yourself and learning new skills. Having fun while being quarantined is possible, so get off the couch and give something new a try!
About the Writer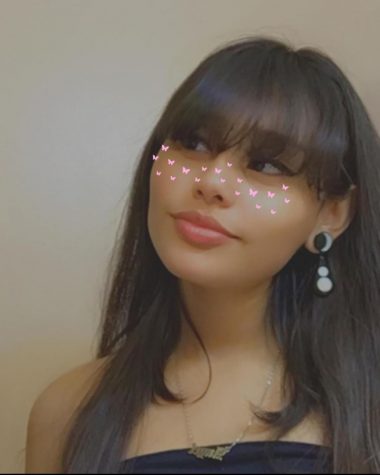 Jasmin Dominguez, Staff Writer
Jasmin Dominguez is a Senior at Columbia Heights High school, she is a staff writer. She likes writing for journalism because she learns to look at important...